This is The Digital Story Podcast #885, March 7, 2023. Today's theme is "A Workflow You May Find Interesting." I'm Derrick Story.
Opening Monologue
With all of the great editing tools available, plus a myriad of backup options, how do we craft a photography workflow that maximizes our options while still providing the flexibility to enjoy and share our images on all of our devices? I've cobbled together one such workflow, and I'll share it in today's TDS Photography Podcast. I hope you enjoy the show.
Digital Photography Podcast 885
Tune-In Via Your Favorite Podcast App!

---

Apple Podcasts -- Spotify Podcasts -- Stitcher

Podbean Podcasts -- Podbay FM -- Tune In
A Workflow You May Find Interesting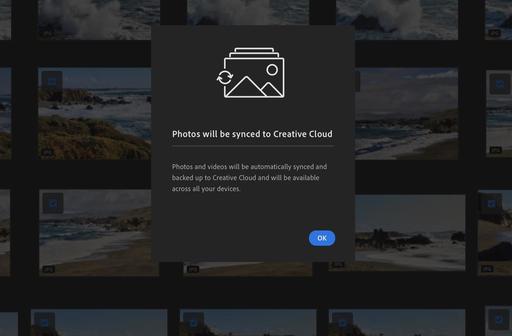 Last Saturday was a wild weather day in Sonoma County. We had off and on rainstorms, a glistening landscape, big crashing waves, and at times, magnificent skies above.
So my friend Oliver and I got in the car and spent the day outdoors. I took the OM-1 with the 12mm-40mm PRO II zoom and photographed everything from redwood trees to seashore cliffs. Given the lighting extremes, I stayed in RAW capture the entire time.
When I think about the objectives for the day, there was an interesting variety that didn't naturally mesh with one another.
Wanted to photograph with my "real camera" and not the smartphone.
Needed to use RAW to cope with the wild lighting conditions.
Wanted to squeeze the most out of the initial processing of those RAW files with Capture One Pro or Lightroom.
Wanted to play with some of those images with imgmi on my iPad.
Also wanted to share the pictures with Oliver in a timely manner.
Wanted to have my favorites backed up to iCloud or Creative Cloud and available on all of my devices.
What kind of workflow is that? A crazy one. Here's what I do today.
Capture with the OM-1 in RAW.
Copy to and cull in Capture One Pro (Lightroom Classic would be the alternative.) Mark my favorites with 3 stars.
Decode and process the favorite RAWs using the advanced tools in C1P (or LR) including optical corrections, tonal recovery, and color adjustment.
Export full-sized, high quality Jpegs out of C1P and import into Photos for macOS (or Lightroom CC).
Let iCloud (or Creative Cloud) backup those 3 star images and share them across all of my devices.
Play with some of the images using my AI editors such as imgmi.
Create a shared album of favs in Photos and provide access to Oliver and others to view and download.
My master RAW files are housed in Capture One Pro and backed up to my Synology RAID drive. I can always return to that library to revisit other shots or fine tune the images I've already worked on.
I have my 3-star favorites on my iPhone, iPad, and all of my Macs via iCloud. I can show them off to anyone who will sit still, plus I can use my favorite editing extensions on them via Photos, such as Luminar and ON1 Effects.
And at the end of the day, I have the best images from the shoot in a variety of places, both online, in computers, and on RAID drives. Yes, I'm not overpaying for online storage because I'm not putting every RAW file I shoot in the Cloud.
It sounds like a lot of work when I say it here. But to tell you the truth, it feels effortless, maybe because I'm having so much fun.
Have You Ever Made a Series of Landscape Photos From One Location?
You can read the entire article on Fstoppers.com.
Visiting beautiful locations for landscape photography can be quite rewarding. Often these, are one-time occasions. If you want to visit the same location more than once, you have to look for something close. This article is about making a long-term series of photos of one location.
Back in the eighties, I visited a forest nearby almost daily. I remember how I made a series of four images from a nice forest path with trees lined up, one for every season. Although this is nothing new, it is kind of special to have such a series of photos of a place you visit a lot, especially when you look at it many years later.
With digital photography, it has become much easier to take photos of one specific place on a regular basis. You can take as many images as you like. At the same time, it's become much more difficult to do so. The world has become so much smaller, which means we can easily travel to the farthest reaches of the Earth to visit amazing locations, only to forget about the nice places nearby.
Often, these travels are a onetime experience. Although amazing in most situations, you never get a connection with those faraway locations. You're a passerby, and if you're lucky, the light and weather conditions are perfect for a beautiful one-time landscape photo.
The benefit of having a nice local patch is the ability to visit it as often as you like. It means you learn everything about it -- how the light is flowing at different moments of the day or how weather conditions influence its appearance. If you shoot that same place more than once, you end up with a series of photos that will become quite special as the years go by.
Paul McCartney on Linda McCartney: 'I was into photography, but she was better'
You can read the entire article DigitalCameraWorld.com.
As Linda McCartney's retrospective opens in Arizona, Paul McCartney opens up about his late wife's photography
Did you know that legendary Beatle Paul McCartney's first wife was a professional photographer? And a brilliant one at that! Linda McCartney (1941-1998), born Linda Eastman, was the first-ever female photographer to shoot a cover image for Rolling Stone magazine - with an image of Eric Clapton. She was a renowned music photographer in her own right covering the early New York doo-wop scene.
The Linda McCartney Retrospective is an exhibition opening this week at the University of Arizona's Center for Creative Photography, and has been curated by Paul McCartney and their daughter Mary McCartney, who is now also a photographer and documentary filmmaker, to showcase Linda's entire career from 1965 to 1997.
Students at Arizona's Center for Creative Photography had the chance to interview Paul McCartney (opens in new tab) about Linda, and his responses provide a great insight into her life and career, as well as her duties as a working professional photographer, wife, and mother of four. Paul is quoted saying, "Linda was a great photographer and loved it so much that she would always find a way."
The first person ever to have both photographed a Rolling Stone magazine cover, and appear on it herself in 1974, Linda McCartney was highly renowned for the work she put into her career as both a photographer and musician, founding the band Wings where she performed vocals and keyboard, alongside Paul.
She was voted as the US Female Photographer of the Year in 1967, and received the Distinguished Photographers Award from 'Women In Photography' in 1987, and even appeared on an episode of The Simpsons called 'Lisa the Vegetarian' with her husband Paul McCartney in 1995, the same year she was sadly diagnosed with breast cancer.
The Linda McCartney Retrospective (opens in new tab) exhibition will showcase 176 photos, running until August 05, 2023, and can be visited at the University of Arizona's Center for Creative Photography.
Virtual Camera Club News
The Nimble Photographer Newsletter is now publishing every Thursday. Readers will enjoy a variety of content spanning from short photo essays, to commentary on weekly events, to reviews of the latest and coolest photo gear.
TDS Workshops! - You can sign up for available workshops by visiting The Nimble Photographer. Inner Circle Members receive a 10-percent discount on all events.
Inner Circle Members: A big thanks to those who support our podcast and our efforts! We are having a blast at our new Inner Circle hangout, the private group I've set up at DerrickStoryOnline. We'd love it if you join us. You can become an Inner Circle Member by signing up at our Patreon site. You will automatically be added to the new hangout.
My Writing on Medium.com: I now have 51 published articles on Medium.com. And if you haven't visited the site, and enjoy good writing on a variety of topics, I suggest that you may want to take a look. You can just go to the home page and enter "Derrick Story" in the search field. And if you like what you read, then follow me!
The New Donation Kit for Carefree Shipping of Found Film Cameras - If you've discovered a film camera that's no longer being used, our new Donation Kit makes it easy to pack and ship. Just visit the Contact Form on thenimblephotographer.com, click the box next to Donating a Film Camera, and let me know what you have. In your note, be sure to include your shipping address.
Affiliate Links - The links to some products in this podcast contain an affiliate code that credits The Digital Story for any purchases made from B&H Photo and Amazon via that click-through. Depending on the purchase, we may receive some financial compensation.
Red River Paper - And finally, be sure to visit our friends at Red River Paper for all of your inkjet supply needs.
See you next week!
You can share your thoughts at the TDS Facebook page, where I'll post this story for discussion.