This is The Digital Story Podcast #888, March 28, 2023. Today's theme is "The Distraction That Is Color." I'm Derrick Story.
Opening Monologue
The bulk of my photography is captured in color. But there are those moments, when I look at the preview on the back of the camera and think to myself, "this just isn't right!" And the majority of the time the problem is the color itself. Sounds crazy? Well, I'll explain myself on today's TDS Photography Podcast. I hope you enjoy the show.
Digital Photography Podcast 888
Tune-In Via Your Favorite Podcast App!

---

Apple Podcasts -- Spotify Podcasts -- Stitcher

Podbean Podcasts -- Podbay FM -- Tune In
The Distraction That Is Color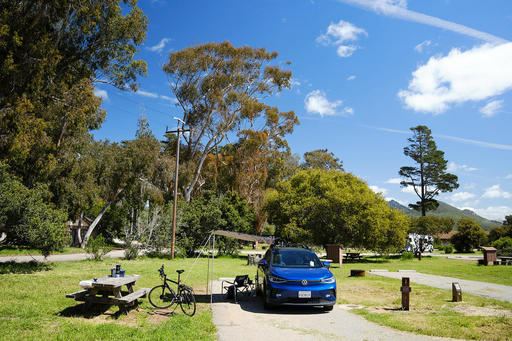 Here's what happened the other day. It was about noon, and the sun was high and bright. I had made a stop in Morro Bay and wanted to photograph my cool campsite.
The sky was blue with plenty of clouds. There were tall trees in the background, and there was the campsite itself with my VW ID.4 sporting a patio cover on the passenger side with a comfy Coleman camp chair and table in the shade. Sounds perfect, right?
I pulled out the Fujifilm X100V and mounted the 28mm lens to give me a bit more elbow room. Took the picture, reviewed it on the LCD, and recoiled. How could such a lovely scene photograph so poorly?
Well, the bright midday sun was definitely part of the problem. It added a nasty contrast to the scene. But the real culprit was the over-abundance of color. There was just too much. My ingenious campsite was lost in a cacophony of blues and greens. The protagonist of my visual story was being consumed by the supporting cast.
When I shoot with the X100V, I carry two filters with me: a circular polarizer and a Hoya R72 Infrared. The polarizer was definitely the wrong direction. But the R72 could solve my problem.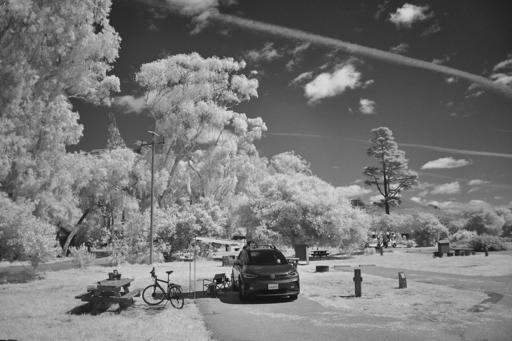 I screwed it into the front of my lens, set the aperture to f/2.0, switched film simulation to Monochrome+R, and recomposed the shot. Jackpot! My protagonist had returned to center stage, and the sky and trees were now a lovely supporting background.
I had eliminated the distraction that is color.
Here are 5 tips to keep in mind if you ever encounter a similar situation.
Know how to quickly find the B&W setting on your camera.
Shoot RAW+Jpeg to leave all of your options open.
Test your camera for IR sensitivity. If it passes, carry and R72 IR filter with you.
Don't be afraid to shoot midday, but know that IR and B&W do much better at this time than color.
Practice seeing in IR to understand how it doesn't affect manmade objects - the pavement, cars, bikes, benches, etc. - the same was that it does the living, especially plants and the sky.
Like I said at the top of this segment, I normally shoot in color. But I'm not hesitant in the least to switch to B&W if the situation calls for it. And I'm generally quite please with the outcome when I do.
Chris Niccolls and Jordan Drake Join PetaPixel to Lead its YouTube Channel
You can read the entire article on PetaPixel.com.
Chris Niccolls and Jordan Drake are joining PetaPixel and will lead its new YouTube Channel. The two have been a mainstay in the photography industry for more than a decade as hosts for first The Camera Store and then DPReview.
Their current home at DPReview is shutting down, but the two have no intention of stopping their excellent video reviews and photography-based content as they will be joining PetaPixel as the faces of its new YouTube channel launching in May, providing a nearly seamless transition from their previous home to their new one.
"I'm thrilled that PetaPixel is not only giving us the opportunity to keep our photography YouTube show going, but also the chance to make some fun changes to our format in upcoming episodes," Drake says.
"Sure, we'll still be releasing reviews for the latest photo/video gear shot in the frozen lands of Canada, but we're already working on field tests, documentaries, and episodes that are bigger than anything we've done before."
"This is a big move, but one that I'm very excited about. Working with PetaPixel brings me back to the reason why I got into this industry in the first place: a deep love for photography," Niccolls adds.
"I can't wait to work with a team that is as passionate about the craft as I am. Our show will still continue the high standard of technical knowledge that we are known for, and our dedication to testing gear in the field," Niccolls continues.
PetaPixel is ecstatic to be able to provide the two with a place to continue to share their professional insight and recommendations with a community that has appreciated them for the better part of 15 years.
How to Choose Binoculars: We Review the OM System Olympus 10 x 42 PRO
You can read the entire article FStoppers.com.
A good pair of binoculars are often invaluable to photographers. There are many important things to learn about buying them. Here's what led me to the OM System Olympus PRO binoculars, why they are my perfect choice, and why my old ones were a mistake.
My binoculars were showing their age. I bought them around 20 years ago, shortly before I moved to Tanzania. They were small, light, and easy to carry around, which I needed back then. But they had shortcomings. I know now I made the wrong decision when I bought them.
Those old Steiners were 10 x 26. That first number refers to the magnification and the second to the diameter of the objective lens. Back then, I found the 10x magnification was more than I needed for the large animals I saw in Africa, and I could often not fit the entire creature in the frame.
The second number refers to the objective lens' size. 26 mm is small, so the light transmission through them was not great; think of a camera lens with a small aperture. In the bright light of the savannah, that smaller objective lens was less of an issue. However, here in the often cloudy and dull North of England where I live now, it is. Furthermore, I am no spring chicken. Their low light-gathering capacity meant that, although I see things 10 times bigger, the image was dull and lacking detail, and I gained little from using them. Everyone's vision gradually deteriorates with age, and a dark image isn't what I need.
Consequently, although they fit in my pocket, I rarely take them anywhere. If only I knew then what I know now, I would have invested in something better.
I know that my OM System camera lenses are known for being hypodermic needle-sharp. A search of many different review websites also rated that brand's binoculars as exceptionally good. Furthermore, I know it is a brand I can trust. But, even so, I wanted to put them to the test to be sure.
OM System produces three grades of binoculars - Compact, Standard, and PRO - still sold with the Olympus branding. I went for the PRO version mainly for its increased clarity of image, durability, and because they are waterproof. So, before buying, I trialed a pair of mid-sized OM System Olympus 10 X 42 PRO binoculars.
On unpacking them, I found the binoculars were pleasant to hold. The rubberized grip was warm to the touch. The focusing ring was large and easy to reach with my forefinger and thumb.
Importantly, its focusing action was smooth, with just the right amount of resistance to focus quickly and accurately. Many pairs I tried over the years are too tight and jerk when you start to turn them, and others are too loose. But not these. They fit in the Goldilocks zone.
The hinge between the two barrels is tighter, which is excellent. Once set to the correct distance between my eyes, they stayed there.
These are high-quality, professional instruments. The huge difference I noticed using these binoculars compared to anything else I had used before is their brightness. I tried this pair and my old binoculars side-by-side and watched the eider and cormorants on the water and flying. With the Olympus binoculars, I could see details in the shadows that were not visible with the smaller, older ones. Furthermore, those old Steiners seemed to put a slightly muddy cast, whereas the Olympus ones were crystal clear.
They sell for $499.
Virtual Camera Club News
The Nimble Photographer Newsletter is now publishing every Thursday. Readers will enjoy a variety of content spanning from short photo essays, to commentary on weekly events, to reviews of the latest and coolest photo gear.
TDS Workshops! - You can sign up for available workshops by visiting The Nimble Photographer. Inner Circle Members receive a 10-percent discount on all events.
Inner Circle Members: A big thanks to those who support our podcast and our efforts! We are having a blast at our new Inner Circle hangout, the private group I've set up at DerrickStoryOnline. We'd love it if you join us. You can become an Inner Circle Member by signing up at our Patreon site. You will automatically be added to the new hangout.
My Writing on Medium.com: I now have 51 published articles on Medium.com. And if you haven't visited the site, and enjoy good writing on a variety of topics, I suggest that you may want to take a look. You can just go to the home page and enter "Derrick Story" in the search field. And if you like what you read, then follow me!
The New Donation Kit for Carefree Shipping of Found Film Cameras - If you've discovered a film camera that's no longer being used, our new Donation Kit makes it easy to pack and ship. Just visit the Contact Form on thenimblephotographer.com, click the box next to Donating a Film Camera, and let me know what you have. In your note, be sure to include your shipping address.
Affiliate Links - The links to some products in this podcast contain an affiliate code that credits The Digital Story for any purchases made from B&H Photo and Amazon via that click-through. Depending on the purchase, we may receive some financial compensation.
Red River Paper - And finally, be sure to visit our friends at Red River Paper for all of your inkjet supply needs.
See you next week!
You can share your thoughts at the TDS Facebook page, where I'll post this story for discussion.