This is The Digital Story Podcast #891, April 18, 2023. Today's theme is "Are You Nuts? (buying a monochrome only camera)." I'm Derrick Story.
Opening Monologue
I would imagine that most people's first reaction to the just-announced Pentax K-3 III Monochrome DSLR would be, "Who would buy that?" In fact, I may have uttered the same thing. But after a little research on the idea, I'm not so sure. Find out why, and lots more, on today's TDS Photography Podcast. I hope you enjoy the show.
Digital Photography Podcast 891
Tune-In Via Your Favorite Podcast App!

---

Apple Podcasts -- Spotify Podcasts -- Stitcher

Podbean Podcasts -- Podbay FM -- Tune In
Are You Nuts? (buying a monochrome only camera)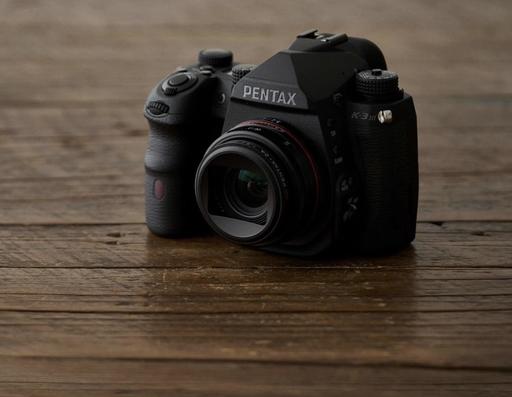 The Pentax K-3 Mark III Monochrome is variant of its highly regarded 25.7MP APS-C DSLR, but with no color filter array.
What happens without the color filter array? Well, according to Pentax, typical color image sensors are designed to receive light passing through red (R), green (G) and blue (B) color filters, so each pixel detects only one color-data component. To compose a monochrome image, color sensors must convert color data into monochromatic data by interpolating the color data they collect. The new monochrome-specific image sensor, however, can faithfully reflect the brightness data obtained by each pixel in the image -- without the interpolation process -- to produce extra-fine monochromatic expression, in images high in resolution and rich in gradation. Plus, there's no AA (anti-aliasing) filter either.
The changes just weren't on the inside either. The PENTAX K-3 Mark III Monochrome provides white backlight illumination on the LCD data panel positioned on its upper panel, while featuring "Monochrome" lettering printed on the upper-left shoulder of the back panel. Its menu screen features a black-and-white visual scheme as default, while the SR (Shake Reduction) badge is finished in silver. The icons printed on buttons and switches across the camera's exterior are finished in three shades of gray to assist the users with their camera operation. All in all, the concept of monochrome photography is evident throughout the camera body. Plus, since WB isn't an issue, the white balance button of the PENTAX K-3 Mark III is replaced with the Fx (function) button.
Still not swayed? Fair enough. Let's dig a little deeper.
This is only the third monochrome-only camera on the market. Leica and Phase One each have an offering, at many times more the price than the Pentax.
Leica is just getting ready to release the M11 Monochrom Rangefinder Camera. What's interesting about the M11 Monochrom is that this is, I believe, the fourth edition in its monochrom line. Far from a one and done.
As I continued to research and think about the Pentax Monochrome, I realized five things that weren't initially apparent to me.
Total Embodiment of B&W - It's not just the sensor, the entire camera oozes monochrome goodness, from its stealthy body design, to custom BW settings, to the heart of the camera itself. It is the total B&W experience.

Compatible with Every Vintage Pentax Lens - Yes, you can use your modern Pentax AF lenses on the Monochrome, but you can also mount a Pentax-M 50mm f/2.0 and further stylize your B&W captures. Vintage lens are a blast on any camera, but imagine using your favorites on this Monochrome body. And since the image stabilization is sensor-based, you have IS for the vintage glass as well.

Affordable by Comparison - The Leica M11 Monochrom was just released for $9,195. Plus, we know how much the lenses sell for. The Pentax Monochrome will be released in late April for $2,199.

Better Low Light Performance, No Color Noise - The monochrome sensor provides an additional stop of sensitivity, better capture sharpness, and less noise.

No Post Processing Required - For those who want the pure photography experience without the need for post processing, just grab your yellow and red filters, and fire away with the Pentax Monochrome.
Am I saying that you should check your credit card balance and buy the K3 Monochrome? No, I'm not. It is a specialty camera for a niche audience.
But what I am saying is that I'm thrilled that Pentax continues to explore all aspects of photography and deliver tools for those who want this experience. I'm very much hoping to get my hands on one. I just hope that I'll be able to let it go once I do.
You can now order your Pentax K-3 Mark III Monochrome.
Meike's New 85mm f/1.4 to be the First 3rd Party Autofocus Lens for Canon RF
You can read the entire article on Petapixel.com.
Meike has announced a new 85mm f/1.4 autofocus lens for Sony E, Nikon Z, Leica L, and -- surprisingly -- Canon RF mounts. If this stands, Meike will be the first third-party manufacturer to come to market with an autofocus-equipped lens for Canon's mirrorless mount.
While Meike isn't the first third-party camera lens manufacturer to make an autofocus-equipped Canon RF lens, if things stand it will be the first to actually successfully sell it.
For example, Rokinon (also known as Samyang), tried to release a 14mm f/2.8 autofocus lens for Canon RF and Viltrox attempted to sell several autofocus lenses that would mount to Canon's mirrorless cameras, but those companies quickly heard from Canon's lawyers and ceased production.
Last September, Canon confirmed that it was pursuing legal action against manufacturers that were producing autofocus lenses for its RF mount. It's not clear if anyone who actually purchased any of those lenses received them, and -- until now -- no third-party manufacturer has tried to produce another since Canon's legal department is particularly aggressive -- the company has repeatedly shown that outside of cameras in its printer department as well.
The only third-party RF lens to get the official nod from Canon is the Cosina Voigtlander Nokton 50mm f/1 aspherical, which is notably not an autofocus lens.
In addition to RF mount, Meike intends to make the stepping motor-driven autofocus lens available for Sony E, Nikon Z, and Leica L-mounts (though the company humorously refers to it as Panasonic L mount).
At the time of publication, Meike had not determined a final price or the release date. The lens is currently on display at the NAB Show in Las Vegas. It remains to be seen if Canon will allow Meike to actually produce the RF mount version of the lens.
This Week on Live View
"This imaging revolution will be different than the last one" by Ben Long; "A Day Later, A Dollar Wiser" by Jim Kuzman; and "No Skies Were Harmed in the Making of My Photographs" by Michael Bryant.
If you check out our publication and appreciate what you see, be sure to follow us and clap for those authors. You can find us at medium.com/live-view. Hope to see you there.
Incredible Hand-Held 30 Second Exposures With an iPhone App
You can read the entire article FStoppers.com.
From the creators of ReeXpose comes Reeheld. It apparently uses AI stabilization (something we are all very aware of at the moment) to create stunning handheld images.
This is ideal for when you don't have your camera kit with you. Missing your tripod? Don't worry using this app can give you up to 30 seconds of exposure blending the correct parts together. Now I'm not a landscape photographer as such but there are times when I'm out and about and like to take pictures but just don't have my camera with me. This could be the answer. Other apps that Dewis includes in his video are Spectre which has been around for a long time but has just not been updated in quite a while.
Virtual Camera Club News
The Nimble Photographer Newsletter is now publishing every Thursday. Readers will enjoy a variety of content spanning from short photo essays, to commentary on weekly events, to reviews of the latest and coolest photo gear.
TDS Workshops! - You can sign up for available workshops by visiting The Nimble Photographer. Inner Circle Members receive a 10-percent discount on all events.
Inner Circle Members: A big thanks to those who support our podcast and our efforts! We are having a blast at our new Inner Circle hangout, the private group I've set up at DerrickStoryOnline. We'd love it if you join us. You can become an Inner Circle Member by signing up at our Patreon site. You will automatically be added to the new hangout.
My Writing on Medium.com: I now have 90 published articles on Medium.com. And if you haven't visited the site, and enjoy good writing on a variety of topics, I suggest that you may want to take a look. You can just go to the home page and enter "Derrick Story" in the search field. And if you like what you read, then follow me!
The New Donation Kit for Carefree Shipping of Found Film Cameras - If you've discovered a film camera that's no longer being used, our new Donation Kit makes it easy to pack and ship. Just visit the Contact Form on thenimblephotographer.com, click the box next to Donating a Film Camera, and let me know what you have. In your note, be sure to include your shipping address.
Affiliate Links - The links to some products in this podcast contain an affiliate code that credits The Digital Story for any purchases made from B&H Photo and Amazon via that click-through. Depending on the purchase, we may receive some financial compensation.
Red River Paper - And finally, be sure to visit our friends at Red River Paper for all of your inkjet supply needs.
See you next week!
You can share your thoughts at the TDS Facebook page, where I'll post this story for discussion.