This is The Digital Story Podcast #892, April 26, 2023. Today's theme is "Going Beyond the Polarizer." I'm Derrick Story.
Opening Monologue
It's true, we just don't need many filters these days for our digital cameras. Maybe a protection filter. Maybe not. Many photographers, if they carry anything at all, it's a polarizer. But if you're interested in distinguishing your work from the masses, there are a couple other filters I recommend. And I'm going to share those in the first segment of today's TDS Photography Podcast. I hope you enjoy the show.
Digital Photography Podcast 892
Tune-In Via Your Favorite Podcast App!

---

Apple Podcasts -- Spotify Podcasts -- Stitcher

Podbean Podcasts -- Podbay FM -- Tune In
Going Beyond the Polarizer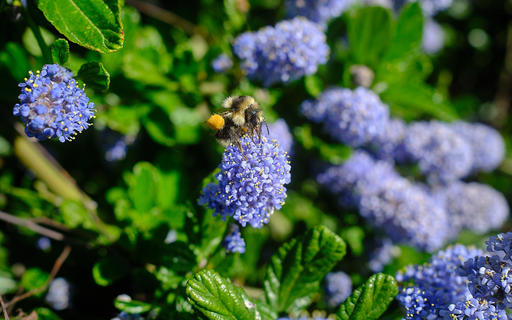 In our digital cameras, White Balance has replaced a whole slew of color correction filters. And I say, "Thank God!" What a pain in the neck strap they were.
In fact, I have an entire shoebox filled with amber and green and gosh knows what in various sizes. I still have yellow, orange, red, and green screw-ins for B&W photography. But I don't really need them since they too are emulated in my digital cameras.
However, I still find the polarizer quite useful. It can tame distracting reflections, deepen a blue sky, and slow the shutter speed by 2 stops. No wonder it's still quite popular.
But I'm going to share a secret with you. The polarizer isn't the only filter in my bag of tricks. There are two others that I depend on. One of them you probably know about. The other, I would be surprised if you did.
Let's start with the one your know about: the Hoya R72 Infrared filter. I just talked about it recently, and it allows me to convert my Fujifilm X100V into a harsh light IR capture device. I find it indispensable.
The one you probably don't know about is the NiSi Black Mist Filter.
Now we've all had our disappointments with external diffusers and softeners. Forget about all of that. NiSi filters are a whole different ballgame.
They come in 3 strengths, and the effect is subtle, but profound. Here are their basic characteristics.
Reduce highlights and lower contrast - If I want to shoot midday, and I don't want to work in B&W, this is my color option.

Can be used to create a cinematic look - Because of the way the NiSi diffuses light sources, such as a street lamp, the image has a glow that feels very cinematic.

Doesn't derail sharpness - When I use it for portraits, I still get wonderfully sharp eyes, but skin is much more attractive.

Comes in a variety of sizes - They make screw-in versions for 49mm, 67mm, 72mm, 77mm, and 82mm. Plus they have special mounts for the X100V, Ricoh, GR IIIX, and iPhones.
I'm currently using the NiSi Black Mist 1/4 Filter for FUJIFILM X100 Cameras (Black) $69. And Ricoh GR IIIX photographers can use the NiSi Black Mist Filter Kit For Ricoh GR IIIx $95. And the NiSi IP-A Filmmaker Kit for iPhone $149 includes IP-A Filter Holder, Black Mist 1/4 Filter, P1 Prosories Case, and a True Color ND-VARIO Pro Filter.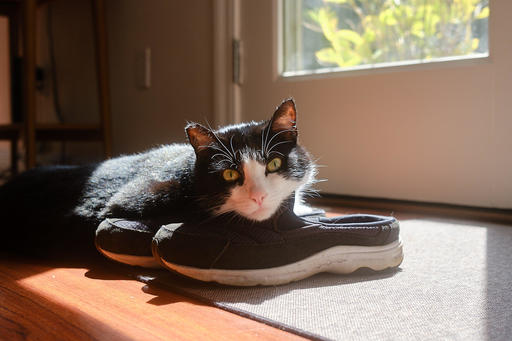 I'm posting two examples with the Black Mist 1/4 on a X100V in the Show Notes. Both images were captured around midday. The first is a bumble bee collecting pollen on a Blue Blossom Ceanothus flower. The NiSi filter helped me tame the contrasty light for a lovely image. And the second is Sylvester the cat resting her chin on a shoe in the bright light streaming in from a south facing window.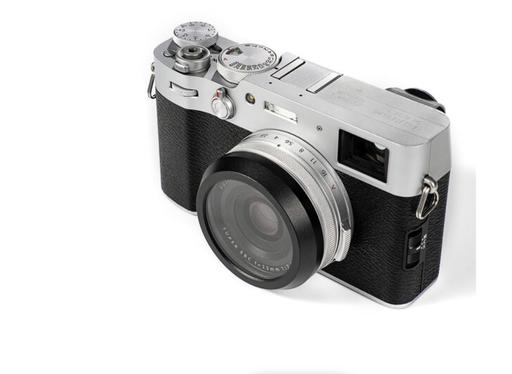 Regardless of which camera you use for your creative work, there's probably an artistic filter that fits it. And the best part is, you don't have to do anything in post. Just take the picture and enjoy.
The Pentax K-3 III Monochrome is so Popular, Ricoh Can't Keep it in Stock
You can read the entire article on Petapixel.com.
Ricoh has already sold out of its Japanese allocation of Pentax K-3 Mark III Monochrome cameras twice. Clearly, the company's latest DSLR is extremely popular.
Announced earlier this month, the Pentax K-3 III Monochrome is the only black and white DSLR on the market. Based on the original K-3 Mark III, Pentax's flagship APS-C camera, the body of the Monochrome version is not substantially different other than a lack of color in the design and the fact that the sensor is only capable of capturing black and white photos.
Clearly, the camera is extremely popular, at least in Japan, since Ricoh has not been able to keep it in stock. While the camera doesn't start shipping until the end of April, pre-orders have flooded the company to the degree that it's not going to have any more available for at least a couple of months.
Ricoh in Japan actually apologized that it had run out of its allocation for the country the same day the camera was announced.
"We are pleased to announce that the number of pre-orders for the PENTAX K-3 Mark III Monochrome Matte Black Edition, a monochrome digital SLR camera that is scheduled to be released on April 28, 2023, has greatly exceeded our initial expectations. As a result, production is unable to keep up with demand," Ricoh said on April 13.
"Therefore, we will temporarily suspend accepting new orders until we have a certain outlook for product supply. We deeply apologize for the inconvenience caused to customers who have been waiting for this product."
Five days later, Ricoh announced that it had resumed accepting orders for the camera as it had, apparently, been able to catch production up with orders and would be able to ship out this second allocation by the end of May.
That did not last long. On April 21, Ricoh sold out again.
"We will temporarily suspend accepting new orders at the Ricoh Imaging Store until the next product supply (scheduled for summer 2023) is confirmed. We deeply apologize for the inconvenience caused to customers who have been waiting for this product," the company writes.
The Pentax K-3 Mark III Monochrome DSLR is still available to pre-order for $2,200 in the United States, but given the popularity in Japan, it's not clear how quickly those pre-orders will actually be shipped to buyers.
This Week on Live View
"Learning Process From Ansel Adams" by Ben Long; "5 Simple Steps for Shooting on the Street" by Sean Staples; and "Shooting Blind" by Lawrence Lazare.
If you check out our publication and appreciate what you see, be sure to follow us and clap for those authors. You can find us at medium.com/live-view.
If you're interested in writing for Live View, drop me a line at dstory@gmail.com.
What juice jacking and trustjacking are, and how to protect yourself
You can read the entire article AppleInsider.com.
Inserting an unprotected iPhone or iPad into a new port can leave you with unwanted infections. "Juice jacking" and "trustjacking" are two ways to catch digital diseases, but there are ways to protect yourself.
You might not have previously thought about cybersecurity when charging your iPhone on the go, but that Lightning cable can carry data as well as power. Here are the vulnerabilities involved and how to minimize the risks.
Smartphones and tablet computers use the same port for charging and data transfer. "Juice jacking" exploits the possibility that an owner might connect their device to a malicious or compromised charging port, which can then be used to steal data from the device.
Previously, iOS devices were more vulnerable to juice jacking, since connecting an iOS device to a PC didn't require authorization. However, when iOS 7 was introduced in 2013, this was no longer the case.
How to prevent juice jacking
When you connect your iOS device to a computer, iOS 7 prompted you with, "Trust This Computer? Your settings and data will be accessible from this computer when connected via USB or Wi-Fi." You could then select "Trust" or "Don't Trust."
The wording was later changed to, "Allow this device to access photos and videos? This device will be able to access photos and videos while it is connected to your iPhone." You could then choose "Allow" or "Don't Allow."
Virtual Camera Club News
The Nimble Photographer Newsletter is now publishing every Thursday. Readers will enjoy a variety of content spanning from short photo essays, to commentary on weekly events, to reviews of the latest and coolest photo gear.
TDS Workshops! - You can sign up for available workshops by visiting The Nimble Photographer. Inner Circle Members receive a 10-percent discount on all events.
Inner Circle Members: A big thanks to those who support our podcast and our efforts! We are having a blast at our new Inner Circle hangout, the private group I've set up at DerrickStoryOnline. We'd love it if you join us. You can become an Inner Circle Member by signing up at our Patreon site. You will automatically be added to the new hangout.
My Writing on Medium.com: I now have 90 published articles on Medium.com. And if you haven't visited the site, and enjoy good writing on a variety of topics, I suggest that you may want to take a look. You can just go to the home page and enter "Derrick Story" in the search field. And if you like what you read, then follow me!
The New Donation Kit for Carefree Shipping of Found Film Cameras - If you've discovered a film camera that's no longer being used, our new Donation Kit makes it easy to pack and ship. Just visit the Contact Form on thenimblephotographer.com, click the box next to Donating a Film Camera, and let me know what you have. In your note, be sure to include your shipping address.
Affiliate Links - The links to some products in this podcast contain an affiliate code that credits The Digital Story for any purchases made from B&H Photo and Amazon via that click-through. Depending on the purchase, we may receive some financial compensation.
Red River Paper - And finally, be sure to visit our friends at Red River Paper for all of your inkjet supply needs.
See you next week!
You can share your thoughts at the TDS Facebook page, where I'll post this story for discussion.