This is The Digital Story Podcast #890, April 11, 2023. Today's theme is "The Thing About Sunsets (and other notes from Maui)." I'm Derrick Story.
Opening Monologue
When you're on an island in the Pacific during springtime, the sky is a moving picture show of clouds. And when the sun begins to set, well, that's the main feature. Photographers are drawn to sunsets like moths to flame. And in my view, there's more to it than just another pretty picture. This, and other notes from Maui, on today's TDS Photography Podcast. I hope you enjoy the show.
Digital Photography Podcast 890
Tune-In Via Your Favorite Podcast App!

---

Apple Podcasts -- Spotify Podcasts -- Stitcher

Podbean Podcasts -- Podbay FM -- Tune In
The Thing About Sunsets (and other notes from Maui)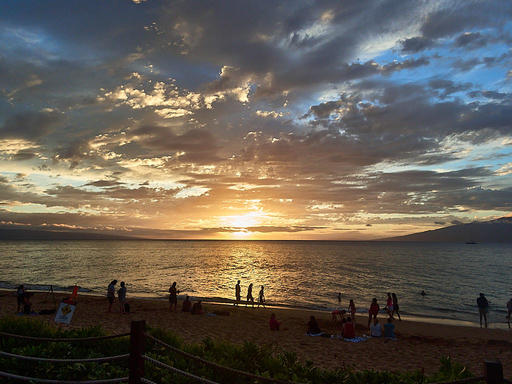 Sunset is about a quarter to seven in Maui right now. So around 6pm, regardless of what you're doing, we usually put a bookmark there and head down to the beach.
It's fun to watch the gathering crowd in what has become an evening tradition on the upper west side of the island. Some folks bring fish and veggies to barbecue while others are holding cocktails in a plastic cups. And you can hear fragments of conversations wafting in the air.
The other night, as the sky was lighting up in shades of orange and blue, a lady walked by and noticed how stunning it was. "Will a picture of that turn out?" she asked out loud. I said, "Of course. Try to frame it with those palm trees. The silhouettes will add some depth to your image." "Oh, that's a good idea she said," while holding her iPhone up to the sky.
She was not alone. Many of us were capturing the moment with our cameras. It's not that I have a shortage of Maui sunsets. But each one of them is a little different and often has its own story.
And that's the thing about sunsets. Yes, the common denominator is that they are beautiful. But they are also different. And just because you captured one the night before, doesn't mean you should pass on the next. Because they will be as unique as two snowflakes landing on a frozen leaf.
One of the reasons I never get tired photographing Maui sunsets is because I always have other elements to play with. On the horizon, there are the islands of Molokai and Lanai that always attract their own clouds. I can count on at least on sailboat drifting by. And then there are the silhouettes of palm trees and people in the foreground.
No reasonable photographer can turn their back on a striking sunset without pulling out their camera. Nor should they. There is no better way to end the day than standing with loved ones and strangers admiring nature's final flourish before the evening stars take over the sky.
Meet Me at High Noon
If sunsets are the epitome of beauty and ease, photography at high noon is its scurrilous sibling. With the sun high overhead and the landscaped bathed in harsh, contrasty light, middle of the day compositions can be a real challenge.
I remembered to pack a Hoya R72 IR filter to use with my X110V in monochrome+R mode, and immersed myself in hyper B&W photography.
I love the results!
DPReview closure: an update
You can read the entire article on DPReview.com.
We've received a lot of questions about what's next for the site. We hear your concerns about losing the content that has been carefully curated over the years, and want to assure you that the content will remain available as an archive.
We've also heard that you need more time to access the site, so we're going to keep publishing some more stories while we work on archiving.
Thank you to this community and the support you've shown us over the years.
This Week on Live View
"Get Outside and Leave that Big Camera Behind" by Scott Houston and "How to Make Your RAW Files Look Even Better" by Derrick Story.
If you check out our publication and appreciate what you see, be sure to follow us and clap for those authors. You can find us at medium.com/live-view. Hope to see you there.
Tesla Sued Over Report Employees Shared Private Car Camera Footage
You can read the entire article PetaPixel.com.
"Since at least 2019, the cameras in Tesla vehicles captured highly-invasive videos and images of the cars' owners, which Tesla employees were able to access--not for the stated purposes of communication, fulfillment of services, and enhancement of Tesla vehicle driving systems--but for the tasteless and tortious entertainment of Tesla employees, and perhaps those outside the company, and the humiliation of those surreptitiously recorded," the lawsuit reads.
"By virtue of this defective system, Tesla employees accessed and circulated recordings of Tesla customers in private and embarrassing situations, without their consent including, for example, video of a man approaching a Tesla vehicle completely naked, and video of vehicle crashes and road-rage incidents," the lawsuit continues.
"Tesla employees also shared pictures of family pets, which were made into memes by embellishing them with captions or commentary before posting them in group chats. While some postings were only shared between a few employees, others could be seen by 'scores' of Tesla employees. And as is common with internet culture, many of these videos and images were very likely shared with persons outside the company."
Multiple reports have confirmed that Tesla employees were able to view images of customers through the company's cars and shared them amongst each other, despite Tesla's own privacy statements.
Portrait Beast: We Review the Viltrox 75mm f/1.2 Lens for Fujifilm
You can read the entire article FStoppers.com.
The Viltrox 75mm f/1.2 autofocus lens is the first in their high-end PRO series line, and it is clear from first opening the box that this lens means business. It is all metal and feels extremely robust, with a smooth focusing barrel and an aperture ring that has just the right amount of resistance to click into place without feeling cumbersome. The lens is certainly not small or light, but I found it quite comfortable to use. I really like the way it pairs with the Fujifilm X-T5, not only aesthetically but more importantly it balances nicely with the camera, especially for a lens with a full frame focal length equivalent of 112.5mm.
What I loved the most were the beautiful colors, pleasing skin tones, and excellent contrast. Portrait photographers will absolutely love the bokeh, and as someone who enjoys shooting wide open, this lens hits the spot. Regarding image quality, this is one of the best lenses I've tested and certainly rivals the quality I get with my Fujifilm lenses.
I upgraded the firmware to version 1.0.2 after my studio session, and there was a noticeable difference in the autofocus performance. I thought that the autofocus was good even before the update, so having the slight bump in performance was a nice touch. One thing I really appreciate is how quiet the lens is. The STM motor is fast and almost silent, and when using it with eye tracking, I was able to achieve excellent and consistent results with the X-T5.
Outside of some flaring when shooting in direct sunlight, I really can't find anything negative to say about the Viltrox 75mm f/1.2. In fact, from the moment I put it on my camera, I fell in love with it, because it handles like a much more expensive Fujifilm lens in terms of design, performance, and most importantly, image quality. I think that Viltrox has hit a home run with this lens, and for those of us who shoot with Fujifilm cameras, it is a very appealing lens in terms of focal length, autofocus, and overall quality.
The Viltrox 75mm f/1.2 AF Lens is available now from B&H Photo for $549.
Virtual Camera Club News
The Nimble Photographer Newsletter is now publishing every Thursday. Readers will enjoy a variety of content spanning from short photo essays, to commentary on weekly events, to reviews of the latest and coolest photo gear.
TDS Workshops! - You can sign up for available workshops by visiting The Nimble Photographer. Inner Circle Members receive a 10-percent discount on all events.
Inner Circle Members: A big thanks to those who support our podcast and our efforts! We are having a blast at our new Inner Circle hangout, the private group I've set up at DerrickStoryOnline. We'd love it if you join us. You can become an Inner Circle Member by signing up at our Patreon site. You will automatically be added to the new hangout.
My Writing on Medium.com: I now have 51 published articles on Medium.com. And if you haven't visited the site, and enjoy good writing on a variety of topics, I suggest that you may want to take a look. You can just go to the home page and enter "Derrick Story" in the search field. And if you like what you read, then follow me!
The New Donation Kit for Carefree Shipping of Found Film Cameras - If you've discovered a film camera that's no longer being used, our new Donation Kit makes it easy to pack and ship. Just visit the Contact Form on thenimblephotographer.com, click the box next to Donating a Film Camera, and let me know what you have. In your note, be sure to include your shipping address.
Affiliate Links - The links to some products in this podcast contain an affiliate code that credits The Digital Story for any purchases made from B&H Photo and Amazon via that click-through. Depending on the purchase, we may receive some financial compensation.
Red River Paper - And finally, be sure to visit our friends at Red River Paper for all of your inkjet supply needs.
See you next week!
You can share your thoughts at the TDS Facebook page, where I'll post this story for discussion.