This is The Digital Story Podcast #896, May 23, 2023. Today's theme is "Stepping Outside Your Comfort Zone." I'm Derrick Story.
Opening Monologue
Being the creatures of habit that we are, it's easy to stick with things we're comfortable with. In the world of photography, that could mean landscapes only or "I'm really a Photoshop guy." But what would happen if you stepped out of your comfort zone into the unknown waters of experimentation? I have a few real life stories to share of photographers who did just that. I hope you enjoy the show.
Digital Photography Podcast 896
Tune-In Via Your Favorite Podcast App!

---

Apple Podcasts -- Spotify Podcasts -- Stitcher

Podbean Podcasts -- Podbay FM -- Tune In
Stepping Outside Your Comfort Zone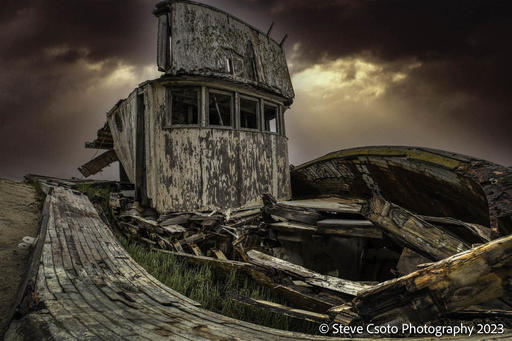 Point Reyes Shipwreck by Steve Csoto.
It's not that most photographers don't want to experiment, but sometimes they need a little nudge. I just spent a week with a group of artists in Northern California who were doing exactly that.
Their stories are interesting. And I thought that you might way hear the different ways these folks stuck their big toes in the pool of uncharted creativity.
Scott: I'm Primarily a Street Photographer
Scott generally packs a compact Ricoh GR when he heads out the door. But last week he brought a Fujifilm mirrorless camera and a humongous telephoto zoom lens. "I told my friends that there were elk in Pt. Reyes, and they challenged me to come home with a picture."
On the first day were were standing on a deck overlooking Tomales Bay with his rig in hand. Here's what happened.
Harry: I'm Not Going to Shoot Big Landscapes
Harry's story is how he began working with Intentional Camera Movement, Close Ups, in-camera processing, and quadpics.
Rich: Going the Extra Mile
The most senior member of the group, Rich, doesn't do that much hiking these days. But in Pt. Reyes, he pushed himself out to areas that he normally wouldn't explore. And he returned with some very compelling images.
Steve: I'm Not Going to Be Bound by Conventional Standards
One of the best examples of Steve's artistic rebellion was when we visited the Pt. Reyes shipwreck. Everyone returned with a unique angle or approach to photographing the old ship. Steve went way beyond that.
Michael: Experimenting with the Illusion of Depth
Michael saw the lingering fog as an opportunity to add more depth to his images. He would find a foreground subject that was detailed, then position it against a distant tree in the background shrouded in fog.
Each of these photographers stepped outside of their comfort zones and shared their images with the others. And to be honest, they left Northern California different artists than the ones that had arrived a week earlier.
Pentax's first 'Film Camera Project' release to be a fixed lens compact, hints film SLR may be next
You can read the entire article on DPReview.com.
In the midst of the film resurgence, Ricoh announced last year that they were going to explore the idea of building a new film body camera under the Pentax banner. Details were scant; we knew that Ricoh was launching a 'Film Camera Project,' to formally house a research and development team, but we didn't know timelines, form factor, price points they had in mind or what criteria they were using to use to decide if actually building a film body was a viable idea.
The last peep on that front from them was Pentax's December 2022 announcement, until this past weekend when Ricoh published a pair of new YouTube videos that detailed the project's progress.
In a video released we learn more about the camera that Pentax has committed to building, along with a hint of a possible second film camera to come. Pentax's first film body will be a compact fixed-lens camera, according to Pentax product planning/design team member Takeo Suzuki.
Pentax clearly sees an opportunity in film cameras and may be positioning itself to fill the void left by its competitors. The company has famously kept manufacturing DSLRs as other manufactures have moved to mirrorless bodies. Perhaps here too, Pentax is seeing gold to be mined with consumers seeking ways to discover or rediscover a classic style of image-making.
Film photographers may not represent the mainstream today, but the community is growing. The closest parallel may be in the return of vinyl record albums, which grew from a small niche of buyers a decade ago to outsell CDs in 2022 (the first time since 1988), accounting for $1.2 billion, a 20% jump from the previous year. So film photography could be a fad, or, if it goes the way of vinyl, a potential boon for Pentax.
Wine Country in Autumn Photography Workshop This November
November 2-4, 2023 - Sonoma County Wine Country is a special place in November. The harvest is in and it's time to enjoy the fruits of labor.
During this workshop we'll combine an outstanding and educational wine experience with beautiful photography, at a relaxed pace. It's the perfect get-away for those who love alluring scenery, great food, and delicious tastings.
If you want to do something truly different, beautiful, flavorful, and come home with unique pictures, this wildly affordable workshop is for you.
We still have a few seats open. And now you can fly directly into Sonoma County Airport and you're here!
Madavor Media Offers Bundle of Photo Sites
You can read the entire article OutdoorPhotographer.com.
Madavor Media is offering the following bundle of its print and digital photo properties:
ICN - Image Creators Network
Outdoor Photographer
Imaging Resource
Digital PhotoPro
Digital Photo
This is an "as-is" only bundle offering and includes archives, websites, and sub roster. Price: $500,000. Serious inquires only.
AI-Generated Image of Pentagon Explosion Caused Markets to Dip
You can read the entire article on Petapixel.com.
An artificial intelligence (AI) generated photo which showed a fake explosion outside the Pentagon went viral and caused the markets to briefly dip today.
On Monday morning, an image showing a huge cloud of black smoke on a grass lawn outside a building was widely shared across Twitter with reports that there had been an explosion near the Pentagon building in Washington D.C.
But the photograph of the explosion was a hoax, purportedly generated with AI technology.
The U.S. stock market briefly dipped as news of the purported explosion spread. The fake image was reportedly first shared on Twitter at 10:06 local time -- although the original post has since been removed from the platform.
And by 10:10, the U.S. stock market had turned sharply lower shortly after reports of the explosion had circulated. However, the market bounced back and stabilized after the photo was revealed as an AI-generated hoax.
Virtual Camera Club News
The Nimble Photographer Newsletter is now publishing every Thursday. Readers will enjoy a variety of content spanning from short photo essays, to commentary on weekly events, to reviews of the latest and coolest photo gear.
TDS Workshops! - You can sign up for available workshops by visiting The Nimble Photographer. Inner Circle Members receive a 10-percent discount on all events.
Inner Circle Members: A big thanks to those who support our podcast and our efforts! We are having a blast at our new Inner Circle hangout, the private group I've set up at DerrickStoryOnline. We'd love it if you join us. You can become an Inner Circle Member by signing up at our Patreon site. You will automatically be added to the new hangout.
My Writing on Medium.com: I now have 90 published articles on Medium.com. And if you haven't visited the site, and enjoy good writing on a variety of topics, I suggest that you may want to take a look. You can just go to the home page and enter "Derrick Story" in the search field. And if you like what you read, then follow me!
The New Donation Kit for Carefree Shipping of Found Film Cameras - If you've discovered a film camera that's no longer being used, our new Donation Kit makes it easy to pack and ship. Just visit the Contact Form on thenimblephotographer.com, click the box next to Donating a Film Camera, and let me know what you have. In your note, be sure to include your shipping address.
Affiliate Links - The links to some products in this podcast contain an affiliate code that credits The Digital Story for any purchases made from B&H Photo and Amazon via that click-through. Depending on the purchase, we may receive some financial compensation.
Red River Paper - And finally, be sure to visit our friends at Red River Paper for all of your inkjet supply needs.
See you next week!
You can share your thoughts at the TDS Facebook page, where I'll post this story for discussion.