This is The Digital Story Podcast #897, May 30, 2023. Today's theme is "Why I Love Graduations and a Review of the New XApp." I'm Derrick Story.
Opening Monologue
Photographers are witnesses to the good and bad of life. Since I've left the newspaper business, I photograph mostly good. And one of my favorite positives is documenting Junior College graduations. There is something very special about these people. And being there to watch them celebrate their accomplishments reminds me that there is hope for our community, and for society overall. I'll explain why on today's TDS Photography Podcast.
Digital Photography Podcast 897
Tune-In Via Your Favorite Podcast App!

---

Apple Podcasts -- Spotify Podcasts -- Stitcher

Podbean Podcasts -- Podbay FM -- Tune In
Why I Love Graduations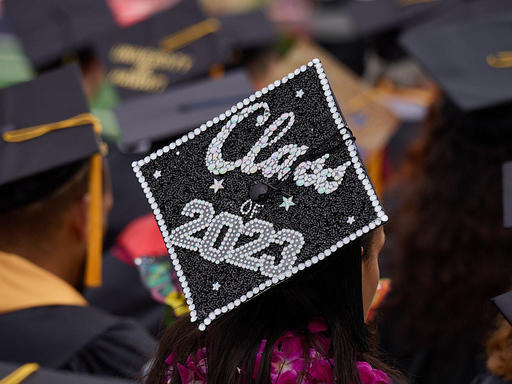 I was one of a handful of credentialed photographers hired to cover the 2023 Santa Rosa Junior College Graduation Ceremony. Each of us had specific assignments and were tasked with overall coverage as well.
Basically, we're there to retell the story that is happening before us. This moment features hundreds of graduates, each with their own story. But what is different about this collective is, generally speaking, the odds they had to overcome to reach this moment.
Junior College life is different than at a four-year university. I know this firsthand from my two years at Chaffey Junior College in Southern California that saved my academic career that was eventually completed at a university.
JC graduations, at least the ones I've covered, do a great job of capturing the challenges and accomplishments of those seated in their caps and gowns. The speakers on stage tell stories of adversity, financial challenges, doubt, and ultimately, triumph.
For many families in the stands cheering for those seated on the football field, they are seeing the first from their clan receive a higher education diploma. Their child, sister, brother represent the hope that following generations will have more opportunity than those before them.
Many of the graduates had to balance their studies with one or more jobs, often being key providers for their family. Their life consisted of work, study, family, more work, more study, and if they were lucky, some sleep.
They often had to piece together small scholarships and grants, in addition to what could be spared from the paycheck, to pay for books and tuition. And remarkably, thanks to the genius that is the junior college system in California, most of the graduates received their diplomas debt free of educational expenses.
Many of the graduates will go one to four-year schools, as I did. Some will enter the workforce now as dental hygienists, medical assistants, firemen, computer programmers, hospitality specialists, fashion designers, and electricians, just to name a handful of the disciplines.
These are people we need in society. And not only do they graduate with the technical skills required for their career, they are disciplined and are willing to exert the effort required for success. They are prepared to meet the challenges of the workplace because they are already battle tested.
Every educational milestone is an accomplishment, from high school diploma to doctorate degree. But there is something unique and special about those who battle to achieve an AA Degree or Certificate.
And for me, it's a real honor to be able to share that moment with them.
Fujifilm's new XApp simplifies mobile sharing for recent X-camera models
You can read the entire article on DPReview.com.
Fujifilm unveiled a new phone app for its cameras. The Fujifilm XApp replaces the old Camera Remote app for users of supported cameras and will be the new default going forward.
XApp looks to roll image transfer, sharing, remote control, firmware updates, and even some unique stats into one convenient interface. Fujifilm is boasting improved image transfer times, more reliable Bluetooth connections and a minimalist design. Compatible cameras will also automatically sync their datestamp to the smartphone's clock, and can assign GPS data to images if desired.
In addition, the Fujifilm Xapp will track your shooting habits and locations. Everything from your lenses, preferred film simulations and number of shots (in virtual 'rolls' or 'feet of film' depending on whether you shoot video or stills) can be seen in a unified timeline interface.
You can also use the XApp to store, change and apply camera settings, making it easy to sync settings across cameras of the same model when you're shooting with multiple bodies.
Not all Fujifilm cameras will be making the leap to the XApp, as it requires Bluetooth functionality. That said, a long list of cameras will be compatible, with others like the GFX 100 and GFX 50R added in the future.
Wine Country in Autumn Photography Workshop This November
November 2-4, 2023 - Sonoma County Wine Country is a special place in November. The harvest is in and it's time to enjoy the fruits of labor.
During this workshop we'll combine an outstanding and educational wine experience with beautiful photography, at a relaxed pace. It's the perfect get-away for those who love alluring scenery, great food, and delicious tastings.
If you want to do something truly different, beautiful, flavorful, and come home with unique pictures, this wildly affordable workshop is for you.
We still have a few seats open. And now you can fly directly into Sonoma County Airport and you're here!
Confessions of a Photographer Who (Formerly) Packed for Every Possibility
You can read the entire article FStoppers.com.
As a 6'1" guy with 20+ years in the Army National Guard and a lot of construction projects behind me, I'm fairly used to carrying heavy things. Recently, my wife and our three kids (all under five years old) took an overnight flight to Lisbon, Portugal. Traveling from La Crosse to Amsterdam via Minneapolis with only one flight left, the airline gave away my seat to someone else -- just my seat, of course. According to their system, I never showed up at the La Crosse airport despite getting on two planes thus far and everyone in my party traveling with me. Nevertheless, I was stuck in Amsterdam alone, waiting for the next flight, while the rest of our group went to Portugal without me so the kids could get there before nighttime.
The Epiphany - Prior to this seat-being-given-away episode, we had been awake for 22 hours and just raced across Schiphol Airport because of a short layover. When I say race, I mean fast walking with two or three of the kids in a stroller and 42 lbs of camera gear in my backpack. For this trip, I had four lenses, two Canon mirrorless bodies (an R5 and R6 II), an Insta360 X3, a Profoto A2 flash, two microphones (I had no use for even one mic), and two ball heads, among other countless accessories. That's not even counting my tripod in our carry-on. I decided to pack lighter after a trip to Hawaii with the kids in December. How did I do this time? I left my drone at home, mostly because of the confusing drone laws in Europe. But hey, I felt pretty proud about reducing my kit!
So, How Did It Go? I loved it! Limiting what I used allowed me to create better photos. Although I didn't do as much architectural photography as I usually do (three kids under five), my work was better than anything I've ever done before. I also felt more confident knowing I didn't have to take all these things. I might still bring a backup camera body in my carry-on, but now that the iPhone is so amazing, I'm even doubtful about that.
Virtual Camera Club News
The Nimble Photographer Newsletter is now publishing every Thursday. Readers will enjoy a variety of content spanning from short photo essays, to commentary on weekly events, to reviews of the latest and coolest photo gear.
TDS Workshops! - You can sign up for available workshops by visiting The Nimble Photographer. Inner Circle Members receive a 10-percent discount on all events.
Inner Circle Members: A big thanks to those who support our podcast and our efforts! We are having a blast at our new Inner Circle hangout, the private group I've set up at DerrickStoryOnline. We'd love it if you join us. You can become an Inner Circle Member by signing up at our Patreon site. You will automatically be added to the new hangout.
Great Photography Articles on Live View - If you check out our publication and appreciate what you see, be sure to follow us and clap for those authors. You can find us at medium.com/live-view.
If you're interested in writing for Live View, drop me a line at dstory@gmail.com.
The New Donation Kit for Carefree Shipping of Found Film Cameras - If you've discovered a film camera that's no longer being used, our new Donation Kit makes it easy to pack and ship. Just visit the Contact Form on thenimblephotographer.com, click the box next to Donating a Film Camera, and let me know what you have. In your note, be sure to include your shipping address.
Affiliate Links - The links to some products in this podcast contain an affiliate code that credits The Digital Story for any purchases made from B&H Photo and Amazon via that click-through. Depending on the purchase, we may receive some financial compensation.
Red River Paper - And finally, be sure to visit our friends at Red River Paper for all of your inkjet supply needs.
See you next week!
You can share your thoughts at the TDS Facebook page, where I'll post this story for discussion.