Very few photographers I know enjoy spending the time to add keywords to their photos. Quite honestly, it is the least enjoyable task in our craft. But all of that is changing as of today. ON1 Software just released Photo Keyword AI. Does this transform how we find images? Indeed it does. And I will explain why on today's TDS Photography Podcast. I hope you enjoy the show.
This is The Digital Story Podcast #900, June 20, 2023. Today's theme is "The End of Keywording as We Know It - ON1 Photo Keyword AI." I'm Derrick Story.
Digital Photography Podcast 900
Tune-In Via Your Favorite Podcast App!

---

Apple Podcasts -- Spotify Podcasts -- Stitcher

Podbean Podcasts -- Podbay FM -- Tune In
The End of Keywording as We Know It - ON1 Photo Keyword AI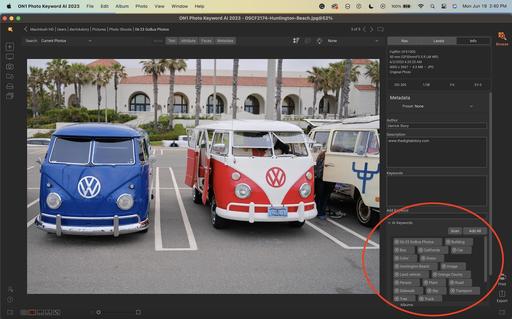 I've had decent luck using the object recognition capability of Apple Photos to assist searching for my images. The same goes for the Cloud version of Lightroom.
But what about the folks who use Lightroom Classic and Capture One Pro? To this point, they've been stuck with the old-fashioned approach to marking and retrieving their images.
Now, those photographers can continue to use the applications they favor, and can add Object Recognition intelligence to them via Photo Keyword AI. I explain how this works in the first segment of today's show.
'AI or Not' is a Free Web App That Claims to Detect AI Generated Photos
You can read the entire article on Petapixel.com
"AI or Not" is a free web-based app that claims to be able to identify images generated by artificial intelligence (AI) simply by uploading them or providing a URL.
Powered by Optic, the company says its technology is the smartest content recognition engine for Web3 and claims it is capable of identifying images made using Stable Diffusion, Midjourney, Dall-E, or GAN.
"Optic AI or Not is a web service that helps users quickly and accurately determine whether an image has been generated by artificial intelligence (AI) or created by a human. If the image is AI-generated, our service identifies the AI model used (mid-journey, stable diffusion, or DALL-E)," Optic says.
"Our mission is to bring transparency to the media on blockchains so all communities can realize their creative and economic potential."
PetaPixel decided to see if the platform would be able to handle a range of images: both simple and easy-to-identify ones that astute human eyes could spot, as well as more challenging fakes.
With some of these images, the platform's inability to tell real from fake makes sense: Optic only promises that it can detect images created entirely by Stable Diffusion, Midjourney, Dall-E, or GAN, so the Tom Hardy image, the fake social media influencer, and the street photo with an altered face makes sense. However, it's inability to see the fully AI image of Trump and Fauci shows this platform has a ways to go yet.
According to Flickr the most popular camera in the world isn't even a camera!
You can read the entire article on DigitalCameraWorld.com
A new study by Flickr has revealed the most popular cameras used by photographers on the site and you'll probably be shocked by the top result. The once very popular photo-sharing platform has now been a little overshadowed by Instagram but there is still a community of photographers who regularly use it. More than 470 million images were analyzed to access which camera is the moist [popular and it turns out... it's not even a camera.
Taking the number one spot with over 13 million tags on Flickr is actually a camera phone and it's not even one of the latest models. Not only is Apple the most popular brand showing how people's approach to photography has changed but the iPhone 11 which is now four years old has been tagged over 13 million times. In the US, the most popular camera is another Apple product, the iPhone 12 Pro Max, so it's no wonder we've been seeing a drop in actual camera sales.
In the last few years, the big names have made some pretty incredible camera released such as the Sony A7 IV, the Nikon Z9 and the Canon EOS R5, but sadly, the price point of these cameras make them out of reach for a lot of people. According to Simple Ghar who led the survey, the Canon 5D Mark IV released in 2016 is still the world's most popular camera with over 11.7 million tags.
The results were broken day on a country-by-country basis showing an extremely varied preference when it comes to favorite cameras but overall Canon is still the most popular brand. For Japan, Sweden and Ireland, the Canon EOS R3 came out on top, although it costs close to $6K and is entirely aimed at professionals (but perhaps that says more about the type of people who use Flickr). Canon mirrorless systems were also the first choice system for Brazil and Turkey who preferred the Eos R while Ghana is still working with the original, Canon EOS R.
Despite being in the mirrorless market for the longest, very few countries' top choice was Sony system. That being said, the US is one of the largest countries in the world, and its most popular camera is the Sony A9 Mark II which means there are likely to be thousands of photographers using it. Even Olympus however, beat Sony when it comes down to country wins with the Olympus OM-D E-M1 Mark II coming out on top in Bolivia, Myanmar, Taiwan, Belarus and South Korea.
Virtual Camera Club News
The Nimble Photographer Newsletter is now publishing every Thursday. Readers will enjoy a variety of content spanning from short photo essays, to commentary on weekly events, to reviews of the latest and coolest photo gear.
TDS Workshops! - You can sign up for available workshops by visiting The Nimble Photographer. Inner Circle Members receive a 10-percent discount on all events.
Inner Circle Members: A big thanks to those who support our podcast and our efforts! We are having a blast at our new Inner Circle hangout, the private group I've set up at DerrickStoryOnline. We'd love it if you join us. You can become an Inner Circle Member by signing up at our Patreon site. You will automatically be added to the new hangout.
Great Photography Articles on Live View - If you check out our publication and appreciate what you see, be sure to follow us and clap for those authors. You can find us at medium.com/live-view.
If you're interested in writing for Live View, drop me a line at dstory@gmail.com.
The New Donation Kit for Carefree Shipping of Found Film Cameras - If you've discovered a film camera that's no longer being used, our new Donation Kit makes it easy to pack and ship. Just visit the Contact Form on thenimblephotographer.com, click the box next to Donating a Film Camera, and let me know what you have. In your note, be sure to include your shipping address.
Affiliate Links - The links to some products in this podcast contain an affiliate code that credits The Digital Story for any purchases made from B&H Photo and Amazon via that click-through. Depending on the purchase, we may receive some financial compensation.
Red River Paper - And finally, be sure to visit our friends at Red River Paper for all of your inkjet supply needs.
See you next week!
You can share your thoughts at the TDS Facebook page, where I'll post this story for discussion.