This is The Digital Story Podcast #899, June 13, 2023. Today's theme is "Why Speciality Cameras Are Not GAS - And the Pentax Monochrome." I'm Derrick Story.
Opening Monologue
It was an overcast Sunday morning, and I had a couple hours for a photo shoot. I wanted something different today. Not landscape. No portraits. Different. I settled on visiting the Pacific Coast Air Museum right here in my own backyard. But what camera to bring? I discuss my choice, and why, on today's TDS Photography Podcast. I hope you enjoy the show.
Digital Photography Podcast 899
Tune-In Via Your Favorite Podcast App!

---

Apple Podcasts -- Spotify Podcasts -- Stitcher

Podbean Podcasts -- Podbay FM -- Tune In
Why Speciality Cameras Are Not GAS
The Pacific Coast Air Museum features a unique collection of authentic, well-cared-for aircraft, and a non-profit organization with a dedicated base of aviation experts who are giving back to the Sonoma Community through education and preservation.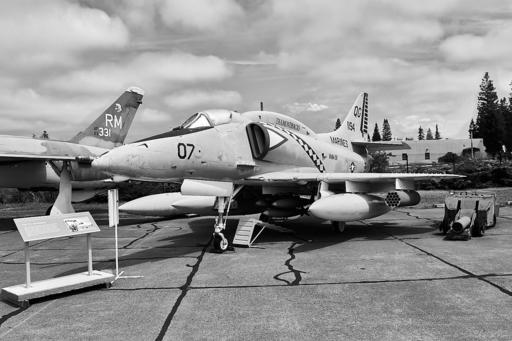 You'll find a three-acre field covered with authentic, well-cared-for aircraft. You can crawl under them, look inside wheel wells and bomb bays, peer into cockpits, and examine all the details.
The aircraft are primarily military, from the Korean War and Vietnam eras through the modern age. All are authentic. Many still have their original engines and all have complete or nearly complete cockpits. Several are equipped with authentic but inert ordnance. In all cases, they strive to restore and maintain these historic aircraft to represent them during their civilian or military career.
What a fun way to spend an overcast morning! Now, what camera to take?
I wanted something different. My goal was to capture the spirit of the 1960s and 70s when many of these aircraft were in service. I decided to shoot in black and white.
So I reached for the Pentax K-3 Mark III Monochrome and fitted it with one of my favorite Pentax lenses, the Pentax HD Pentax DA 20-40mm f/2.8-4 zoom. (More on this camera in the following story.)
Shooting with this specialty camera landed me back in the 1970s. Its DSLR form factor felt like a 35mm film camera and the monochrome-only images reminded me of shooting with Kodak Plus X film. I was totally immersed in the experience.
Now you and I both know that I could have packed any camera and had a great time exploring this airfield. So why the monochrome?
I think the answer is in how I feel. Whether it's the Pentax Monochrome, Fujifilm X100S, my IR-converted Olympus E-M10, or the 35mm Nikon FG film camera, I'm on an adventure. I have a challenge to come home with pictures that excite me, that look different than my work shots that I do for clients. I can do anything artistically that I want on that airfield, and the camera I choose is part of that fun.
Now some folks might say that this is a rationalization for Gear Acquisition Syndrome (GAS). You could say that, but it isn't.
First of all, I don't buy every camera that I shoot with. The Pentax Monochrome is on loan. Anyone can go to lensrentals.com and get practically any camera in the world. You don't have to buy to experiment.
Second, if you find yourself engaging in specialty photography on a regular basis - B&W, infrared, medium format, etc. - then it has evolved to be part of your creative workflow. You're not getting your hands on these tools just to admire them on a shelf, you're using them to create interesting images.
Saying the camera isn't important to capturing a compelling image is like saying that a hammer isn't important to building a fence. Of course it is!
Don't limit your creativity because you're afraid of being judged as a materialist. Get your hands on what you need, use it to make great images, and ignore the chatter.
Hands on with the Pentax K-3 Mark III Monochrome DSLR Camera
The Pentax K-3 Mark III Monochrome is indeed a specialty camera. And for those who love B&W photography, it can be a pleasure to shoot with. Let's take a look at its specs.
25.7MP APS-C CMOS Sensor
SAFOX 13 101-Point Phase-Detection AF
1.05x-Mag. Pentaprism Optical Viewfinder
3.2" 1.62m-Dot Touchscreen LCD
Up to 12 fps Continuous Shooting
5-Axis SR II In-Body Shake Reduction
UHD 4K30p Video Recording
Three Custom Monochrome Image Modes
Face Detection and Touch Autofocus
Wi-Fi & Bluetooth; Dual SD Card Slots
The first thing that jumped out at me is that this is a real camera. It feels like one, shoots like one, and delivers like one. I don't own the original K-3 Mark III, but I can see why so many Pentax photographers like it.
Things that I Liked
Build quality
Responsiveness
Custom Image menu - Standard, Hard, Soft (D-Pad)
Outdoor View setting (D-Pad)
Choice of RAW file - DNG or Pentax
Highly editable RAW files in C1P
Digital Filters - such as grainy monochrome
Excellent image quality
Things that I Did Not Like
Fixed back LCD
$2,199 price tag
Bottom Line
If you have a handful of Pentax lenses that you like, and aren't using much these days, the Pentax K-3 Mark III Monochrome is a great way to put them to use.
It's also a great alternative to other monochrome cameras that cost even more. I used it in combination with my iPhone Pro Max, using the iPhone for the color work, and the Pentax for black and white.
And finely, the monochrome files from the camera looked different than color files that I converted in post production. It's a bit hard to describe, but the Pentax images looked more natural, more like Kodak Plus-X from a film camera.
It's not an investment for everyone. But for those who want a deep immersion into black and white photography, it has a lot to offer.
Mastering Mobile Photography: Top Smartphone Cameras of 2023
You can read the entire article on FStoppers.com
Apple's iPhone 14 Pro Max is more than just a smartphone; it's a versatile photographic tool. The phone showcases a triple-lens rear camera setup: a 48-megapixel wide sensor, a 12-megapixel ultra-wide sensor, and a 12-megapixel telephoto sensor. This configuration allows photographers to capture a wide range of shots, from panoramic landscapes to detailed close-ups, all while maintaining high resolution and rich color reproduction.
The phone's Night Mode is particularly impressive. Now available for all three lenses, it intelligently adapts to different light conditions, enabling photographers to capture vibrant, detailed images even in low light. This opens up a world of creative possibilities, from capturing cityscapes under neon lights to shooting wildlife at dawn or dusk.
The Google Pixel 7 Pro is another standout in mobile photography. Its camera setup includes a 50-megapixel main sensor, a 12-megapixel ultra-wide sensor, and a 48-megapixel telephoto lens. This powerful hardware is complemented by Google's advanced computational photography capabilities.
The Pixel's software uses AI and machine learning to enhance image quality and make automatic adjustments. This leads to better low-light performance, enhanced digital zoom, and improved portrait mode effects. Google's Night Sight and Super Res Zoom take these enhancements even further, providing remarkable low-light shots and impressive zooming capabilities. For travel photography or impromptu street shots, these features make the Pixel 7 Pro a powerful companion.
The Samsung Galaxy S23 Ultra comes equipped with a comprehensive camera system, housing a 108-megapixel wide sensor, a 12-megapixel ultra-wide lens, and two 10-megapixel telephoto lenses. This setup offers great versatility, accommodating a variety of shooting situations and styles.
The phone's Space Zoom feature is particularly impressive, offering up to 100x digital zoom. This feature can capture distant subjects with an impressive level of detail, which could be particularly useful in situations like wildlife photography or sporting events. Furthermore, the Single Take feature allows users to capture a series of photos and videos with one shutter press, perfect for fast-paced events or dynamic scenes.
The Sony Xperia 1 IV, with its triple 12-megapixel lens setup (wide, ultra-wide, and telephoto), offers professional-grade capabilities. The Photography Pro feature emulates the manual controls found in DSLR cameras, providing full control over parameters like shutter speed, ISO, and focus. This makes it an ideal choice for photographers who prefer hands-on control and precision.
Virtual Camera Club News
The Nimble Photographer Newsletter is now publishing every Thursday. Readers will enjoy a variety of content spanning from short photo essays, to commentary on weekly events, to reviews of the latest and coolest photo gear.
TDS Workshops! - You can sign up for available workshops by visiting The Nimble Photographer. Inner Circle Members receive a 10-percent discount on all events.
Inner Circle Members: A big thanks to those who support our podcast and our efforts! We are having a blast at our new Inner Circle hangout, the private group I've set up at DerrickStoryOnline. We'd love it if you join us. You can become an Inner Circle Member by signing up at our Patreon site. You will automatically be added to the new hangout.
Great Photography Articles on Live View - If you check out our publication and appreciate what you see, be sure to follow us and clap for those authors. You can find us at medium.com/live-view.
If you're interested in writing for Live View, drop me a line at dstory@gmail.com.
The New Donation Kit for Carefree Shipping of Found Film Cameras - If you've discovered a film camera that's no longer being used, our new Donation Kit makes it easy to pack and ship. Just visit the Contact Form on thenimblephotographer.com, click the box next to Donating a Film Camera, and let me know what you have. In your note, be sure to include your shipping address.
Affiliate Links - The links to some products in this podcast contain an affiliate code that credits The Digital Story for any purchases made from B&H Photo and Amazon via that click-through. Depending on the purchase, we may receive some financial compensation.
Red River Paper - And finally, be sure to visit our friends at Red River Paper for all of your inkjet supply needs.
See you next week!
You can share your thoughts at the TDS Facebook page, where I'll post this story for discussion.