This is The Digital Story Podcast #904, July 18, 2023. Today's theme is "Creativity Also Grows in the Garden." I'm Derrick Story.
Opening Monologue
Summer travel is fun. But if we limit our photography to a week or two of vacation, we're not going to add much to the image library. Fortunately, one of the best and infinitely entertaining photo destinations is often right under our nose: the backyard garden. And on today's TDS Photography Podcast, I'll explain how you can reap a bountiful harvest without ever getting your hands dirty. I hope you enjoy the show.
Digital Photography Podcast 904
Tune-In Via Your Favorite Podcast App!

---

Apple Podcasts -- Spotify Podcasts -- Stitcher

Podbean Podcasts -- Podbay FM -- Tune In
Creativity Also Grows in the Garden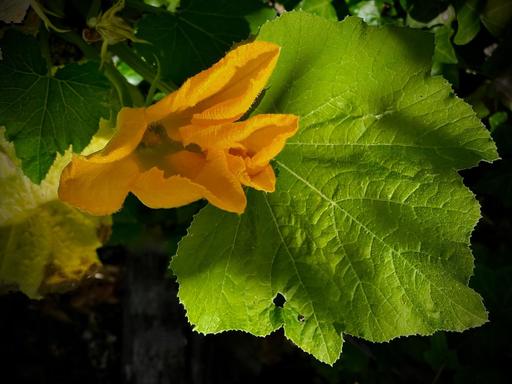 I think it's safe to say that we spend most of our time looking at gardens from a distance. And why not? It's quite beautiful to gaze out the back window and see all of those beautiful colors and textures.
But if the back patio is as close as you get, you're missing out on some great photo opportunities. Here are five things that you could probably explore right now and create beautiful imagery doing so.
Flowers and Blossoms - I love eating fresh squash from the garden. But I like those bodacious blossoms just as much. Squash holds nothing back: giant green leaves, booming flowers, and ultimately the vegetable itself. And that's just one item of many in the garden.

Insects and Bugs - Time to get out the close-up lens for these little critters - Bees, spiders, wasps, and various other busy inhabitants in your garden make great macro subjects. And if you happen to photograph a butterfly or two, all the better.

Birdbath in the Morning - A birdbath and accompanying feeder is a great way to attract our feathered friends to the outdoor studio. Most of the bathing at my place happens in the morning before the water gets too warm. The post-bath preening is also a great photo opp.

Webs and Things - Spider webs are fascinating in the right light, and they are both challenging and fun to photograph. Pay extra attention to their surroundings so that you can get an overall interesting shot.

Timelapse, Infrared, and Other Special Techniques - Notice a flower on the verge of opening up? Try your hand at timelapse. Have some interesting hardscape and plant combinations? Consider experimenting with infrared photography. Have frequent visitors that would be good movie subjects? Try slow motion video.
The garden is an amazing wonderland for photography experiments. Plus it's easy to use larger accessories such as tripods and flashes because, well, you're at home.
Maximize your creative photography all summer, not just on vacation, by spending some time in the garden. You might be surprised and delighted by what you discover.
See a Rock Cairn? Push It Over, Yosemite National Park Says
You can read the entire article on Petapixel.com
Landscape photographers or visitors to national parks might feel bad about knocking over rock cairns since it likely took someone a bit of time and effort to get them into place. But in a post on Facebook this week, Yosemite National Park officials are encouraging visitors to knock over rock cairns as part of the "Leave No Trace" ethics of visiting national parks.
"Why did Wilderness Restoration Rangers dismantle this rock cairn? According to Leave No Trace ethics when we recreate in wilderness spaces, our goal is to leave no signs of our impact on the land and respect other creatures living in it," Yosemite explains.
"Unfortunately, this dramatically oversized cairn is a mark of human impact and is distracting in a wilderness setting. Building rock cairns also disturbs small insects, reptiles, and microorganisms that call the underside home!" the national park continues.
"When used appropriately, rock cairns are great for navigation, safety, and delineating a new or hard-to-follow trail. In general, rock cairns should only be constructed by rangers and trail workers. Please dismantle and refrain from building rock cairns when you visit Yosemite."
So, photographers, have no qualms about toppling rock cairns that are interrupting a landscape scene. They don't belong and are not only visually disruptive, but ecologically damaging.
Best Mac for photo editing
You can read the entire article on Macworld.com
One reason why Macs are a great choice for today's photographers is their excellent color accuracy and display quality. For example, there is a 4.5K display on the 24-inch iMac. There was a 5K display on the 27-inch iMac, but Apple discontinued that model in March 2022 and it's not yet clear if there will ever be another iMac with a larger screen.
The great quality displays aren't only reserved for the iMac though. If you want a Mac you can carry around with you - so that you can edit photographs when you are out in the field - then you will want to consider a MacBook Pro.
The 14-inch MacBook Pro that was introduced in 2021 and updated in 2023 offers an excellent 3,024 by 1,964 screen (that's 5.9 million pixels). The 16-inch MacBook Pro offers even more pixels - 7.7 million. In fact, Apple claimed that the screen on the 2021 MacBook Pro was the world's best notebook display when it launched.
It is a Liquid Retina XDR display with an extreme dynamic range of, according to Apple: 1,000 nits brightness and 1,600 nits of peak brightness. There is also a 1,000,000:1 contrast ratio, which should make it possible to see detail in shadows, deeper blacks and more vivid colors.
But the big deal about the 14-inch and 16-inch MacBook Pro screens is that these were the first, and so far only, Macs with ProMotion. ProMotion first arrived on the iPad Pro and the iPhone 13 Pro and it offers an adaptive refresh rate up to 120Hz (which means it can refresh images 120 times a second). However, it can also vary this refresh rate depending on what's required - saving battery life.
As for the best machines themselves, I cover those in the podcast.
Virtual Camera Club News
The Nimble Photographer Newsletter is now publishing every Thursday. Readers will enjoy a variety of content spanning from short photo essays, to commentary on weekly events, to reviews of the latest and coolest photo gear.
TDS Workshops! - You can sign up for available workshops by visiting The Nimble Photographer. Inner Circle Members receive a 10-percent discount on all events.
Inner Circle Members: A big thanks to those who support our podcast and our efforts! We are having a blast at our new Inner Circle hangout, the private group I've set up at DerrickStoryOnline. We'd love it if you join us. You can become an Inner Circle Member by signing up at our Patreon site. You will automatically be added to the new hangout.
Great Photography Articles on Live View - If you check out our publication and appreciate what you see, be sure to follow us and clap for those authors. You can find us at medium.com/live-view.
If you're interested in writing for Live View, drop me a line at dstory@gmail.com.
The New Donation Kit for Carefree Shipping of Found Film Cameras - If you've discovered a film camera that's no longer being used, our new Donation Kit makes it easy to pack and ship. Just visit the Contact Form on thenimblephotographer.com, click the box next to Donating a Film Camera, and let me know what you have. In your note, be sure to include your shipping address.
Affiliate Links - The links to some products in this podcast contain an affiliate code that credits The Digital Story for any purchases made from B&H Photo and Amazon via that click-through. Depending on the purchase, we may receive some financial compensation.
Red River Paper - And finally, be sure to visit our friends at Red River Paper for all of your inkjet supply needs.
See you next week!
You can share your thoughts at the TDS Facebook page, where I'll post this story for discussion.