The Apple Mac mini M2 Pro ($1,149) is a wonderful machine that muscles through my photography work without even working up a sweat. My only real complaint with it is the backside location of the ports. Fortunately, the Satechi Stand and Hub for the Mac mini ($99) solves that problem... and more.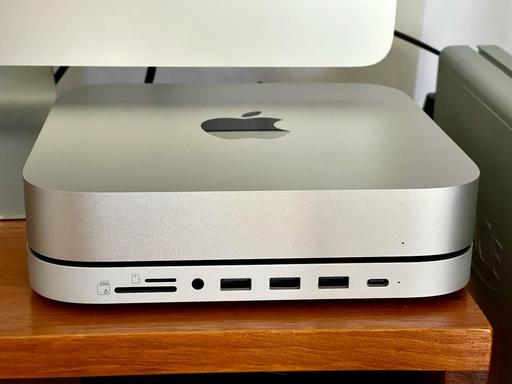 Mac mini M2 Pro 2023 on top of the Satechi Mac mini Stand and Hub.
The accessory works with the Mac mini M1 and M2, and the Apple Studio 2022. It matches the Apple hardware perfectly and expands its usability.
USB-C Host Connection
3 x USB 3.1 Gen 1 Type-A Ports
1 x USB 3.1 Gen 1 Type-C Port
SD / microSD Card Readers
Internal M.2 SATA Drive Enclosure
It plugs into one USB-C port in the back of the Mac mini, and provides loads of connectivity on the front where it's easy to access.
But the real kicker is the M.2 SATA drive enclosure underneath. I added a Western Digital 2TB WD Blue 3D NAND Internal PC SSD ($125) that augments the 512GB internal drive on the Mac mini. Note: the hub only supports SATA M.2 drives. I've tested the WD Blue, and it works great.
This works like a charm. I keep the system software and applications on the Mac mini internal drive, and the master images, catalogs, and movies on the WD Blue. Performance is blazing fast. And the entire set up (Satechi hub plus 2TB SSD = $225) costs one third of the price compared to upgrading the Mac mini to a 2TB internal drive ($1,899).
The Satechi hub is port-powered, so it doesn't need any external power. Its design allows for ventilation. And it looks great. In fact, it feels a bit like having a Mac Studio at a bargain price.
If you're working with a Mac mini M1 or M2, and want to improve its flexibility affordably, you can't miss with the Satechi Stand and Hub for the Mac mini. I like it almost as much as the mini itself.
Author's Note: Product links are affiliate. Same price for you, but they help support this site.