This is The Digital Story Podcast #905, July 25, 2023. Today's theme is "Why Take-and-Bake When You Can Eat Right Now?." I'm Derrick Story.
Opening Monologue
RAW files remind me of take-and-bake pizza. You have all the ingredients, but you don't get to eat a slice until you take it home, fire up the oven, and wait 40 minutes. Not exactly instant gratification. Jpegs, on the other hand, are piping hot and ready to go. No waiting. No baking. Seems like no contest. So why do so many of us torture ourselves with take-and-bake? I'll explain how to have your pizza and eat it too on this week's TDS Podcast. I hope you enjoy the show.
Digital Photography Podcast 905
Tune-In Via Your Favorite Podcast App!

---

Apple Podcasts -- Spotify Podcasts -- Stitcher

Podbean Podcasts -- Podbay FM -- Tune In
Why Take-and-Bake When You Can Eat Right Now?
Think about your favorite pizza restaurant. Why do you prefer their pies over the other guys. Everyone uses the same basic ingredients, right? Yet, there just something a little better about the takeout from your preferred restaurant.
It's the recipe, right? A little more basil, a better mozzarella, a sweeter tomato sauce all add up to an experience that's better than the others.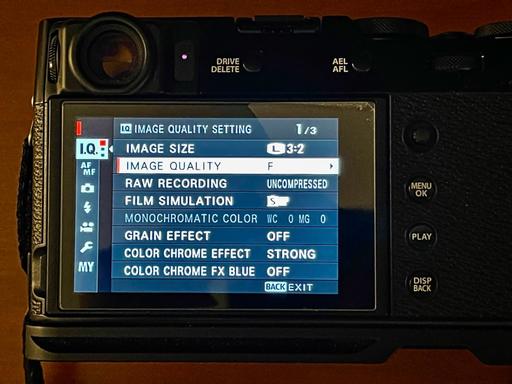 Camera manufacturers feel the same way about their Jpeg recipes. They have evolved over decades and are closely guarded secrets. A Canon Jpeg looks different than one from a Nikon camera, and Fujifilm files have a different vibe than those from a Sony.
All of this care put into these Jpegs only to be overlooked because we insist on take-and-bake RAW files. Yes, we would rather spend an additional 40 minutes on a photo that may or may not look as good as what the camera can make for us.
Now I know the situations when RAW files are beneficial. We all do. Extreme lighting conditions and weird lighting are at the top of the list. But a lovely Summer morning by the lake isn't one of them, and yet we still shoot RAW.
I have five reasons why you may want to embrace the moment and just shoot Jpegs. You might find that you're just as happy with the pictures, and even more pleased that you could enjoy all those wonderful flavors immediately.
Automatic Optical Correction - Who knows better than the camera manufacturer how to correct any optical imperfections in its lenses? And they build that correction right into the Jpeg file.

Film Simulations - These aren't hackish filters like we see in some editing apps. Film simulations built into cameras are often based on serious color science. They allow you to match the mood of your capture with the essence of your subject.

Sharpness and Clarity - Many mirrorless cameras provide us with the ability to tweak the sharpness and clarity of our images. Crank it up for urban architecture, tone it down for portraits.

Highlight and Shadow Tones - Did you think that the only way you can compensate for highlights and shadows is in post production? You might want to revisit your camera's menu.

Custom Settings - Most cameras have at least four custom settings. That means you can quickly address your most common lighting scenarios and subjects with just the twist of a dial.
I also recommend in setting the camera to SuperFine, or whatever the highest quality Jpeg setting is available. This provides you with even more data to work with if you ever need to.
Now all you have to do is get out there and enjoy photography. And when you get home, put your feet up, enjoy a slice of leftover pizza, and revel in the fact that you don't have to start working on those RAW files.
The Best Lenses Available for Under $400
You can read the entire article on LensRentals.com
Finding affordable lenses in the photography marketplace has become more and more of a challenge over the last few years. Where a $2,000 price tag was once considered expensive, has now become normalized. There are plenty of lists online recommending expensive lenses, heck, we posted our list of the most expensive lenses just a few weeks ago. But what about those of us who are on a limited budget? Who are just getting started in photography or videography, and don't yet have the means to build a 5-figure kit of lenses at our disposal? Well, we're going to try to get you covered here as well.
Before we drop into the list of recommended lenses, it's important to note some things about the state of the photography and videography market. If you're looking to save on costs and are just getting started, your best bet might be to look at DSLR systems, as opposed to mirrorless platforms. Canon and Nikon both have decades of incredible lenses and cameras that are now being unloaded in the used market for bottom dollar prices and a Canon 5D Mark III, despite being ten years old, is still a rock-solid camera. While it doesn't have the features that the most modern mirrorless camera has and is bulky in comparison, it's a great place to start if you're looking to build out a professional kit without a lot of money.
I discuss the specific lenses in the podcast.
Want to Write About Your Photography Experiences?
Our photography publication, Live View has a couple of spots open for aspiring photography writers. Our mission statement is: "If we were to sum up Live View in one word, it would be passion. Our writers are here because they want to share articles about topics that inspire them. This is the space to explore their discoveries." So if you want to write to a large audience and share images too, please contact me at: dstory@gmail.com.
Kodak Specially Manufactured Black and White 70mm Film for Oppenheimer
You can read the entire article on PetaPixel.com
As "Barbenheimer" sets records at the box office this weekend, Kodak has revealed it manufactured a special black and white film stock for use in Oppenheimer.
The Eastman Double-X Black and White film in 65mm was specifically created for use with the IMAX and Panavision System 65mm film cameras.
Oppenheimer tells the story of theoretical physicist J. Robert Oppenheimer, known as the father of the atomic bomb. The movie follows a non-linear narrative and director Christoper Nolan and cinematographer Hoyte van Hoytema use black and white to distinguish between two time periods.
"It was a gutsy choice. One of my very first phone calls was to Kodak, enquiring if they had any 65mm large-format black and white films tock," van Hoytema tells the Kodak website.
"But they had never made that before, and early on it was uncertain as to whether they would or could achieve it in time for this production. But they stepped up to the plate and supplied a freshly manufactured prototype Double-X 5222 65mm film stock, delivered in cans with handwritten labels on the outside."
But even though Kodak made the working prototype, the film stock had never been run through an IMAX camera before and it required a reconfiguration of the laboratory film processor.
"It became quite a complex engineering process -- encompassing things like the thickness of the backing for the film emulsion, and making new gates and pressure plates in the cameras so as to avoid scratches," says van Hoytema.
The final film reel for Oppenheimer weighs 600 pounds and is 11 miles long. The movie is in cinemas now.
Virtual Camera Club News
The Nimble Photographer Newsletter is now publishing every Thursday. Readers will enjoy a variety of content spanning from short photo essays, to commentary on weekly events, to reviews of the latest and coolest photo gear.
TDS Workshops! - You can sign up for available workshops by visiting The Nimble Photographer. Inner Circle Members receive a 10-percent discount on all events.
Inner Circle Members: A big thanks to those who support our podcast and our efforts! We are having a blast at our new Inner Circle hangout, the private group I've set up at DerrickStoryOnline. We'd love it if you join us. You can become an Inner Circle Member by signing up at our Patreon site. You will automatically be added to the new hangout.
Great Photography Articles on Live View - If you check out our publication and appreciate what you see, be sure to follow us and clap for those authors. You can find us at medium.com/live-view.
If you're interested in writing for Live View, drop me a line at dstory@gmail.com.
The New Donation Kit for Carefree Shipping of Found Film Cameras - If you've discovered a film camera that's no longer being used, our new Donation Kit makes it easy to pack and ship. Just visit the Contact Form on thenimblephotographer.com, click the box next to Donating a Film Camera, and let me know what you have. In your note, be sure to include your shipping address.
Affiliate Links - The links to some products in this podcast contain an affiliate code that credits The Digital Story for any purchases made from B&H Photo and Amazon via that click-through. Depending on the purchase, we may receive some financial compensation.
Red River Paper - And finally, be sure to visit our friends at Red River Paper for all of your inkjet supply needs.
See you next week!
You can share your thoughts at the TDS Facebook page, where I'll post this story for discussion.