This is The Digital Story Podcast #909, August 22, 2023. Today's theme is "Photomator Coming of Age." I'm Derrick Story.
Opening Monologue
In May 2023, the Mac version of Pixelmator Photo was rebranded as Photomator and released to the public. Combined with the previously released iPhone and iPad versions, Photomator seamlessly integrated the AI-powered editing process on all devices. What? You're not familiar with Photomator? You're not alone. And we're going to change that today on this week's TDS Photography Podcast. I hope you enjoy the show.
Digital Photography Podcast 909
Tune-In Via Your Favorite Podcast App!

---

Apple Podcasts -- Spotify Podcasts -- Stitcher

Podbean Podcasts -- Podbay FM -- Tune In
Photomator Coming of Age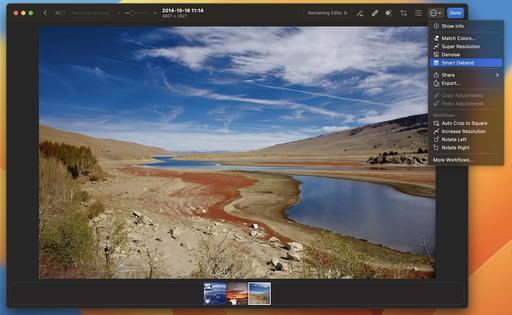 Photomator is for macOS and iOS devices only, and it makes the most of native macOS technologies, such as Apple Silicon, Swift UI, Core ML, Core Image, and Metal. It runs extremely fast on Apple Silcon Macs, which is a bit deceptive as it performs complex AI-based operations. We'll get to those in a minute.
"All your edits are seamlessly syncing with the Photos library and, with support for iCloud, across all your devices, so you can start editing on one device and pick up on another. And what's best, if you buy Photomator for Mac, you'll also get unlimited access to the iPhone and iPad version with the same license."
Now if the name is sounding familiar, and you're feeling a bit confused, you're not alone. The Pixelmator Team has another full-featured app, Pixelmator Pro, that's been around for a while longer. The way I look at Pixelmator Pro, is that it's more like Photoshop with its graphics tools and layered editing environment, and Photomator is more like Luminar with its AI-powered tools. Speaking of those, let's look at what's available with version 3.1
Photomator AI-Powered Tools
Auto Enhance - Automatically enhance photos like a pro photographer.
Super Resolution - Magically increase the resolution of photos with no unwanted blurring.
Smart Deband - Quickly remove color banding artifacts from photos and increase color depth.
Denoise - Effortlessly remove camera noise and image compression artifacts.
Repair - Remove small imperfections or even entire objects from photos.
ML Crop - Automatically improve the composition of photos
Select Subject - Quickly and easily select subjects of photos.
Select Sky - Instantly select the sky in any photo with ease.
Select Background - Automatically select the background in any photo.
Plus Photomator supports all of the traditional adjustment sliders that you would expect. However, many of them have innovative twists, such as Selective Clarity, which allows you to apply texture and clarity to Shadows, Midtones, and Highlights. Selective Color uses Machine Learning to finetune its selections. There's a Channel Mixer for infrared photographers. And and excellent complement of LUTs as well.
And then there are the presets. Photomator comes with a collection of gorgeous, handcrafted photography presets for your photos. With 9 unique preset groups, you can easily emulate analog film, apply vintage and cinematic looks, enhance urban or landscape photography, and more.
When you edit an image in Photomator, the changes are saved to iCloud and propagated to all devices associated with that account. The edits are totally non-destructive, so you can use Revert to Original or Before/After in Photos for images edited in Photomator.
Photomator 3.1 is available now in the Mac App Store and the iOS App Store. There is a free trial to check it out. I purchased a lifetime license for $69 that unlocks the app on all of my devices, macOS or iOS. They also offer monthly and yearly licensing at affordable prices.
The Latest Stories on Live View will Entertain and Educate
This week's Live View features:
Great Photographers of the 20th Century by Michael Alford
On the Accidental Discovery of Your Work Being "Derivative" by John Pemberton
Fair Photography Isn't Fair by Cynthia Whelan
My Thanks to an Unknown Photographer by Derrick Story
You can read all of these stories, and much, much more, by visiting Live View.
Canon reiterates RF-mount is open to third parties, but don't get your hopes up just yet
You can read the entire article on DPReview.com
Journalists in China recently had an opportunity to interview a group of Japanese Canon executives, and posed questions about the current state of third-party lenses for RF-mount mirrorless cameras. First spotted by Canon Rumors on the Weibo account Camera Beta, Canon executives stated that the company is open to the idea of third-party RF-mount lenses and is, in fact, in talks with several lens manufacturers. While this sounds promising, Canon is much more reserved and deliberate when it comes to allowing other optical manufacturers to use their RF lens mount standard. And unusually, has taken legal action to prevent lensmakers entering the RF system without permission.
This more or less aligns with what we heard from Canon when we posed a similar question to company executives back at CP+ earlier this year.
According to the new Camera Beta interview, Canon is open to requests for licensing the RF-mount to third parties. However, it doesn't just issue a blanket license for the outside manufacturer to make any and all lenses. Canon, instead, treats each third-party lens request on a case-by-case basis.
Exactly how Canon decides which third-party lenses get an official license for the RF mount was not made clear. And as Canon Rumors points out, just what exactly does a license for the RF-mount allow third-party manufacturers to do? Beyond just making lenses fit with the physical RF-mount on R-series cameras, will third parties get access to proprietary Canon autofocus specs or firmware? Will third parties be limited to manual focus lenses? We simply don't know.
With Canon's statement in mind, one can speculate that Canon is concerned about third-party offerings competing directly with their own. From a business perspective, it's a valid strategy. That said, we've always believed that more lens choices benefit the consumer, and increase the attractiveness of any given system overall.
Although it's unclear whether or not we will soon begin to see an increase in third-party lenses for Canon's mirrorless cameras, it's clear that the demand is there.
Sunflower Farm Asks for No More Nude Photo Shoots on Their Land
You can read the entire article on PetaPixel.com
A sunflower farm in the U.K. has urged people to stop the nude photo shoots that have been increasing in their fields.
Stoke Fruit Farm Shop on Hayling Island, off England's south coast, made the unusual plea on social media after three nude shoots took place in just one day.
"We just want to remind people that we are a family attraction. We attract everyone from newborns all the way up to 100 years old," the owners say in a Facebook post.
"We want people to come here, enjoy picking flowers and having fun with the family, taking photos, and enjoying things. I understand there's a few people out there who want to take risque photos and photos for their Instagram profile et cetera.
"All I ask is that they're considerate of the other people around them. So just think about who else is around you when you're taking the photos in the sunflower field and think how that could affect them."
The sunflower farm has erected signs around the colorful fields that read "No public nudity."
"Reminder to all, we are a family area and please keep your clothes on in the sunflowers. We are having an increase of reports of naked photography taking place and this must not happen during our public sessions please!"
One person on their Facebook page commented: "Yes, we stumbled on a 'session' -- I'm not a prude but I don't expect to see almost naked bodies while searching for the best blooms."
Another person reported that their son saw a woman wearing "just a thong." Adding, "[He] got a right eyeful last night, should have seen his face!"
Virtual Camera Club News
The Nimble Photographer Newsletter is now publishing every Thursday. Readers will enjoy a variety of content spanning from short photo essays, to commentary on weekly events, to reviews of the latest and coolest photo gear.
TDS Workshops! - You can sign up for available workshops by visiting The Nimble Photographer. Inner Circle Members receive a 10-percent discount on all events.
Inner Circle Members: A big thanks to those who support our podcast and our efforts! We are having a blast at our new Inner Circle hangout, the private group I've set up at DerrickStoryOnline. We'd love it if you join us. You can become an Inner Circle Member by signing up at our Patreon site. You will automatically be added to the new hangout.
Great Photography Articles on Live View - If you check out our publication and appreciate what you see, be sure to follow us and clap for those authors. You can find us at medium.com/live-view.
If you're interested in writing for Live View, drop me a line at dstory@gmail.com.
The New Donation Kit for Carefree Shipping of Found Film Cameras - If you've discovered a film camera that's no longer being used, our new Donation Kit makes it easy to pack and ship. Just visit the Contact Form on thenimblephotographer.com, click the box next to Donating a Film Camera, and let me know what you have. In your note, be sure to include your shipping address.
Affiliate Links - The links to some products in this podcast contain an affiliate code that credits The Digital Story for any purchases made from B&H Photo and Amazon via that click-through. Depending on the purchase, we may receive some financial compensation.
Red River Paper - And finally, be sure to visit our friends at Red River Paper for all of your inkjet supply needs.
See you next week!
You can share your thoughts at the TDS Facebook page, where I'll post this story for discussion.