This is The Digital Story Podcast #910, August 29, 2023. Today's theme is "When It's Bright, Pack Light." I'm Derrick Story.
Opening Monologue
One of the great things about summer is that there's lots of light. And this is particularly beneficial to Micro Four Thirds photographers who have plenty of compact, super-sharp optics available. That means we can cover just about any outside event with gear that fits in a handbag. I share one such example on this week's TDS Photography Podcast. I hope you enjoy the show.
Digital Photography Podcast 910
Tune-In Via Your Favorite Podcast App!

---

Apple Podcasts -- Spotify Podcasts -- Stitcher

Podbean Podcasts -- Podbay FM -- Tune In
When It's Bright, Pack Light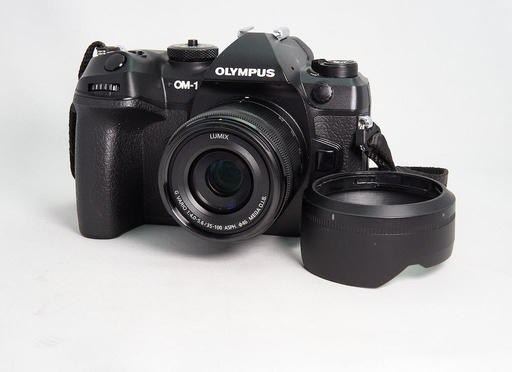 When I learned that one of my boys was running in the Santa Rosa Marathon, I circled August 27th on the calendar. I've always wanted to cover this event, and now I had the ultimate incentive.
If you've ever chased a marathon, it's both fun and challenging. First, you have to have some method to know when your runners are in the course. Then you have to calculate how to get ahead of them, and in position, to capture the action as they run by. This is one of those assignments where being nimble pays big dividends.
As I was planning for the shoot, some items were a given. No question that I was going to use the OM System OM-1 camera. And per a discussion in an earlier podcast, I was going to shoot in C-AF+TR.
My bag would be the Lowepro Streamline 150. And the only real accessories I needed would be an extra battery and a polarizing filter.
So, all that's left is the question of which two lenses? I figured the Olympus 14-42mm EZ ($299) could handle the after race celebrations in the town square. But for the action optic, my choice might surprise you.
You'd think that I'd reach for the Olympus 40-150mm f/2.8 PRO zoom ($1,299). But I didn't need to go that big. And there's no way that optic would fit in the compact bag that I wanted to carry. Plus, there was going to be plenty of light. I didn't need f/2.8 to get the job done.
So instead, I selected an optic that I first purchased for my Cuba assignment. [Side story about packing for Cuba here.] What was that optic? The Panasonic Lumix G Vario 35-100mm f/4-5.6 ASPH. MEGA O.I.S. lens that measures 2.19" x 1.97" / 55.5 x 50 mm and weighs in at 4.76oz / 135g. And it sells for $399.
You're probably thinking that a lens that affordable and compact can't be worthy of event photography. Think again. Check out these specs.
Aperture Range: f/4 to f/22
Stepping AF Motor, Internal Focus
Rounded 7-Blade Diaphragm
70-200mm (35mm Equivalent)
One Aspherical Element, Two ED Elements
MEGA Optical Image Stabilization
Includes compact, reversible lens hood
And it is compatible with practically every MFT camera body, including the OM-1.
When I returned from Cuba, which was my first important shoot with this lens, I was amazed at the color, clarity, and sharpness of the images that I captured with it. Talk about punching way above one's weight. The numerous 5 Star reviews on the B&H site mirror my own experiences.
And for the Santa Rosa Marathon, this optic delivered again. Shooting in C-AF+TR mode, it locked in on my subjects quickly, tracked them accurately, and silently nailed each shot.
I've posted the Marathon gallery on DerrickStoryPhotography.com. And if you want to see the Cuba gallery, it's there as well.
Some lenses just blow your mind. Others allow you to move about the world freely. The Panasonic 35-100mm does both. All you need is a little summer light.
PS: Max completed the race with a beautiful 3:38 time. He finished in the top 1/3 of the field. That was just icing on the cake for me.
It's official: monkeys can't hold copyright over images, and neither can AI
You can read the entire article on DigitalCameraWorld.com
In a move that will reverberate throughout the creative industries, it has been ruled by a federal judge that AI-generated artwork is not copyrightable under United States law.
In short, no image can be copyrighted unless it has been authored in part by a human being. "Human authorship is an essential part of a valid copyright claim," said US District Judge Beryl Howell, rejecting a claim made by computer scientist Stephen Thaler over a piece of AI artwork titled A Recent Entrance to Paradise.
You are probably familiar with the case of British wildlife photographer David J Slater in 2014, who was denied copyright for selfies taken by macaques using his camera. The court ruled that a non-human creator cannot hold copyright under US law; instead, it becomes part of the public domain.
"Plaintiff can point to no case in which a court has recognized copyright in a work originating with a non-human," read the court order in the Thaler case, alluding to cases such as that brought by Slater in the past. In short, an image created by an ape is not copyrightable - and nor is an image created by AI.
"Human authorship is a bedrock requirement," continued the order (via The Hollywood Reporter). "The act of human creation - and how to best encourage human individuals to engage in that creation, and thereby promote science and the useful arts - was thus central to American copyright from its very inception."
The outcome is a significant and potentially landscape-changing one - most visibly in terms of the current strike action in Hollywood. A key point of contention between the film studios and the WGA / SAG-AFTRA (the Writers' Guild of America, and the Screen Actors' Guild and American Federation of Television and Radio Artists) is the desire to replace all or part of the work done by writers and performers with AI.
With it being definitively ruled that such work cannot be copyrighted, the studio system will lose interest in this point (as it would mean that movies and TV shows created with AI would not be fully protected).
As surmised by The Hollywood Reporter: "While cameras generated a mechanical reproduction of a scene, she explained that they do so only after a human develops a 'mental conception' of the photo, which is a product of decisions like where the subject stands, arrangements and lighting, among other choices."
The GR III Is So Popular, Ricoh Can't Keep It in Stock
You can read the entire article on PetaPixel.com
According to Asobinet, the GR III has become so sought after in China and Japan that estimated delivery dates are months out. In Japan, some stores are so uncertain of when more might arrive that they unable to provide an estimated shipping date.
It's not clear what is driving up the demand for the GR III specifically, but it might be the overall increase in demand for cameras around the world, led mainly by a surge in China.
Earlier this year, Ricoh apparently told fans in China that its manufacturing facilities were unable to keep up with the market demand which caused inventory shortages both there and around the world.
One theory for the sudden boost in popularity for the four-year-old camera is that it might have been considered a viable alternative to the popular Fujifilm X100V, which has been extremely difficult to find ever since it exploded in popularity late last year. Even nearly a year later, the compact Fujifilm point-and-shoot remains on backorder from multiple dealers around the world.
Considering the Ricoh GR III is similar to the X100V in that it is a fixed wide-angle lens, compact camera equipped with an APS-C sensor, those who were struggling to find an X100V may have turned to Ricoh for a substitute. That, in turn, has pushed Ricoh to the brink of its manufacturing.
The GR III was also already popular among photography enthusiasts since it combines high image quality and performance in a small package.
I just checked B&H Photo for any of the Ricoh GR IIIs - Diary Edition, Street Edition, etc., and all flavors are out of stock.
Virtual Camera Club News
The Nimble Photographer Newsletter is now publishing every Thursday. Readers will enjoy a variety of content spanning from short photo essays, to commentary on weekly events, to reviews of the latest and coolest photo gear.
TDS Workshops! - You can sign up for available workshops by visiting The Nimble Photographer. Inner Circle Members receive a 10-percent discount on all events.
Inner Circle Members: A big thanks to those who support our podcast and our efforts! We are having a blast at our new Inner Circle hangout, the private group I've set up at DerrickStoryOnline. We'd love it if you join us. You can become an Inner Circle Member by signing up at our Patreon site. You will automatically be added to the new hangout.
Great Photography Articles on Live View - If you check out our publication and appreciate what you see, be sure to follow us and clap for those authors. You can find us at medium.com/live-view.
If you're interested in writing for Live View, drop me a line at dstory@gmail.com.
The New Donation Kit for Carefree Shipping of Found Film Cameras - If you've discovered a film camera that's no longer being used, our new Donation Kit makes it easy to pack and ship. Just visit the Contact Form on thenimblephotographer.com, click the box next to Donating a Film Camera, and let me know what you have. In your note, be sure to include your shipping address.
Affiliate Links - The links to some products in this podcast contain an affiliate code that credits The Digital Story for any purchases made from B&H Photo and Amazon via that click-through. Depending on the purchase, we may receive some financial compensation.
Red River Paper - And finally, be sure to visit our friends at Red River Paper for all of your inkjet supply needs.
See you next week!
You can share your thoughts at the TDS Facebook page, where I'll post this story for discussion.