This is The Digital Story Podcast #913, Sept. 19, 2023. Today's theme is "2 New Cameras That You Should Know About." I'm Derrick Story.
Opening Monologue
Maybe it was the unveiling of the Titanium iPhone 15 Pro Max that cast a shadow over two excellent cameras announced just days before. But we're going to shine a light on them both. One from Panasonic. The other from Fujifilm. Both terrific. Learn more about them on the first story of today's TDS Photography Podcast. I hope you enjoy the show.
Digital Photography Podcast 913
Tune-In Via Your Favorite Podcast App!

---

Apple Podcasts -- Spotify Podcasts -- Stitcher

Podbean Podcasts -- Podbay FM -- Tune In
2 New Cameras That You Should Know About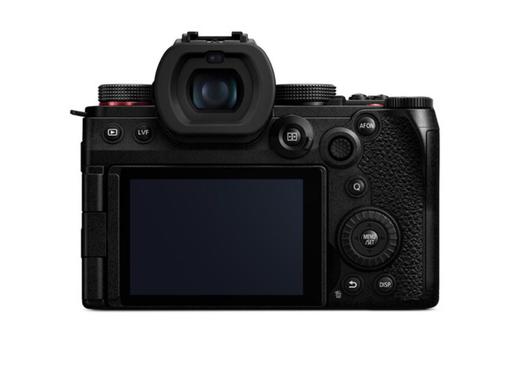 The Panasonic Lumix DC-G9 II
The Panasonic Lumix G9 II ($1,897) is the follow-up to the G9 and is the first-ever Lumix Micro Four Thirds camera to include phase detection autofocus. Panasonic redesigned the body for a more upright, angular appearance and has packed plenty of tech inside.
25.2MP Live MOS Micro Four Thirds Sensor

100MP Handheld High-Res Mode

3.68m-Dot 0.8x-Magnification OLED LVF = 60 fps or 120 fps changeable refresh rate.

779-Point Phase-Detection AF System - When it comes to autofocus, dependability is the most important thing, and with Phase Detection AF you can fully supplement and track the subject in six different situations that until now had been a challenge for conventional systems to capture.

Dual UHS-II SD Slots; Wi-Fi & Bluetooth

5-Axis Sensor Stabilization; Dual I.S. 2 - Dual I.S. 2 combines the camera's 8 stop-rated 5-axis sensor-shift image stabilization technology with lens-based 2-axis image stabilization to compensate for a broader range of movement types to render sharper, clearer imagery. Dual I.S. 2 requires the use of compatible Lumix lenses featuring O.I.S. When working with adapted lenses, you can manually select whether to use the in-camera sensor-shift.

3.0" 1.84m-Dot Free-Angle Touchscreen

ISO 25600 and 75 fps Continuous Shooting - 75 fps when using the camera's electronic shutter, or up to 14 fps when using the mechanical shutter.

Weather-Sealed Design

Equipped with several recently-developed pre-programmed settings, the G9 II features the Leica Monochrome photo style, which delivers beautiful creations of black and white scenes.

A USB Type-C port allows for fast file transfers as well as high-speed in-camera battery charging. But not a separate battery charger.
Compared to the OM System OM-1
The G9 II's sensor isn't as fast as the Stacked CMOS variety in the OM-1, it has fewer subject detection modes, the EVF is lower resolution (3.68 M vs 5.76 M, weaker battery life (390 vs 520), weighs more (23 oz vs 21 oz), and is a bigger camera compared to the OM-1.
The G9 II does have more resolution however, (25 MP vs 20 MP), costs $100 less, and has a few more video goodies.
Bottom Line for the G9 II
First of all, it's great that Panasonic comtinues to build sophisticated, well-designed Micro Four Cameras. Photographers love having the choice between the two brands, and the overall system is far more vibrant thanks to Panasonic's contributions.
The G9 II is a handsome camera as well, and some my prefer the slightly bigger size with more resolution. And if that's the case, I'm confident they will enjoy shooting with Panasonic's flagship MFT camera.
You can preorder the Panasonic Lumix G9 II now. It begins shipping in early November.
Fujifilm GFX 100 II
The FUJIFILM GFX100 II Medium Format camera ($7,499) is also a redesigned mirrorless with updated autofocus.
102MP 43.8 x 32.9mm BSI CMOS Sensor

9.44m-Dot EVF

5-Axis Sensor-Shift Image Stabilization - 8 stops

ISO 80-12800, Up to 8 fps Shooting

3.2" 2.36m-Dot Tilting Touchscreen LCD

Multi Aspect Ratios

Improved autofocus algorithms and updated tracking ensures your subject stays locked in focus regardless of their movements. Plus, subject tracking for Animal, Bird, Automobile, Motocycle and Bike, Airplane, and Train

Deliver photos or video straight to the cloud moments after they're created with the GFX100 II's world first, accessory-free integration for Frame.io Camera to Cloud. Utilize the camera's built-in Wi-Fi or Ethernet LAN connection to connect to Frame.io and deliver hi-res raw or JPEG images, send h.264 video proxies, or upload 8K ProRes video securely for review.

New REALA ACE Film Simulation mode - a recreation of one of Fujifilm's more lifelike film stocks. It's similar to Provia but with slightly lower saturation and slightly lower contrast. It's not as big a difference as the camera's negative film modes, letting it act as an alternative default shooting mode.

Direct record to SSD
The biggest improvements compared to other Fujifilm 100 models is better stabilization (up to 8 EV), faster burst rate (8 fps), higher viewfinder resolution (9.44M dots / 1.00x), and higher movie resolution (8K UHD or DCI) up to 30p - 4K UHD or DCI up to 60p).
It truly is video-centric. The addition of a full-sized HDMI port, the ability to capture ProRes 422 footage, the option to output direct to SSD, the inclusion of vectorscope and waveform displays, all point to Fujifilm devoting a lot of time and effort to deliver a camera that video creatives will take to easily.
You can preorder the FUJIFILM GFX100 II Medium Format camera now. It should begin shipping later this month.
A Brief History of Olympus, From the Six to OM Digital
You can read the entire article on PetaPixel.com
As the history of this storied brand enters a new era, under new ownership and now bearing the banner of OM Digital Solutions, let's take a trip back in time to explore its origins, successes, and the milestone camera designs that will forever be associated with the Olympus name.
OM System Announce the New TOUGH TG-7 Adventure Camera
You can read the entire article on Fstoppers.com
Historically, the Olympus TOUGH cameras were well respected by outdoor adventurers, divers, and those who work in extreme environments. The New OM System TOUGH TG-7 has taken a huge step forward with a host of exciting new features.
The camera is shockproof, designed to withstand being dropped from 2.1 meters (7 feet), and it is waterproof to up to 15 meters (49 feet) depth. If you want to go deeper, then the PT-059 case allows it to be used up to a depth of 45 meters (147 feet). With these specifications, this camera will appeal to divers, snorkelers, wild swimmers, sailors, canoeists, surfers, and other water sports enthusiasts.
There are five underwater shooting modes that optimize settings for various scenes: Underwater Wide, Underwater Snapshot, Underwater Macro, Underwater Microscope, and Underwater HDR. As divers know, the blueness of the scene increases with depth. Consequently, the white balance modes automatically adjust based on the underwater shooting mode, although manual adjustments are also possible. These white balance modes are Underwater: Shallow, Underwater: Mid-Range, and Underwater: Deep.
Many owners of previous TOUGH models have used them for macro photography. This camera takes it further with its Microscope Control Mode. That is for close-up shooting, where one can get within 1 cm of the subject. That allows users to effortlessly switch between 1x, 2x, and 4x magnifications with the single touch of a button, mimicking the experience of using a microscope to observe and photograph subjects. On top of that, the rear LCD monitor allows for subject magnification of up to 44.4 times. Furthermore, the camera has focus stacking from three up to ten shots and focus bracketing up to 30 shots. By using focus bracketing, the photographer can blend them into a single frame with a wide depth of field using the OM Workspace software. There are also two optional lens accessories that will allow even more possibilities for macro mode.
Inherited from the OM System interchangeable lens cameras such as the OM-1 and the OM-5, another feature included in this camera is Pro Capture mode. This facility is unique to the OM System and buffers shots for half a second before the shutter is fully depressed. This means you should never miss the action because of your reaction time.
The camera has a USB-C socket, so the battery can be charged within the camera.
You can preorder the OM SYSTEM Tough TG-7 now for $549. It begins shipping soon.
Virtual Camera Club News
The Nimble Photographer Newsletter is now publishing every Thursday. Readers will enjoy a variety of content spanning from short photo essays, to commentary on weekly events, to reviews of the latest and coolest photo gear.
TDS Workshops! - You can sign up for available workshops by visiting The Nimble Photographer. Inner Circle Members receive a 10-percent discount on all events.
Inner Circle Members: A big thanks to those who support our podcast and our efforts! We are having a blast at our new Inner Circle hangout, the private group I've set up at DerrickStoryOnline. We'd love it if you join us. You can become an Inner Circle Member by signing up at our Patreon site. You will automatically be added to the new hangout.
Great Photography Articles on Live View - If you check out our publication and appreciate what you see, be sure to follow us and clap for those authors. You can find us at medium.com/live-view.
If you're interested in writing for Live View, drop me a line at dstory@gmail.com.
The New Donation Kit for Carefree Shipping of Found Film Cameras - If you've discovered a film camera that's no longer being used, our new Donation Kit makes it easy to pack and ship. Just visit the Contact Form on thenimblephotographer.com, click the box next to Donating a Film Camera, and let me know what you have. In your note, be sure to include your shipping address.
Affiliate Links - The links to some products in this podcast contain an affiliate code that credits The Digital Story for any purchases made from B&H Photo and Amazon via that click-through. Depending on the purchase, we may receive some financial compensation.
Red River Paper - And finally, be sure to visit our friends at Red River Paper for all of your inkjet supply needs.
See you next week!
You can share your thoughts at the TDS Facebook page, where I'll post this story for discussion.