This is The Digital Story Podcast #912, Sept. 12, 2023. Today's theme is "Natural Diffusion - The Joy of Greenhouse Photography." I'm Derrick Story.
Opening Monologue
There are two basic challenges to close-up flower photography - First, you need interesting and compelling subjects. And second, simplifying your gear so that the shooting experience is enjoyable, yet produces compelling results. Fortunately, there is one solution to both of these obstacles. And that's the first story in today's TDS Photography Podcast. I hope you enjoy the show.
Digital Photography Podcast 912
Tune-In Via Your Favorite Podcast App!

---

Apple Podcasts -- Spotify Podcasts -- Stitcher

Podbean Podcasts -- Podbay FM -- Tune In
Natural Diffusion - The Joy of Greenhouse Photography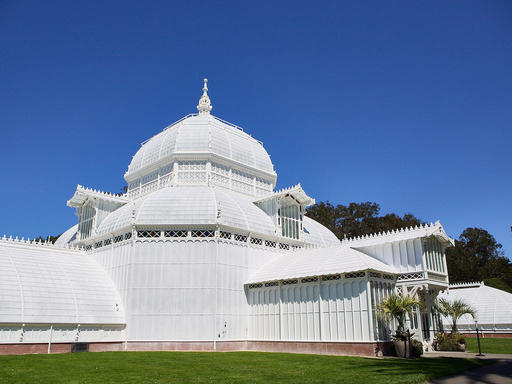 Nearly every major city has a botanical garden and accompanying conservatory that's open to the public. And yet, many photographers don't find the time to visit either. And maybe that's because they have to actually step inside a conservatory of flowers to truly appreciate what it has to offer.
I recently spent time inside the Conservatory of Flowers in San Francisco's Golden Gate Park. Inside this large greenhouse are a variety of exhibits including: aquatic plants, tropics, and many exotics.
If you live in the City, entrance is free. For those of us outside San Francisco, the admission is $15 - a bargain for the opportunities inside. The conservatory is photographer-friendly, as long as you follow a few basic rules.
No tripods or free-standing equipment allowed.

All bags or equipment must remain on a person in your party at all times. - More on this later.

No nudity or lewd activity or behavior.

No movement of plants or Conservatory property allowed.

No holding of crowd or prevention of other guests to roam freely.

Pathways must be kept clear at all times.
Traveling Light in the Greenhouse
Because basically, you're taking pictures inside of a giant softbox, very little equipment is required. I mounted the Olympus M.Zuiko Digital ED 60mm f/2.8 Macro lens ($449) on my OM SYSTEM OM-1 mirrorless camera ($1,999 on sale), and that was it.
For my shot of the Vireya Rhododendron, for example, my settings were ISO 320, f/5.6, 1/30th of a second, handheld. The RAW file was absolutely beautiful.
Flowers You Just Don't Normally See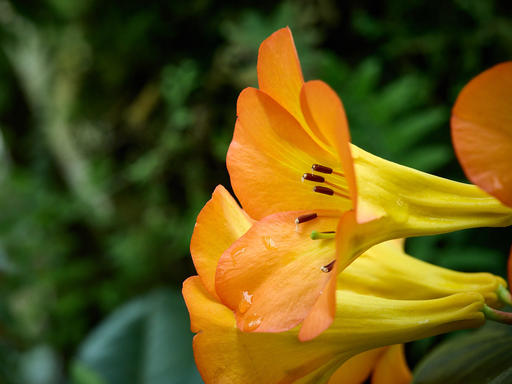 Staying with the Vireya Rhododendron, I was really attracted to this flower. The odds of me seeing it in the wild would be slim. Vireyas grow in cool mountainous regions of Southeast Asia, either as epiphytes high in the tall trees of the cloud forest or on open ground in shrubberies. There are over 300 Vireya species, comprising approximately one-third of all rhododendrons. Many rhododendrons make poisonous nectar. This poison helps to keep herbivores away but is harmful to humans who consume honey made with the nectar.
Yet, here it was right in front me. I used my LCD to compose a low-angle shot, then was able to move on to the next subject.
Accompanying Website for Identification
Many of the flowers have ID cards in their vicinity, but another helpful feature of most botanical gardens is their website that identifies their major species with additional information about them.
So once you pick your favorite shots and edit them to your liking, you can add this rich metadata from the comfort of your couch. That way, when someone asks you, "What flower is that?" You can confidently answer.
Final Thoughts
Greenhouse photography is enjoyable, equipment-friendly, and yields wonderful shots that you would be hard-pressed to get otherwise. It's definitely worth a visit.
Fujifilm X100V replacement due in early 2024 with brand new lens (report)
You can read the entire article on DigitalCameraWorld.com
It's been over three years since Fujifilm released the insanely popular X100V, and to this day it's still hard to get your hands on it. Most camera retailers are still out of stock, and those after one are having to wait months. The good news is, it looks like early 2024 will give way to its replacement - and it could come with a brand new lens. The bad news? We're already anticipating delays.
There aren't many cameras that stay quite as in demand as the Fujifilm X100V has been, so news of its successor is very exciting. Since its launch, the X100V has suffered delays, parts shortages and an overwhelming and hard-to-keep-up with demand; Fujifilm even had to stop taking orders! So will the next in line suffer the same fate, or will Fujifilm find a way to meet orders?
A key factor could be the integrated lens. The X100V is fitted with a 23mm (35mm equivalent) f/2.0 optic but, according to a source at Fuji Rumors, the next X100 could have a brand new lens. No details have been shared yet as to what this might look like - it could be anything from a minor redesign that could make it weather-sealed to a shift in focal length and aperture.
For now, those on the X100V waitlist will have to decide whether to continue on that journey or hold off until more information is available about its replacement. With 2024 not many months off, we'd be inclined to wait that little bit longer to find out what Fujifilm can offer in terms of an upgrade. After all, you've probably already waited months already - what's a few more?
Adobe Is Ending Creative Cloud Syncing: Here's What That Means
You can read the entire article on PetaPixel.com
What Is It? - Adobe Creative Cloud sync allows users to save files on their own devices to a folder called "Creative Cloud Files," which would automatically copy those files to their cloud storage. Those files could then be accessed on the Creative Cloud website and other devices.
Adobe is discontinuing Creative Cloud sync on February 1, 2024, but only for free and paid personal users. The syncing feature will still be available for enterprise and teams business accounts until October 1, 2024.
Adobe's Creative Cloud plans all include some form of cloud storage, which seems to be continuing on as is despite the discontinuation of sync functionality. In its announcement, Adobe said the change was due to the company "modernizing the Creative Cloud storage experience."
What to Do - Adobe recommended users back up their work to another third-party cloud service or to their own hardware. Though it's important to note that the software company said all items in users' local Creative Cloud Files folders would "remain intact and under your complete control." PetaPixel is aware these are conflicting statements and has asked for clarity, but did not receive a response ahead of publication.
Those who wish to leave their work where it is can do so, but it may be best to back up these files and upload them to a third-party cloud service.
What the comments are saying: Chris - "This has nothing to do with Lightroom or its syncing. This is simply discontinuing a probably very little used single folder syncing feature that was their version of Dropbox sync folder or Google Drive sync folder or iCloud sync folder all of which are much more robust and reliable. But lots of companies offered their own anyway so since this need is much better met with one of those and probably still a lot of work for them to keep running on latest software and older I'm sure they realized best to finally remove. Won't delete anything you have saved in it locally and will just turn into a normal folder. But you could just move it into your iCLoud documents folder or Google Drive folder and still sync it between your devices."
And Chris again- "Nothing would change with your workflow. Lightroom syncs from iPad to Desktop. This has nothing to do with that core feature of that software. They are just talking about the single Creative Cloud Files sync folder that was meant to be like a Dropbox sync folder or iCloud sync folder etc. So probably rarely used since syncing is available with all those products far better."
Virtual Camera Club News
The Nimble Photographer Newsletter is now publishing every Thursday. Readers will enjoy a variety of content spanning from short photo essays, to commentary on weekly events, to reviews of the latest and coolest photo gear.
TDS Workshops! - You can sign up for available workshops by visiting The Nimble Photographer. Inner Circle Members receive a 10-percent discount on all events.
Inner Circle Members: A big thanks to those who support our podcast and our efforts! We are having a blast at our new Inner Circle hangout, the private group I've set up at DerrickStoryOnline. We'd love it if you join us. You can become an Inner Circle Member by signing up at our Patreon site. You will automatically be added to the new hangout.
Great Photography Articles on Live View - If you check out our publication and appreciate what you see, be sure to follow us and clap for those authors. You can find us at medium.com/live-view.
If you're interested in writing for Live View, drop me a line at dstory@gmail.com.
The New Donation Kit for Carefree Shipping of Found Film Cameras - If you've discovered a film camera that's no longer being used, our new Donation Kit makes it easy to pack and ship. Just visit the Contact Form on thenimblephotographer.com, click the box next to Donating a Film Camera, and let me know what you have. In your note, be sure to include your shipping address.
Affiliate Links - The links to some products in this podcast contain an affiliate code that credits The Digital Story for any purchases made from B&H Photo and Amazon via that click-through. Depending on the purchase, we may receive some financial compensation.
Red River Paper - And finally, be sure to visit our friends at Red River Paper for all of your inkjet supply needs.
See you next week!
You can share your thoughts at the TDS Facebook page, where I'll post this story for discussion.