This is The Digital Story Podcast #918, Oct. 24, 2023. Today's theme is "A Scary Night Out with the Nikon Zf" I'm Derrick Story.
Opening Monologue
I'd been testing the Nikon Zf for a week when I landed the ultimate low light torture test: Opening night publicity shots for a commercial haunted house. When we were working out the details of the assignment, the client warned me, "It's going to be dark, very dark." With the Zf in hand, I replied, "Bring it on!" What happened on that frightful night is the lead story in this week's TDS Photography Podcast. I hope you enjoy the show.
Digital Photography Podcast 918
Tune-In Via Your Favorite Podcast App!

---

Apple Podcasts -- Spotify Podcasts -- Stitcher

Podbean Podcasts -- Podbay FM -- Tune In
A Scary Night Out with the Nikon Zf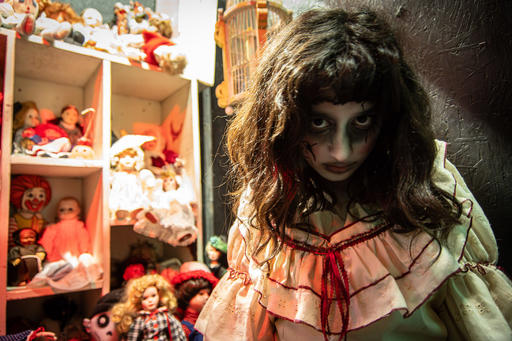 Captured with the Nikon Zf at the Blind Scream Haunted House in Santa Rosa, CA. Photo by Derrick Story.
Most people would probably think I was insane. Who in their right mind would accept a virtual darkness photo shoot with a brand-new camera and only a few lenses? I must admit, I was a bit nervous beforehand. But as you know, I always am.
I was armed with the Nikon Zf mirrorless camera and 40mm f/2.0 lens. I also had the FTZ II adapter that allowed me to use my AF-S 50mm f/1.8 G that came with my Nikon D610, and the AF-S 24-85mm G zoom.
I only had one battery that came with the Zf, that is, until I tried the Lithium from the D610 and discovered that it worked. Now I had two batteries. I was ready for action.
In the podcast, I tell the story of how the haunted house shoot unfolded.
If you want to read my full review of the Nikon Zf, it includes lots of detail and plenty of pictures.
Canon Japan formally discontinues the last EOS-M cameras, saying goodbye to EF-M
You can read the entire article on DPReview.com
Well, the writing has been on the wall for a while, but Canon's Japanese website has finally confirmed the end of the EF-M system. Or, at least, is describing all the EOS-M camera models as being discontinued.
Canon USA told PetaPixel, "At present, sales of EOS M series cameras and EF-M lenses vary from region to region depending on user needs," but the confirmation that sales have stopped in Canon's home market, where the EOS-M models sold particularly well, tells a fairly clear story.
The EF-M system, Canon's first foray into mirrorless cameras, was a compact APS-C mirrorless system that could use EF and EF-S DSLR lenses via adapter, but its own lenses could only be used on EF-M bodies.
The range extended from some of Canon's smallest, most affordable beginner-friendly ILCs up to the enthusiast-focused M5 and M6 models. The relatively small lens range reflected this focus, with a handful of variable aperture zooms supplemented by three relatively compact primes.
The arrival of the RF mount undermined confidence in the future of the system and the launch of APS-C RF models essentially spelled the end for EF-M. The R cameras sacrifice some of the compactness of EOS-M modes and currently have fewer APS-C (and APS-C appropriate) lens options, but give buyers the confidence that Canon is committed to the lens system. To some degree, anyway: Canon doesn't have a great history of fleshing out its APS-C systems, perhaps in the hope of up-selling people to its full-frame cameras and, unlike with EF-M, has been actively blocking third parties from doing so.
But, regardless of where we stand or how we got here, it seems that, after eleven years, Canon has turned a page on the first chapter of its mirrorless camera story.
Ricoh makes official statement on its film camera project. It's not what we expected!
You can read the entire story on DigitalCameraWorld.com
It turns out that film photography lovers may not be getting quite as spoiled as was previously thought.
It was recently stated by a Ricoh employee that four new Pentax film cameras are coming next year, including two SLRs. However, this timeline might not come to fruition as Ricoh has now made an official statement that will put water on this new film camera fire.
"We found information on several websites regarding our film camera development," reads the statement. "This included two compact film cameras for Spring 2024 as mentioned by a colleague working for Ricoh Imaging Europe.
"This is not our official remark, nor is it based on any fixed information. We are indeed challenging the development of a compact film camera; however, we have not yet decided whether or when we will launch such a product."
While this news does leave a big question mark for me, and clearly there are some communication issues, and although this could have been a blunder... it does raise suspicion over the whole project. Which we haven't really had a substantial update on since May 2023, which is 5 months as of writing this article.
Who knows what the future will hold for the Pentax and its reveal of film cameras, but if you're in the market for a new-to-you film camera then we highly recommend checking out our best film camera guide and while you're there take a look at our best 35mm film or best 120 film guides to keep your film supply in stock.
Virtual Camera Club News
The Nimble Photographer Newsletter is now publishing every Thursday. Readers will enjoy a variety of content spanning from short photo essays, to commentary on weekly events, to reviews of the latest and coolest photo gear.
TDS Workshops! - You can sign up for available workshops by visiting The Nimble Photographer. Inner Circle Members receive a 10-percent discount on all events.
Inner Circle Members: A big thanks to those who support our podcast and our efforts! We are having a blast at our new Inner Circle hangout, the private group I've set up at DerrickStoryOnline. We'd love it if you join us. You can become an Inner Circle Member by signing up at our Patreon site. You will automatically be added to the new hangout.
Great Photography Articles on Live View - If you check out our publication and appreciate what you see, be sure to follow us and clap for those authors. You can find us at medium.com/live-view.
If you're interested in writing for Live View, drop me a line at dstory@gmail.com.
The New Donation Kit for Carefree Shipping of Found Film Cameras - If you've discovered a film camera that's no longer being used, our new Donation Kit makes it easy to pack and ship. Just visit the Contact Form on thenimblephotographer.com, click the box next to Donating a Film Camera, and let me know what you have. In your note, be sure to include your shipping address.
Affiliate Links - The links to some products in this podcast contain an affiliate code that credits The Digital Story for any purchases made from B&H Photo and Amazon via that click-through. Depending on the purchase, we may receive some financial compensation.
Red River Paper - And finally, be sure to visit our friends at Red River Paper for all of your inkjet supply needs.
See you next week!
You can share your thoughts at the TDS Facebook page, where I'll post this story for discussion.