This is The Digital Story Podcast #919, Oct. 31, 2023. Today's theme is "Connecting a Camera to Your Smartphone: Has It Got Better?" I'm Derrick Story.
Opening Monologue
Our smartphones and tablets have such beautiful HD screens and are so powerful. They are a natural companion to our mirrorless cameras. Yet, despite Bluetooth and WiFi, the whole process has been an exercise in frustration. Has it got any better? Find out on today's TDS Photography Podcast. I hope you enjoy the show.
Digital Photography Podcast 919
Tune-In Via Your Favorite Podcast App!

---

Apple Podcasts -- Spotify Podcasts -- Stitcher

Podbean Podcasts -- Podbay FM -- Tune In
Connecting a Camera to Your Smartphone: Has It Got Better?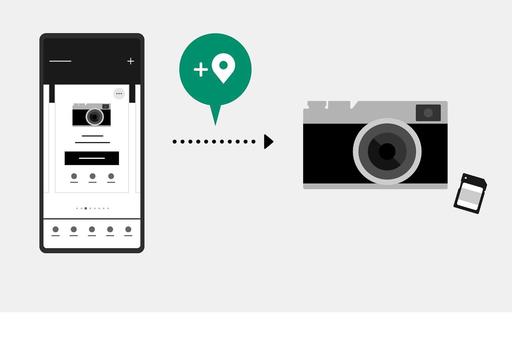 There are so many situations when I just want to see a photo on my iPhone or iPad without having to remove the memory card, put it in a reader, launch an app, and go through the entire uploading process. And I shouldn't have to.
Every modern device has Bluetooth and WiFi. This should be easy. But it hasn't. Have things changed?
With my iPhone 15 Pro Max in hand, I've tested the apps from Nikon, OM System, and Fujifilm. This should be a fairly good sampling of where we stand. So let's get to it.
Nikon SnapBridge with a Nikon Zf
Grade C - When everything works as it is supposed to, I can remotely control the camera with the iPhone, download pictures in a variety of resolutions from the Zf to the iPhone, automatically geotag pictures, and more.
The Bluetooth side of the equation works well. Once you set up Auto Link and pair the devices, they find each other nearly instantly. This is particularly important when you want to automatically geotag pictures captured with the Zf.
Things start to break down for remote photography and downloading images because those require a WiFi connection, which the Zf has a hard time maintaining. In fact, the WiFi can gum up the works so badly that you sometimes have to turn it off to use the Bluetooth.
Once reestablished however, everything works really well. Nikon needs to make the WiFi side of the equation more stable. Once they do, this app could be rise to an A grade.
O.I. Share with OM System OM-1
Grade B+ - The O.I. app has evolved steadily over the years, and its current version is the most stable and functional to date.
Setup is fairly straightforward, having the smartphone scan a QR code on the camera back. Once the connection is made, you can remotely control the camera, import photos, including RAWs, edit pictures with all of the Art Filters available in post), add geotags, and even update the firmware for the camera and Olympus lenses.
The Bluetooth and WiFi connections are stable. It does take a little time to fire up the WiFi when you want to download pictures or remotely control the camera, but once established, the connection is solid.
The realtime geotagging has very much improved. One you turn on the feature in O.I. Share, you don't even have to launch to app for geotagging to engage. You can confirm that BT and geotagging is active via the icons on the camera's LCD.
This tandem has really improved, and it deserves a solid B. Speeding up the WiFi connection process would move it to a grade of A.
Fujifilm Xapp with X100V
Grade B - Fujifilm photographers were not happy with the previous version of their smartphone app. So the software engineers went back to the drawing board and created an entirely program: Xapp.
The Xapp provides a variety of functions including geotagging, importing pictures, remote control, backing up camera settings, and firmware updates.
The Bluetooth connection works great. All you have to do is launch the app with the camera on, and the two see each other right away. Again, this provides fairly seamless geotagging of the camera images.
WiFi is required for importing pictures and remote control. This works fairly well, but I have had to initiate the connection more than once to enable. I would say it's definitely more stable than with the previous app, but it does have its wobbles.
Overall however, Fujifilm has improved this experience with Xapp. And if they can further streamline and stabilize the WiFi connection, they would deserve an A grade.
Final Observations
One thing that I noticed with all three camera apps is that the more I use them and connect, the better they seem to work. So I think it's worth it to fire them up on a regular basis.
In the case of the iPhone, all of the imported images are shared with Photos for iOS, and as an extension, iCloud. This is very handy and it makes post production and backup seamless.
I think it's worth tapping these apps for the automatic geotagging alone, which is also the best functioning. And when you do want to import wirelessly, most of the time it goes well with little hassle.
Indeed, times have improved.
Join Us for the Next Online Inkjet Printing Workshop
Nov. 29-Dec. 20, 2023
Just in time for the holidays, this inkjet printing workshop will help you tame your printer, enabling you to create beautiful prints and fine art greeting cards.
We'll cover paper stocks, printer setups, project design, and even how to choose the best inkjet photo printer for you.
Weekly printing assignments with class support will help you hone your skills.
If you're tired of being baffled by the fine art output process, and are ready to start creating artwork that you can physically share with others, this workshop is for you.
You can Sign Up Here for the workshop. And remember, Inner Circle Members get a 10 Percent Discount.
Canon is actively conducting market research on a "retro" style camera body
You can read the entire story on CanonRumors.com
Back in August, we spent a bit of time reading between the lines about a "retro" influences Canon camera from comments made by a Canon executive. This topic was brought up in response to the hype around Nikon's Zf retro camera body.
Now it appears Canon is actively asking customers which of their most iconic camera bodies customers would like to see again, but with a modern take.
According to The Federation of Independent Photographers, Canon has been officially conducting market research through multiple channels getting feedback from Canon shooters about which camera they'd like to bring back.
The top 4 choices for a retro inspired EOS camera are the Canonet QL17, Canon P, Canon F-1 and the top selling Canon AE-1.
While there are a few "Debbie Downers" out there that are on the ol' "who cares what a camera looks like?" high-horse, we have seen a lot of excitement on the possibility of Canon paying homage to at least one of their iconic camera bodies.
1,000 Off Canon's Flagship Camera
The Canon EOS R3 is now $4,999, which is $1,000 off its normal $5,999 price tag.
The full-frame 24MP BSI CMOS sensor has an updated DIGIC X processor, which helps boost the overall speed for up to 30 fps continuous shooting with an electronic shutter, 6K 60p raw and 4K 120p video recording, plus intelligent Dual Pixel CMOS II autofocus with Eye Control AF for intuitive focus point selection.
The R3 is also the first EOS R-series camera to feature a built-in vertical grip, making it an ergonomic choice for long shooting times and for seamlessly switching between horizontal and vertical shooting orientations. The rugged body design also incorporates a high-resolution 5.76m-dot OLED EVF and a 3.2" vari-angle touchscreen LCD, along with dual memory card slots, wireless and wired connectivity, and an updated Multi-Function Shoe design for expanded accessory compatibility.
If you've been waiting to pull the trigger on this flagship Canon, now seems like a good time.
Virtual Camera Club News
The Nimble Photographer Newsletter is now publishing every Thursday. Readers will enjoy a variety of content spanning from short photo essays, to commentary on weekly events, to reviews of the latest and coolest photo gear.
TDS Workshops! - You can sign up for available workshops by visiting The Nimble Photographer. Inner Circle Members receive a 10-percent discount on all events.
Inner Circle Members: A big thanks to those who support our podcast and our efforts! We are having a blast at our new Inner Circle hangout, the private group I've set up at DerrickStoryOnline. We'd love it if you join us. You can become an Inner Circle Member by signing up at our Patreon site. You will automatically be added to the new hangout.
Great Photography Articles on Live View - If you check out our publication and appreciate what you see, be sure to follow us and clap for those authors. You can find us at medium.com/live-view.
If you're interested in writing for Live View, drop me a line at dstory@gmail.com.
The New Donation Kit for Carefree Shipping of Found Film Cameras - If you've discovered a film camera that's no longer being used, our new Donation Kit makes it easy to pack and ship. Just visit the Contact Form on thenimblephotographer.com, click the box next to Donating a Film Camera, and let me know what you have. In your note, be sure to include your shipping address.
Affiliate Links - The links to some products in this podcast contain an affiliate code that credits The Digital Story for any purchases made from B&H Photo and Amazon via that click-through. Depending on the purchase, we may receive some financial compensation.
Red River Paper - And finally, be sure to visit our friends at Red River Paper for all of your inkjet supply needs.
See you next week!
You can share your thoughts at the TDS Facebook page, where I'll post this story for discussion.