This is The Digital Story Podcast #922, Nov. 21, 2023. Today's theme is "Bad News Backup." I'm Derrick Story.
Opening Monologue
The task was simple. All I had to do was gather a few images from 2005 that were stored on one of my twin Drobo drives. No, it's not what you think. The Drobos were fine. But unbeknownst to me, the images on them were trapped. And what I thought was the key to unlock them no longer worked. On today's TDS Photography Podcast, I tell the story of the Bad News Backup. I hope you enjoy the show.
Digital Photography Podcast 922
Tune-In Via Your Favorite Podcast App!

---

Apple Podcasts -- Spotify Podcasts -- Stitcher

Podbean Podcasts -- Podbay FM -- Tune In
Bad News Backup
Author's Note: I've published a detailed account of this story on Medium.com titled, The Rescue Mission. You can read the story for free using this link.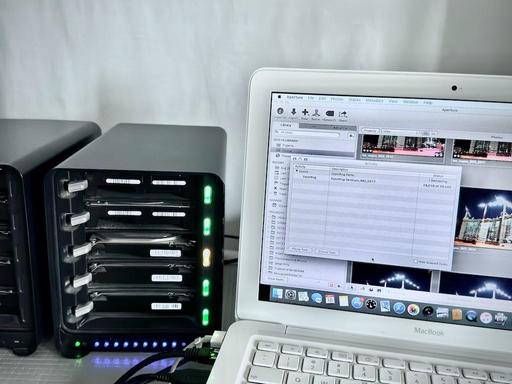 Quietly humming on my desk right now is a white-plastic 2009 MacBook laptop running Mac OS X El Capitan. It's connected to a 2012 Drobo 5D hard drive array with a flickering activity light. They are working together on a very important project.
No, I am not a time traveler. Nor am I so nostalgic that I would nurse along decades-old hardware.
I am on a mission. I'm determined to retrieve images from my life 20 years ago. To help me, I've enlisted the help of a few unlikely characters, a band of aging old has-beens.
Apple has long since stopped supporting plastic MacBooks. Drobo isn't even a company anymore. And the captor of my images, Aperture, was jettisoned in 2015.
I had never worried much about the safety of those memories because Apple had promised an escape key: Photos for macOS (Aperture's replacement). If I wanted to peer into an Aperture library, all I had to do was connect the Drobo to a current computer and open the catalog with the Photos app. That was the deal. Or was it?
Here's what happened next...
The 2024 TDS Photography Workshop Season
You can see all of the workshops and reserve your spot at thenimblephotographer.com
I've just announced six new workshops for next year - 3 online, and 3 in-person on location. All events are open for registration right now. Here's what's going on.
Photo Critique and Building Your Portfolio - Online - Feb. 2024
Spring in Sedona, AZ - In-Person - April 2024
Infrared Photography - Online - June 2024
Inkjet Printing for Photographers - Online - August 2024
Durango, CO and Mesa Verde National Park - In-Person - Oct. 2024
Safari West and Wine Country Experience in Sonoma County - In-Person - Nov. 2024
Reserve Your Spot Today
All of our workshops currently have open seats. But typically that doesn't last for long. So if you want to join us in 2024, and I hope you do, visit the Nimble Photographer Workshops Page and reserve your spot. I hope to work with you in 2024!
Photographer Switches to JPEG and Is Impeached by Local Club
You can read the entire story on FStoppers.com
Seattle, WA: Local photographer Wyatt Jones recently decided to switch from shooting in raw to JPEG format in an effort to spend less time editing images. However, he soon discovered he was spending even more time explaining his decision to horrified fellow photographers who were developing negative opinions.
"I figured JPEGs would be quicker - just shoot and share!" said Jones. "But when I told my camera club friends, you'd think I just kicked a puppy. They kept asking if I had gone insane."
Outraged photographers immediately began cropping up, inundating Jones with reasons he must shoot raw: white balance adjustments, exposure recovery, the ability to re-edit years later, and most importantly, better shadow recovery.
"Eric went on a 15-minute diatribe about how shooting JPEG was 'destroying your creative potential'," said Jones. "He said I may as well just be shooting on a Polaroid. But they're my family photos, not the next Avengers movie!"
The pleas to switch back to raw fell on deaf ears. Later, Jones proudly posted a JPEG photo to his photography forum titled "The Raw Truth." He hoped his unprocessed image would develop into an interesting discussion.
The horrified responses poured in, critiquing the color, noise, and lack of flexibility. "This would have been easily adjustable if you had the raw file," remarked one commenter. "I could have recovered at least 2-3 stops of shadows from the raw data," contributed another. "Your children must be so ashamed to be in this picture," said one particularly rude commenter.
After spending four hours defending his artistic choice, Jones finally admitted that perhaps he had acted in haste. The next day, he sheepishly swapped his camera settings back to raw, hoping to regain positive exposure among his peers.
But the photography club was still fuming over the debut of Jones' undeveloped JPEG image. They asked him to resign as President and charitably offered to only reduce his membership level from Gold to Silver status.
"It's like they had a personal vendetta just because I shot one lousy photo without raw," complained Jones. "I thought artists were supposed to be open-minded!"
When reached for comment, Jones said only: "Next time, I'll just hire an editor to handle all the developing drama."
Lowest Price I've Ever Seen for the Peak Design Carbon Fiber Travel Tripod - Save $180
Photographers looking for a beautifully designed tripod with a great strength-to-size and weight ratio will appreciate the Carbon Fiber Travel Tripod from Peak Design. Architecturally inspired, and weighing only 2.8 lb, this innovative tripod reduces folded volume thanks to legs that store closer together than traditional tripods.
It's currently available for $419 as part of a Black Friday Sale - that's $180 off regular price.
Lightweight carbon fiber construction that folds down to 15.5", and weighs only 2.8 lb. Includes soft case, mobile mount, hex wrenches, and bushing removal tool. Arca-Type Compatible. Mobile Mount Stores Inside Center Column.
Virtual Camera Club News
The Nimble Photographer Newsletter is now publishing every Thursday. Readers will enjoy a variety of content spanning from short photo essays, to commentary on weekly events, to reviews of the latest and coolest photo gear.
TDS Workshops! - You can sign up for available workshops by visiting The Nimble Photographer. Inner Circle Members receive a 10-percent discount on all events.
Inner Circle Members: A big thanks to those who support our podcast and our efforts! We are having a blast at our new Inner Circle hangout, the private group I've set up at DerrickStoryOnline. We'd love it if you join us. You can become an Inner Circle Member by signing up at our Patreon site. You will automatically be added to the new hangout.
Great Photography Articles on Live View - If you check out our publication and appreciate what you see, be sure to follow us and clap for those authors. You can find us at medium.com/live-view.
If you're interested in writing for Live View, drop me a line at dstory@gmail.com.
The New Donation Kit for Carefree Shipping of Found Film Cameras - If you've discovered a film camera that's no longer being used, our new Donation Kit makes it easy to pack and ship. Just visit the Contact Form on thenimblephotographer.com, click the box next to Donating a Film Camera, and let me know what you have. In your note, be sure to include your shipping address.
Affiliate Links - The links to some products in this podcast contain an affiliate code that credits The Digital Story for any purchases made from B&H Photo and Amazon via that click-through. Depending on the purchase, we may receive some financial compensation.
Red River Paper - And finally, be sure to visit our friends at Red River Paper for all of your inkjet supply needs.
See you next week!
You can share your thoughts at the TDS Facebook page, where I'll post this story for discussion.