This is The Digital Story Podcast #920, Nov. 7, 2023. Today's theme is "How Lightroom Desktop Saved the Day." I'm Derrick Story.
Opening Monologue
Like most of you, I have the $9.99 a month Adobe Photography Plan that includes Photoshop, Lightroom Classic, Lightroom Desktop, and Lightroom Mobile. And even though Lightroom isn't my primary photo management app, at times, I find it very useful. Over the last month was one of those times, and on today's TDS Photography Podcast, I'll share with you why. I hope you enjoy the show.
Digital Photography Podcast 920
Tune-In Via Your Favorite Podcast App!

---

Apple Podcasts -- Spotify Podcasts -- Stitcher

Podbean Podcasts -- Podbay FM -- Tune In
How Lightroom Desktop Saved the Day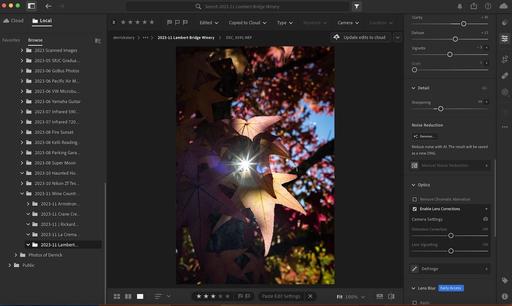 For the last few years, I've been using a combination of Capture One Pro and Photos for macOS to manage my pictures. Photos is great for my iPhone shots, and Capture One Pro works well for my professional assignment work. But I also maintain my Adobe Photography Plan because there are times I find it very useful.
That became even more the case with the recent Lightroom Desktop update, V7.0, that allowed images to be stored locally, as well as in the cloud. I like Lightroom Desktop because it has most of the tools I need in an easy, uncomplicated interface. But having to wrestle with my Adobe Cloud account hindered its usefulness for me. When Adobe allowed for local storage as well, that thrilled me.
Now I can point Lightroom Desktop to my organized picture folders on my hard drive without worrying about exceeding my Cloud storage limit. I can use its cool tools such as the new AI Denoise or Lens Blur for any RAW file on my hard drive. I was really thrilled. But, a turn of events made this even more important.
RAW Files from the Nikon Zf
When I was testing the Nikon Zf for my published review of it, of course I needed to see how its RAW files performed. At first, Capture One couldn't read them. I was using 16.2.2. Then I saw an update was available: 16.2.5. Right on! I downloaded it and added my perpetual license key. The updated version would not accept it and insisted that I needed to pay $200 for an upgrade to 16.2.5. Pay for an update to a dot release!
I trashed the new version and went back to 16.2.2. And I decided that I was going to use Lightroom for working with the RAW files for the Zf.
One of the really good things about Adobe is that they are on top of RAW file updates. This is really important when you test new cameras as I do. And since Lightroom Desktop was more flexible than before, this became my workflow for the Zf.
I have 20 GBs of Cloud space to work with as part of my Adobe Photography Plan. Lightroom Desktop now allows me to load all of my Zf files locally, then decide which ones, if any, I send to Cloud storage. I do this for my favorites because then I can view them, and tweak if necessary, using Lightroom Mobile on my iPhone. It's the best of both worlds.
Adobe Decoding of Nikon's RAW Files
Over the last week, I was covering our Wine Country Photography Workshop with the Zf. We were in wine country at the peak of color, and it was amazing. The Zf did a great job of recording all of that beauty, and Lightroom Desktop decoded those files accurately.
One of the things I really appreciated in Lightroom was the Profile options. I could go with the Adobe versions: Adobe Color, Adobe Landscape, Adobe Vivid, etc., or, under Camera Matching, I could tap the Nikon profiles that were in my camera: Nikon Flat, Nikon Landscape, Nikon Portrait, etc., plus I had all three Nikon Monochrome profiles available there too. If you don't know about these settings, you have to try them.
Once I decided on the best profile for the images at hand, I used the Adobe adjustments to get the most from those RAWs. The editing was fast and effective.
I was able to confidently report on the image quality of the Nikon Zf thanks to Adobe Lightroom Desktop.
Some photographers might not realize the comprehensive tool set in Lightroom Desktop, items such as Content-Aware Remove that work really well. And now that the app allows for local storage, as well as cloud storage, it can be a life-saver... especially when you buy a new camera and need to work on its RAW files.
Really Right Stuff's New Universal L-Bracket Fits Almost Any Camera
You can read the entire story on Petapixel.com
Really Right Stuff announced a new L-bracket called the MC-LS that is designed to work on basically any camera with the classic SLR design with a perfect fit thanks to five levels of adjustment.
The MC-LS is described as a premium universal L-plate that can securely accommodate "most" camera body sizes used by photographers. Really Right Stuff says that the MC-LS offers five levels of adjustment through its sliding L-Component (it has a side-port access window width of 28.1mm and a forward and back slide capability of plus or minus 5mm), reversible Anti-Twist Flange Plate (a minimum of 2.95mm and a maximum of 29.89mm), and fore-to-aft positioning on these elements, which allows it to perfectly adapt to a specific camera's shape. Really Right Stuff adds that the camera socket to the L-component can be adjusted between 43mm and 76.2mm.
"The MC-LS, or Multi-Camera L-Set, is designed to be the one plate that seamlessly fits your camera. It is the ultimate choice for photographers who demand the utmost in versatility, durability, and performance. Whether you're a professional photographer or an avid enthusiast, the MC-LS is here to elevate your photography to new heights, providing unparalleled confidence in every shot," Really Right Stuff says.
While it probably won't fit on any camera, it should reliably adapt to any camera that uses the classic SLR design that has become basically the unspoken "standard" for photo and hybrid cameras. Really Right Stuff shows it attached to cameras as small as an a7C to as large as a Fujifilm GFX medium format body. Of note, the company stipulates that it doesn't work on cameras like the Nikon Z9 as taller bodies like it would have their ports blocked by the bracket. The same can be said for cameras equipped with a battery grip.
Once on a camera, it can attach to a wide range of Arca-style accessories (like tripods, gimbals, and monopods) thanks to its use of the Really Right Stuff Dovetail Standard. The MC-LS L-bracket is designed and manufactured in the United States and is available directly from Really Right Stuff for $140.
How to Find and Use the Advanced Computational Features of OM System Cameras
You can read the entire article, on FStoppers.com..
The OM-1 and OM-5, and their Olympus predecessors, have many unique functions. Here are some common ones, where to find them, and what they do.
In a recent article, I wrote about the advantages of the Micro Four Thirds standard and why there is such a large migration of people to it. OM System cameras, in particular, have unique and unusual innovative features that set them apart from other brands. Although most people who migrate to the OM System do so because of the size and weight advantages, it's also those other distinctive features that make the cameras stand out from the crowd. Most of these are due to something that is overlooked by camera reviewers and photographers alike: the powerful processor. That, combined with the faster speeds of the smaller, especially the stacked BSI Live MOS Sensor of the OM-1, enables the cameras to offer functionalities that are not currently possible with other models, or are being adopted years later.
Here are the features covered in the article:
The Fastest Raw
Never Miss the Action With Pro Capture
Live Time and Live Bulb
Live Composite Mode: Adding Solely New Light (LiveComp mode is a real boon for those who enjoy light painting, or shooting fireworks, star and light trails, and lighting.)
Live ND, Leave Those Filters at Home
In-Camera Focus Stacking
Using In-Camera HDR (High Dynamic Range)
High Resolution (Hi Res) Mode
Starry Sky Autofocus for Nighttime Landscapes (Starry Sky AF focuses on the stars and then moves the focus forward to get both the stars and as much of the landscape in focus as possible.)
The Best Weathersealing and Built to Survive (OM System Cameras and the M.Zuiko PRO lenses are weather-sealed to the IP53 standard.)
It's amazing the technology that is available in cameras today, and it is good news for the entire industry that the OM System is so innovative and leads the way, introducing new technologies that other brands adopt later. It's good news that Canon and Nikon now have their equivalent of Pro Capture, and it would be great if they made it available across their entire range and not just in the top-end models.
Virtual Camera Club News
The Nimble Photographer Newsletter is now publishing every Thursday. Readers will enjoy a variety of content spanning from short photo essays, to commentary on weekly events, to reviews of the latest and coolest photo gear.
TDS Workshops! - You can sign up for available workshops by visiting The Nimble Photographer. Inner Circle Members receive a 10-percent discount on all events.
Inner Circle Members: A big thanks to those who support our podcast and our efforts! We are having a blast at our new Inner Circle hangout, the private group I've set up at DerrickStoryOnline. We'd love it if you join us. You can become an Inner Circle Member by signing up at our Patreon site. You will automatically be added to the new hangout.
Great Photography Articles on Live View - If you check out our publication and appreciate what you see, be sure to follow us and clap for those authors. You can find us at medium.com/live-view.
If you're interested in writing for Live View, drop me a line at dstory@gmail.com.
The New Donation Kit for Carefree Shipping of Found Film Cameras - If you've discovered a film camera that's no longer being used, our new Donation Kit makes it easy to pack and ship. Just visit the Contact Form on thenimblephotographer.com, click the box next to Donating a Film Camera, and let me know what you have. In your note, be sure to include your shipping address.
Affiliate Links - The links to some products in this podcast contain an affiliate code that credits The Digital Story for any purchases made from B&H Photo and Amazon via that click-through. Depending on the purchase, we may receive some financial compensation.
Red River Paper - And finally, be sure to visit our friends at Red River Paper for all of your inkjet supply needs.
See you next week!
You can share your thoughts at the TDS Facebook page, where I'll post this story for discussion.