I've been experimenting with the movie-making capabilities of digital cameras for quite some time. And I've found that they work great for short subjects. I'll be publishing these movies on a regular basis here. They will be optimized for both computer and iPod playback. So if you've purchased one of the new iPods with video capability, this movie, and the ones that follow, will look great on the 'pod.
Today's film, "The Potting Bench," was shot with a Contax SL 300R T* at 640x480 @ 30fps. To get better audio than what the Contax can record with its onboard microphone, I used an iPod 3G with a Belkin microphone adapter. I then synched the audio and video in QuickTime Pro -- all very simple tools.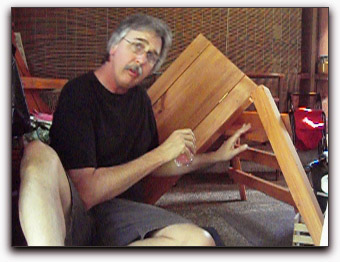 Scene from "The Potting Bench," a movie about the follies of easy-to-build home projects.
I added the opening in closing titles in QuickTime Pro too. If you're familiar with the free set of QuickTime AppleScripts, take a look at the "Rolling Credits for Front Movie." It's what I used to create the opening and closing titles for this piece.
But enough talking. Let's get to watching. Download "The Potting Bench" here (2:52 movie).
Note: I'm using a relatively new codec here -- .m4v -- that requires the latest version of QuickTime or iTunes. If your browser doesn't download it easily by simply clicking on the link, then right-click or ctrl-click on it and choose "Download linked file..." Once the file has downloaded to your desktop, or wherever you put this content, you can open it in QuickTime 7 or iTunes 6. Post a comment if you have more to add :)