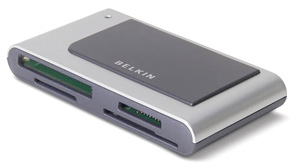 This Belkin Hi-Speed device is the only card reader you'll need...
Since I recently discussed memory card management, I wanted to follow up with my favorite card reader. The Belkin Hi-Speed USB 2.0 15-in-1 Media Reader & Writer uses USB 2.0 connectivity to upload pictures directly from memory cards, usually faster than most cameras can manage tethered to the computer. Plus, it doesn't drain your batteries in the process.
You can also write data from the computer to memory cards using the 15-in-1. My testing confirms that it does work as advertised. The reader is slim and easy to stash in your laptop case or camera bag. It's also one of the chosen devices that work with Apple's Camera Connector, enabling you to transfer images from your memory card to a full size iPod with color screen -- again, without draining your camera's batteries. No computers required!
Downsides to the Belkin card reader? I'm not crazy about its thick cord I have to lug around. But was happy to discover that my thiner Canon Rebel XT USB cord also works with the Belkin. So I carry it and leave the thicker Belkin cord at home. Also, the $49 price tag is steep. But if you transfer lots of high resolution images, you'll probably judge the device worth the money.
Technorati Tags: camera, photography