As we wait for Aperture and software like it to help us manage Raw files more efficiently, many of us are forced to using two or more applications to complete our workflow.
When I was shooting with a Canon 10D, I stuck with iPhoto 5 for organizing and browsing my .CRW files. But everything broke with my new Canon 5D that produces .CR2 files. iPhoto 5 couldn't read those images until the recent Mac OS X 10.4.3 update that added .CR2 file compatibility (among others). Even so, iPhoto just seems too underpowered for this type of work.
So I've been playing with different combinations of software that will help me manage my Raw files, and this is what I discuss in this week's audio show. I'm a big fan of editing Raw files with Adobe's Camera Raw, but I'm not crazy about Adobe Bridge, especially the length of time it takes to render thumbnails for my .CR2 files.
As a result, I've been playing with Canon's Digital Photo Professional (version 2) to browse my Raw images. It renders thumbnails quickly and provides lots of metadata that helps me understand what went right and what didn't. Minolta, Nikon, and Olympus also provide bundled software for managing their Raw files. If anyone is using those flavors, please post a comment with your impressions of them.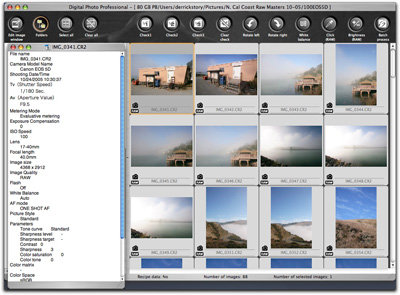 Canon's Digital Photo Professional software has come of age with version 2.
As much as I like the Canon software for browsing, I don't enjoy it for editing. So once I find a picture I want to work on, I note its file name and open it in Camera Raw. I like to use the "Auto" settings in Camera Raw 3.2 (available with Photoshop CS2) as a starting point for my image editing. You can override any of the auto settings by simply sliding the adjuster. But I've found that the Auto settings are often a good starting point.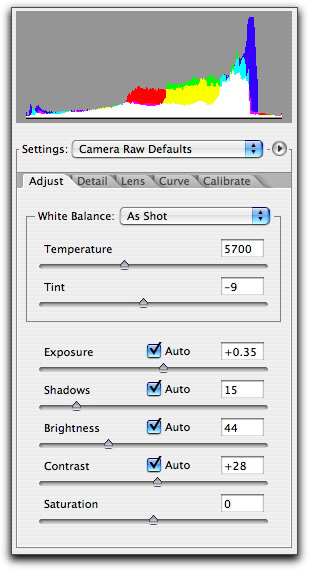 The Auto settings are often a good starting point for image editing in Camera Raw
Once I've adjusted my Raw image, I save it as a Photoshop file that becomes my working master. Then if I need to post the picture on the web or share via email, I save a copy as a JPEG. I mentioned in the audio show that I think it's important to retain the original file number through all of these iterations. It makes it easier to find these files later. So the original Raw file might be "IMG_0421.CR2" then the Photoshop master could be "Sunset_0421.psd" then the working Jpeg could be "Sunset_0421.jpg".
For some of us, new applications such as Aperture will improve this process. But for others, you could get by with using your bundled software and spending less than $100 for Adobe's Photoshop Elements 4, and work quite effectively.
Listen to the Podcast
Now that I have your curiosity piqued, it's time to listen to today's audio show titled, "Raw Workflow" You can download the podcast here (30 minutes).