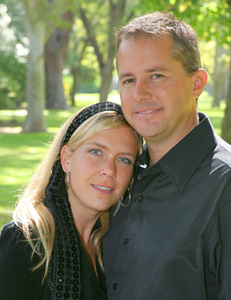 A little natural light adds definition to subject's hair...
One of the things I'm always on the lookout for is a chance to position my models so I can use fill-flash for their faces, and natural "rim lighting" for their hair and shoulders. The best locations are often at the edge of the "shade line" from a tree.
The technique is simple. Turn on your flash by using the "flash on" command. Position your subjects so their faces are in the shade, but the sun is illuminating their hair. Make sure you're within flash range -- usually about 8 to 10 feet. Then try a test exposure.
Once you get a shot you like, don't forget to share it on the LCD monitor. It will give your models confidence that the session is going well.
Technorati Tags: photography, technique, tips