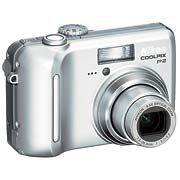 The Nikon P2 is among my favorite photo gear selections for 2005. Read on for more...
Lots of great hardware was released in 2005. So much in fact, that I don't have time to list it all. But I certainly have my favorites. Here's my short list of the best of the best.
Nikon Coolpix P2 -- This beautiful compact camera takes great pictures providing you with 5 megapixels of resolution, a Nikkor 36-126mm glass lens, 2.5 inch LCD monitor, and WiFi connectivity. In other words, it's a great Nikon compact that allows you to wireless connect to your computer or printer. The P2 is also one of the few compact cameras that gives you decent control of the aperture. Not bad for less than $399.
Canon Digital Rebel XT (350D) -- I have lots of cameras, but this light, powerful digital SLR body is my absolute favorite for casual shooting. The 8-megapixel CMOS sensor, compact body, and tasteful design makes it as beautiful to hold as the pictures it produces. You can pick one up with an 18-55 mm lens for less than $899.
iPod video with Camera Connector -- Talk about having your music and your photos too. The latest iPod is a great digital music device, can play video, and is a wonderful storage container for your photos. If you purchase the $29 Camera Connector, you can upload images directly from your camera to the iPod for backup and storage on the go. For less than $300, you have a terrific camera accessory and the best digital music player on the planet.
Not a bad lineup. Soon I'll post my favorite software of the year too.
Technorati Tags: equipment, photography, review