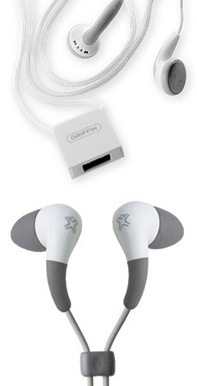 You'd think this battle of earbuds would be no contest -- pitting XtremeMac FS1 High Definition Earphones that cost $149.95 against Griffin TuneBuds that only set you back 20 bucks. But I've just finished testing both on my iPod shuffle, and I was surprised by the outcome.
Overview of XtremeMac FS1 Earphones
The FS1 package is an attractive one (bottom image to the left). You get very stylish earphones that fit comfortably. XtremeMac includes silicon and foam sleeves plus a set of flanged tips. So you're bound to find something that's perfect for your ears. Plus you get a very nice zippered carrying case. One of the selling points of the FS1 earphones is that you get balanced sound at low levels of volume. This is true. And listening to music at a lower level is bound to be less harmful over the long haul.
But XtremeMac's claim of deep bass was not apparent to me. In fact, these earphones produce sound quality that I characterize as "cool" -- a bit too much treble response. This was especially apparent with rock selections with lots of cymbals. In fact, on some songs, I couldn't turn up the volume because the excessive treble response would bother me.
Griffin TuneBuds Overview
I then attached the TuneBuds to the shuffle via the USB port as designed. This is a slick trick because you still have your standard earphone port available. Two people can listen to music at the same time -- one through the TuneBuds and the other with standard earphones. This function also made comparing the FS1 phones to the TuneBuds easier.
Overall, the TuneBuds sound very similar to the earbuds that come with the shuffle. The sound is "warmer" than produced by the FS1 earphones, and there's definitely more bass. The USB port connectivity that enables two people to listen to one iPod is a welcomed bonus. The TuneBuds cost less than Apple's original earbuds, yet sound as good. I should also note their design. You have fewer wires to wrangle with because the earbuds are incorporated into the lanyard. Very handy for active folks.
Conclusion
Considering that you can buy 7 sets of TuneBuds for the price of one set of FS1 earphones, I'd have to say that the TuneBuds are clearly the better value. And for my ears, they sound better too. I'd recommend that you listen to the FS1 earphones first if you're considering picking up a set. I could see some folks preferring the very clean sound at low levels. But, if you like the way your existing Apple earbuds sound, you can buy the TuneBuds sight-unseen. I think you'll be happy.
Technorati Tags: audio, ipod-compatible, music, product review