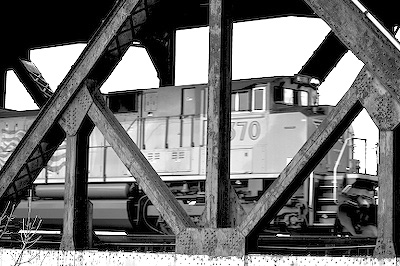 I've read many articles about converting color digital images to black & white. This is something I have to do on a regular basis for my personal and wedding photography. The question is, "is there any single right way to do this?" My answer, "no."
Black and white conversion is like black and white photography itself. It's a fertile environment for experimentation. Some photographers feel that they get better results when they set their digital cameras to record in B&W from the get-go. This makes some sense, but also eliminates the opportunity to have a color version of the image too.
Lately, I've been leaning toward shooting in color, then converting to B&W by either using desaturation or the channel mixer in Photoshop. To desaturate in Photoshop CS, go to Image > Adjustments > Hue/Saturation... Then I drag the Saturation slider all the way to the left.
To use the Channel Mixer, I go to Image > Adjustments > Channel Mixer, then click the Monochrome box. You can then play with the sliders to get the effect you want.
For the shot of the train I've run with this post, I used the Monochrome Mixer adjustment in Aperture. It's similar to the Channel Mixer in Photoshop, with monochrome already selected for you.
If you have a favorite method for converting color to B&W, please post a comment and share it with others. This is one of the joys of digital photography.
Technorati Tags: photography, technique, tips