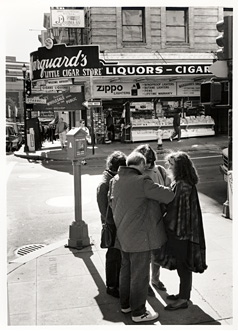 Like many traditional photographers, I have an extensive collection of B&W fiber and RC prints. Some of these images are very important to me, but I haven't been able to use them in my daily work because they haven't been digitized and cataloged on my computer. I'm changing that now.
This project began with a piece that I'm working on for Macworld Magazine. I like to write my "How To" articles while I'm actually doing whatever it is I'm writing about. So I pulled a number of my favorite B&W prints, scanned them on a very nice Canon 9950F scanner, then went about organizing the images and cataloging them in iPhoto 6. This has been a very satisfying project, and one that I will continue for months to come. I'll be sure to let everyone know when the Macworld article comes out so you can read every step of the process.
I chose this image of a San Francisco cigar shop for a reason. During a recent visit to the city, I noticed that the shop was gone and there was another business on this corner. I had visited Marquard's many, many times over the years, and was sad to see it go. This photo now means a great deal to me because it reminds me of things I experienced during those times in the past.
If you find this topic interesting, let me know and I'll put together an audio show and more written details about the system I use for digitizing my old prints.
Technorati Tags: photography, technique, tips