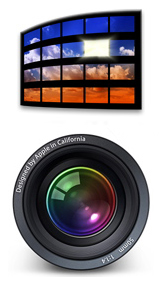 Adobe has just announced the public beta Lightroom, right on the heels of the recent Aperture announcement by Apple.
Both applications are robust photo editors, which is different than image editing. Photo editing is the process of choosing the best images from any given shoot. It is comparing and then selecting. Image editing is adjusting the actual pixels of a picture, such as changing its brightness.
Even though Aperture and Lightroom provide solid image editing tools, their real strength is their ability to help you quickly organize and output the best shots from your shoots.
When comparing these two applications, I would say that Aperture has more features and more innovative tools, such as Stacks and the digital loupe. Lightroom gets the nod for its better performance on the average modern laptop and for providing options for managed or unmanaged libraries. A managed library is where your pictures are uploaded into a container (library) that the application maintains. Unmanaged means that you store your pictures wherever you want, and Lightroom will create pointers to them. The advantage of managed libraries is that you can add metadata on import, and even change the format and content of the file names. Aperture favors the managed library approach while Lightroom gives you the option.
You can download a copy of Lightroom here. Anyone wanting to try out the beta should have Mac OS X 10.4.3, a 1GHz PowerPC G4 processor or better, 768MB of RAM, and a 1,024-by-768-resolution screen, according to the beta's tech specs.
After having worked with both applications, my feeling is that each has a place in the world of digital photography. Which one is right for you? Listen to this week's podcast and decide for yourself.
You can download the "Lightroom vs Aperture" podcast here (35 minutes).
Technorati Tags: photography, podcast, review