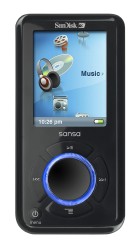 Sandisk chose the spotlight of the CES show to unveil their new digital audio players dubbed the Sansa c100 series. They will be available in March in 1GB and 2GB models. The features include:
Color screen (up to 64,000 colors) displays cover art and photo thumbnails Plays MP3 and WMA audio files
By capacity, holds large number of MP3/WMA songs and hours of playback (see above capacity matrix)
Easy-to-use interface for sorting and playing back your music
Digital FM tuner with 20 preset stations FM "on the fly" recording and voice recording
Supports Subscription Music Stores
Includes one AAA replaceable battery
High-speed USB2.0 for fast and easy file transfer
These devices are designed to sync with Windows computers. The 1GB models will sell for $119 and the 2GB model will cost $169.