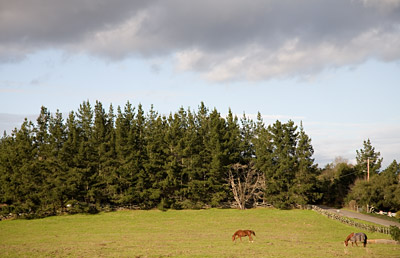 I wanted to test the new Canon 24-105mm IS L Zoom Lens, which I'll write about in more detail in a later post. Fortunately for me, there was a break in the rain up here in Northern California, so I mounted the 24-105mm on my Canon 5D and dashed off for a walk. I'm lucky because I have some great walking paths that provide lots of wildlife and vistas. A while into my stroll, I noticed a tempting shot and scampered up this slight grassy rise to capture a scenic with horses feeding in an open field.
After recording a few frames, I pivoted around to step down from the grassy rise and return to the trail. In mid-step, with right foot in the air, I noticed a snake curled up right where I was going to plant my foot. I awkwardly redirected my landing spot to the left of the snake so as not to cause harm to either of us. Because it was cold, he continued to watch me with a wary eye, but not move.
Since I managed to avoid stepping on him, I then took a short series of frames with the new Canon 24-105mm lens. He continued to watch me until I backed away and went about my business.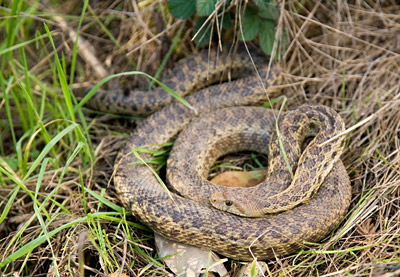 I pass this tale along because it was a good reminder for me to watch my step while shooting. I tend to get absorbed in what I'm doing, sometimes forgetting about my surroundings. This can be dangerous in nature.
If you have a anecdote along these lines, please share it with others in the comments below. In the meantime, beware of snakes in the grass...
Technorati Tags: photography, tips