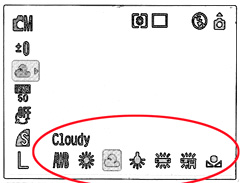 The White Balance menu on your digital camera is one of your most powerful tools. Regardless if you have a compact or a DSLR, you can compensate for many difficult lighting situations by simply changing settings in this menu.
I often say that the white balance menu is like having an entire set of filters built right into your camera. The cool thing is, unlike glass filters, you don't have to buy, store, or clean white balance settings. You just have to find the settings.
The easiest way to talk about color temperature, which is what white balance is all about, is in degrees Kelvin. This helps you correlate numbers to lighting situations and the controls on your camera. Most camera manuals will list the lighting situations in degrees Kelvin that their white balance menu items are designed to compensate for. To give you a taste of degrees Kelvin, here are some examples. (This information is from page 146 of the Digital Photography Pocket Guide, 3rd Ed).
Dawn, dusk, candle flame -- 1800-2200K
100W incandescent bulb -- 2800-3000K
Photographic daylight -- 5500K
Open shade outdoors, overcast sky -- 8000-9000K

At the lower end of the Kelvin scale, the light is recorded as warmish red, and at the higher end the camera sees coolish blue.
Our eyes naturally compensate for these varying conditions. But cameras have a more difficult time. That's why we have white balance compensation.
Take a look at the following comparison of a church interior. I captured these images with a Canon Digital Elph with the flash turned off. The image on the left was recorded with the auto white balance setting. For the picture on the right, I turned on the cloudy white balance setting. (Refer to the screen shot at the top of the page to see the actual setting.) Notice that the tones are cool in auto white balance, but warm up considerably in cloudy mode. Which one looks better? That's up to you. But the point is that you have more control over how your camera records color temperature by finding your white balance menu and learning its settings.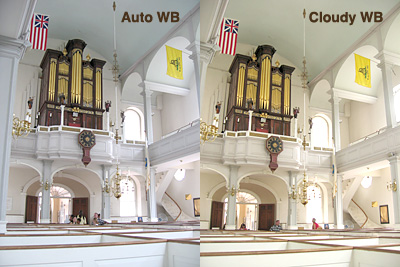 =====================
Listen to the Podcast
Now that I have your curiosity piqued, it's time to listen to today's audio show titled, "White Balance." You can download the podcast here (29 minutes).
Technorati Tags: camera, photography, podcast, technique, tips