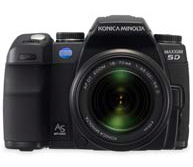 With last Thursday's announcement that Konica Minolta will be withdrawing from the camera and photo business, I was wondering if their recent partnership with Sony will carry on the Maxxum/Dynax lens mount. In a separate release last Thursday, Konica Minolta stated:
"...on March 31 2006, Sony will receive certain assets from Konica Minolta PI that are necessary for the development, design, production and so forth of digital SLR cameras compatible with Konica Minolta PI's Maxxum/Dynax lens mount system. Sony will accelerate development of new digital SLR cameras based on and compatible with the Maxxum/Dynax lens mount system with a view to marketing these models this summer."
Looks like Sony will soon be releasing DSLRs with Maxxum lens mounts. Just for the record, there are 16 million Maxxum/Dynax lenses in use now, all of which should work on the new Sony DSLRs. This could be an interesting evolution of the Minolta tradition.
Technorati Tags: camera, equipment, photography