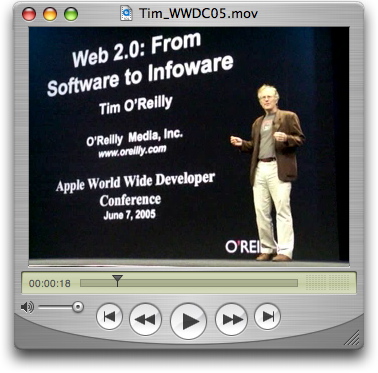 If you have an iPod Video (5G), and want to quickly convert your existing QuickTime movies so you can watch them on your iPod, here's how to to do so using iTunes 6 or later.
Use the "Add to Library..." command to bring your movie into iTunes.
Click once on the movie to highlight it.
Choose Advanced > Convert Selection for iPod.
iTunes will convert your video to the appropriate format then add it as a copy to your iTunes library. I recommend that you adjust the ID3 tags before connecting your iPod and uploading the new movie. Here's how you do that:
Click once on the movie to highlight it.
Go to "File > Get Info.
Click on the Info tab.
Add information in the Name, Artist, and Comments fields. Choose "Video" for the Genre.
Click OK.
Now connect your iPod video and sync. If you'd like to see a sample movie created by this method, download a clip of Tim O'Reilly speaking at WWDC '05 (1:47, 9 MBs). The original clip was captured with a Casio Exilim EXP505 digital camera.
If you think about it, this is amazing technology we have. You can capture movies with your compact digital camera, rip them in the free iTunes application, then upload and playback on your iPod video. Wow!
Technorati Tags: ipod-compatible, technique, tips, video