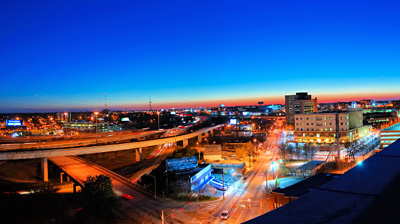 Here's a section of a full panorama that Seth Grad photographed on the roof of his office in downtown Atlanta. He stitched the shots together using Pixtra. His lens was set to 18mm (1.5x sensor), and he used a tripod.
"Another useful tip for shooting panoramics (especially at night)," says Seth, "is to use exposure lock or manual settings for exposure. If you have the time, you can spot meter a few areas of the scene and pick one exposure. Be careful not to use a very bright or dark area. Then, using exposure lock or manual settings, make sure the same exposure is used throughout the scene."
To get a feel for the breadth of his panorama, here's the full length of the image:
Great work Seth!
If you have an interesting candid you'd like to share, take a look at our Submissions page, then send us your Grab Shot. If we publish it, you'll receive an ultra cool custom carabineer keychain.
Technorati Tags: digital photography