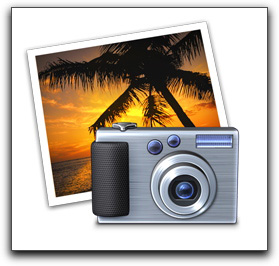 Building web pages to share photos isn't always convenient, and email attachments have varying effectiveness depending on the photo size, email client, and recipient. A new method for easily sharing your pictures is to syndicate them via RSS using the new Photocasting feature in iPhoto 6.0.2 or later.
This technique enables you to share images in one of four resolutions by simply dragging them into an iPhoto 6 album that has Photocasting enabled. You will need a .Mac account to syndicate the pictures, but anyone with an Internet connection and an RSS reader can receive your pictures automatically. And if a recipient has iPhoto 6, he or she will automatically see your images in iPhoto itself.
To enable Photocasting, all you have to do is select an album in iPhoto by clicking on it once, then choose Share > Photocasting. iPhoto will ask you what size of image you'd like to syndicate: small, medium, large, or original. You can learn more about the details of those options in my recent post, Photocasting: Serve the Right Picture Size on Mac DevCenter. For onscreen viewing, "small" seems adequate, serving up 640x480 versions of your pictures.
Once you publish, you have the option of iPhoto generating an email with subscribing instructions that you can send to everyone you want to share your pictures with. If a recipient doesn't have iPhoto 6, then you might want to recommend a free RSS reader, such as NetNewsWire Lite.
I recommend that you make this a more full-bodied experience by adding informative titles to your pictures and writing some caption material in iPhoto's comment field. Both title and comments are served with the picture. The entire package looks great in all of the RSS readers I tested.
David Pogue and I cover Photocasting in great detail in our new book, iPhoto 6: The Missing Manual. It's available on Amazon.com now as preorder.
Overall, I think Photocasting is a great way to share photos. All you have to do is drop a new image in your enabled album, and it is immediately sent out via RSS. Your fans will automatically receive the pictures when they open iPhoto 6 or their RSS reader. Very nifty!
If you'd like to see a sample Photocast, subscribe to this URL: http://photocast.mac.com/dstory/iPhoto/dex's-photocast/index.rss.
Technorati Tags: digital photography, technique, tips