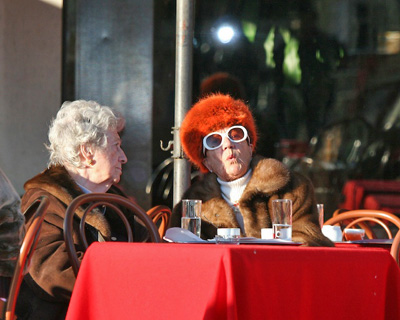 "I was in Venice Italy earlier this year," said Allen Rockwell. "After taking several hundred photos of canals, gondolas, and Venetian architecture, I was sitting in my hotel room at the Danieli looking out the window at all the interesting people walking by below. I thought maybe I should go down there and take some people pix."
"My partner was taking a nap, so I slapped on the long zoom lens and headed down. I captured these dear old ladies sitting at a sidewalk cafe on the grand canal, and could not help noticing the lady's wild orange hat and tinted sunglasses. Her animated personality was as vibrant as her chapeau. Her friend looked on enjoying the show."
Alan captured this grab shot with a Canon 20D and an EF 100-400 IS telephoto lens. Settings were f5, 1/250th, ISO 400, and 250mm focal length.
If you have an interesting candid you'd like to share, take a look at our Submissions page, then send us your Grab Shot. If we publish it, you'll receive an ultra cool custom carabineer keychain.
Technorati Tags: candid, digital photography