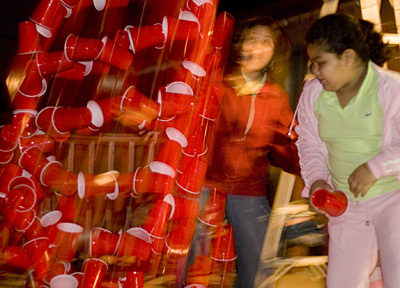 "My cousins and I were 'cup stacking' in the backyard," said Charles Zablan. "I captured this shot of my cousin ripping one of the cups from our massive 15 foot tall stack. I loved the motion effect on the cups and the reaction on my aunt's face as she was startled by the loud crash of about 300 cups."
Charles used a Canon 20D with a 50mm lens set to f-1.8 in Aperture Priority mode -- ISO 400 with the flash on. The shutter speed was set to 1/15th of a second. (This set-up sounds very familiar Charles!)
If you have an interesting candid you'd like to share, take a look at our Submissions page, then send us your Grab Shot. If we publish it, you'll receive an ultra cool custom carabineer keychain.
Technorati Tags: candid, digital photography