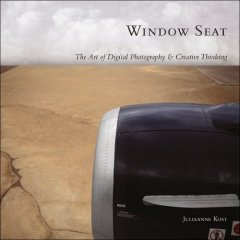 How do you find you photographic vision? I interview Julieanne Kost, the author of Window Seat: The Art of Digital Photography and Creative Thinking, about how her compelling project came to life, and how it's changed her as a photographer.
"I've so enjoyed taking pictures on one subject matter," said Julieanne. "The project just kept growing and growing. Over a course of 5 years I took more than 3,000 pictures." Julianne has included 150 of the best images in her book Window Seat.
The conversation covers the process of choosing your best images, how to evolve as a photographer, and lots of insights from a truly irresistible artist.
Listen to the Podcast
Now that I've piqued your curiosity, it's time to listen to today's audio show titled, "Julieanne Kost on Photo Vision." You can download the podcast here (23 minutes).
Share Your Photo Project
If you have an ongoing photo project, or are considering one, tell us about it in the Comments field. Be sure to include a link if you have samples published.
Technorati Tags: digital photography, podcast