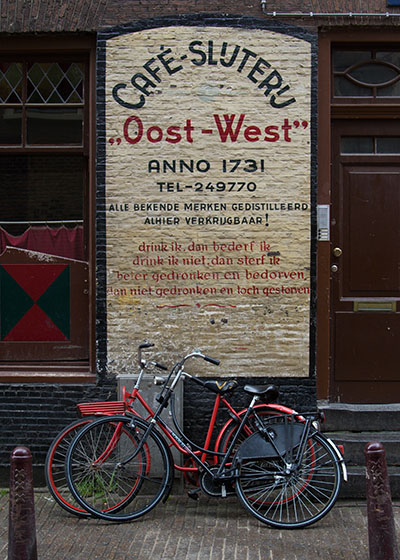 "Had a 7-hour layover in Amsterdam, so I took a train downtown and started looking for pictures with no sense of direction or purpose," said Muyi Abifarin. "The first picture I saw was a black and red bike parked under a black and red sign by what seemed to be a closed bar. I took about three hand held shots at about 6:45 AM, right before the city was awake."
I then got nervous because I was by myself in an alley holding an expensive camera, passport, and boarding pass with a couple of men I had seen earlier approaching. Wish I could have taken a few more frames without the two pillars in front.
Muyi captured the picture with a Canon 20D and Tamron 28-75mm lens. The camera was set to f/4.5, 1/100sec, and ISO 200.
If you have an interesting candid you'd like to share, take a look at our Submissions page, then send us your Grab Shot. If we publish it, you'll receive an ultra cool custom carabineer keychain.
Technorati Tags: candid, digital photography