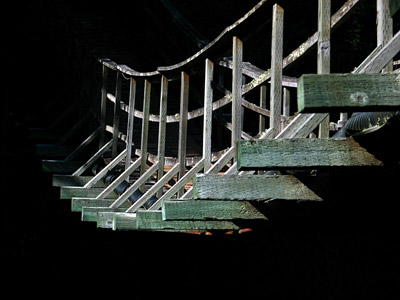 "Since listening to your Metering Mode Podcast #21, I've been experimenting with using different modes, especially the spot metering option," said Alan Amundsen. "A couple of weeks ago I was visiting some friends who had a small suspension bridge on their property crossing over a creek. I climbed down and wanted to get a shot of the bridge from underneath, but was having problems with both the sky above and trees on the far side of the bridge being blown out by the late afternoon sun. I kept reducing the exposure compensation down until it was at -1 2/3 steps, set the shutter speed at 1/250, and used spot metering on the side of the bridge."
"Was I ever surprised at the results. Not only did I get a shot of a suspension bridge, but it also appears to be suspended in space since everything else was blacked out. The focal length was 28mm and the resulting aperture was f-3.5. This picture was taken with my Canon PowerShot S2 IS with which I've been having a lot of fun since last November."
If you have an interesting candid you'd like to share, take a look at our Submissions page, then send us your Grab Shot. If we publish it, you'll receive an ultra cool custom carabineer keychain.
Technorati Tags: candid, digital photography