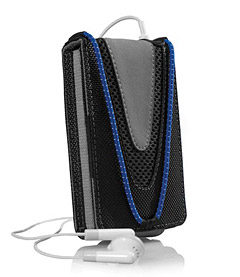 The 30GB iPod video (5G) is my top pick iPod of all time. Great sound, slim design, amazing video capability, and excellent storage for my still photos. But after trying many different cases, I had yet to find one that I liked as well as the iPod itself. That is, until I discovered the Marware Trailvue iPod case ($27.95 from Amazon.com).
First of all, this case is rugged. It feels good in the hands. Marware uses a combination of nylon and other synthetic materials to create a case that inspires confidence while on the go. Plus it looks good, very stylish. The included bungee cord provides a handsome accent (5 different colors are included), and it comes in handy for securing your earphones when not in use.
The Trailvue case includes a nice large opening for the earphone jack that can be used when the case is open or closed, and a robust Velcro tab keeps the top flap securely in position when closed. When the case is open, a clear plastic faceplate protects the video screen but allows direct access to the scroll wheel. A nice touch is that you don't have to remove the case to access the Dock connector.
If you want to maintain the iPod's slim profile, don't attach the belt clip. Your iPod will slide in easily among your other gadgets in your camera bag or backpack. If you need the clip, it attaches quickly and secures your iPod to your belt or backpack strap.
This is a very nice case...
Technorati Tags: audio, equipment, product review