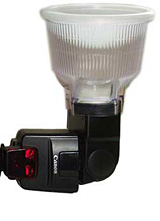 I took the Lightsphere II on assignment to cover a cocktail party in San Francisco. The location was the Scott Howard restaurant on Jackson St. that had a high center ceiling with 10' drop ceiling around the perimeter of the room -- perfect for testing a bounce flash device.
The Lightsphere slips over the head of the Canon 580EX flash I use with a 5D. It's made of flexible clear vinyl and doesn't require any adapters. (There are four different versions that work for most popular flashes.) The fit is snug and secure. The device diffuses light in all directions. The light from the flashhead bounces off the inverted dome atop the Lightsphere and travels through the ribbed sides of the device. Light also passes through the dome and bounces off the ceiling above. The goal is to produce a much softer light than with direct flash alone. Plus, you don't have to use a flash bracket.
I started out the shoot my normal way with direct flash mounted on a bracket. I then added the Lightsphere for another series of shots. I noticed that the Lightsphere worked best in the areas where the ceiling was lower and I could be closer to the subjects. Under these conditions, it does diffuse the light and produce softer results than with a direct flash. Here are two comparison shots.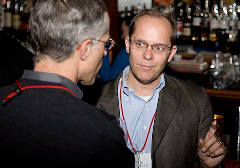 Direct Flash on bracket with no Lightsphere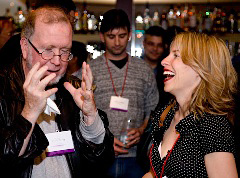 Lightsphere added to flash
One thing you'll notice is that the direct flash is also "cooler" in color temperature than the shot with the Lightsphere, which is warmer. The Lightsphere picks up the slight tint of the ceiling. I also noticed that the light was broader with the Lightsphere, providing illumination for more surrounding subjects than with direct flash.
The Lightsphere does use more light however, so my flash didn't recycle as fast as I'm used to. I had more underexposed frames with the Lightsphere, mainly because I shot before the flash was fully charged again. In the area with the high open ceiling, the Lightsphere didn't perform as well. My sense is that it really requires a low enough ceiling for bounce flash to provide best results.
With its $48 price tag, it's not cheap. But if you photograph a lot of people indoors, such as events and weddings, the Lightsphere could be a handy addition to your bag of lighting tricks.
Technorati Tags: digital photography, product review