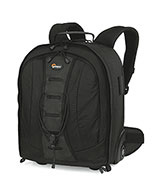 When you want one camera bag that provides everything you need for travel, take a look at the Lowepro Rolling CompuTrekker AW. Use its top handle to carry it, padded backpack straps to wear it, or in-line skate wheels to roll it. If the weather turns foul, pull out its all-weather cover to keep both bag and equipment dry. Need to go for a hike with your tripod? Expose its hidden tripod holder and attach your "sticks" to the outside of the bag. Oh, and want to bring your 12" or 15" laptop? No problem, there's space for that too.
This $199USD bag (available from Adorama.com and other retailers) fits in the overhead compartment of an airplane or neatly in the trunk of your car. Zip open the main compartment to reveal enough room to fit a DSLR with an 80-200mm f-2.8 lens attached, plus room for lenses, flashes, and other accessories. There's a nifty digital goodie pouch (that's removable) that I use to store my batteries so they're always handy. You can arrange the padded dividers in the main area in various configurations to accommodate your particular needs. I like to bring a smaller Lowepro bag and tuck it inside the CompuTrekker. That way, when I head out for street shooting, I have a super-portable bag to complement the larger roller unit.
I have rolling luggage that I use all the time, but none of my suitcases are as balanced or easy to tote as the CompuTrekker. The extending arm arcs to the perfect angle making the unit very easy to roll for extended distances. Other nice touches include a dedicated memory card pouch that's very accessible and a removable 12" laptop sleeve. 15" computer users can ditch the sleeve and slide their laptops directly into the front compartment of the CompuTrekker.
In practical use, however, I prefer the bag without the laptop inserted. It makes for a slimmer profile that's easier to stash in tight compartments on the plane. If you need to fit the bag in even a smaller space, pull out the backpack straps and waistband from their hidden compartment. It's handy to stash them when using the bag as a roller, but the bad is slimmer when they're exposed.
The Lowepro Rolling CompuTrekker AW's outer dimensions are 12.2W x 4.5D x 13.4H (inches) -- 31 x 11.5 x 34 (centimeters). It weights 8.8 pounds -- 4.4 kilograms. This is as close to a perfect travel bag as I've used. I have mine filled with one Canon 5D, 5 lenses, 2 flashes, Canon Rebel XT, and a handful of accessories (including the lighter "street bag." This one is a winner.
Technorati Tags: digital photography, equipment, product review