Voiceover adds a professional touch to slideshows. But you may not be ready to tackle new audio programs just to get a simple voiceover track. Even GarageBand seems daunting when you're in a hurry. Fear not, iMovie is a great tool for recording voiceover tracks that you can add to your slideshows created in FotoMagico or other applications. And the best part... it's really, really easy.
First, create a new project in iMovie. Then click on the "Media" button (as shown above) and choose the "Audio" tab. Press the record button (as shown above) and start talking into your Mac's microphone. You might want to play your slideshow in FotoMagico as your talk so you can time the audio to the pictures.
Once you finish recording, go to File > Export and click on the "QuickTime" icon. Choose Compress movie for "Expert Settings" from the popup menu, then click the "Share" button. You'll get another dialog box that lets you choose where you put the file (Desktop) and the export format. Choose "Movie to QuickTime Movie" from the Export popup at the bottom of the dialog box. Click the "Options" button to reveal a new settings box. Once there, uncheck "Video" as shown in the illustration. Make sure "Sound" is checked and click the Settings... button. Use these settings: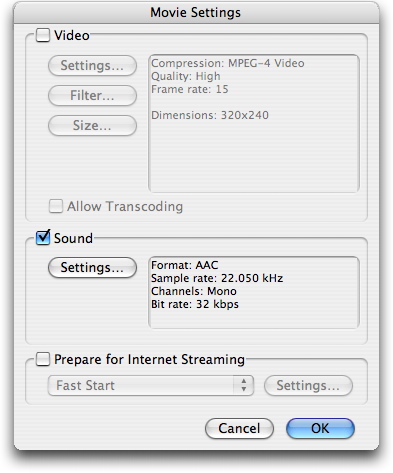 iMovie will place the audio file on your Desktop. Now, all you have to do is open FotoMagico and go to Slideshow > Add Audio... and choose your voiceover file. Like magic, your slideshow now has a voiceover track. This procedure might read a little complicated here, but it is truly simple and can be accomplished in minutes if you follow the steps.
This tip is to help you prepare your entry for the FotoMagico Slideshow Showcase. Submit your Entry Form today (to get on the books), then start working on your presentation. Deadline to submit Entry Forms is May 30, and your presentation itself is due by June 15. Don't delay!
And don't forget... if you wish to use FotoMagico to create your show, you can get a $10 discount off the software by entering "Digital Story" in the discount code box. Visit the order page and select FotoMagico. You'll be able to enter a coupon code at the first checkout page. The code is set to "Digital Story". Once the code is input, and the Checkout button is clicked, the $10 discount will be reflected on the final order total page.
Technorati Tags: photography, tips