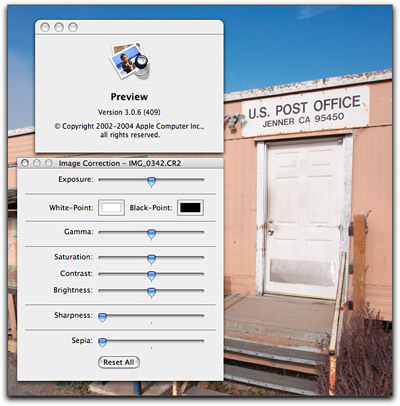 Many Mac OS X "Tiger" users don't realize that they have a powerful Raw converter bundled with their operating system. Every 10.4 Mac comes with a handy application called Preview that most folks think of only as a PDF viewer. Even Apple touts its PDF capabilities without going into much detail about its hidden powers. The most notable of these lesser known features is Preview's ability to decode Raw files and convert them to other formats.
It's true. You don't need Photoshop Camera Raw. You don't need Aperture. If you want to open a common Raw formatted image, just drop it on the Preview icon on your Dock. Preview will decode the Raw file and display it on screen. But wait, things get even better. Go to Tools > Image Correction and you're greeted with a handy set of adjustments that include Exposure, Gamma, Saturation, Contrast, Brightness, Sharpness, and even Sepia -- all of which you can use for manipulating your Raw file.
Would you like to read the metadata embedded in the file header? Go to Tools > Get Info and click on the Details tab. Tons of image data are revealed including dimensions, aperture, shutter speed, color space, and even the camera model used to capture the shot.
When you're ready to convert the file, go to File > Save As and choose among four different formats: Photoshop, Tiff, PNG, and PDF. With the first three options, you can choose between 8-bits or 16-bits per channel. And if you choose the PDF format, you have more options including file encryption -- that's right, you can assign a password to your image to protect it from prying eyes.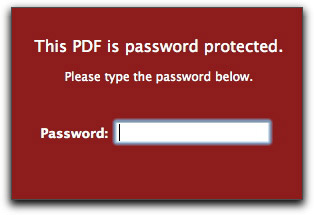 And yes, there's still more. You can rotate the Raw file, flip it, assign a Colorsync profile, then print the image. If you go to View > Customize Toolbar, you can add a cropping tool and even a Scale resizer. So not only can you zoom in and out with the Zoom tools, you can set the numeric amount to scale the image, such as 25 percent. Then crop it if you wish.
Preview is an amazing photo editing application that's right there under your nose. If you haven't done so already, I recommend that you add it to your Dock, and use Preview whenever you have to make quick edits to a stray Raw file, or to save it to another format. For many simple jobs, this tool is faster than Photoshop.
Technorati Tags: digital photography, tips