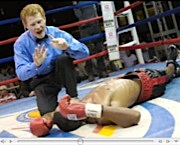 Eight featured slideshows that are as distinctive as the artists themselves... One photographer used this medium to bring his heritage to life, while others relived vacations or captured the rhythm of everyday events. One entrant created a movie to promote his photography studio. Still others shared life's drama, such as a balmy evening of boxing in Texas, or a garage band's road to local fame. These are just a few of life's tales vividly captured in the entries featured in the FotoMagico Slideshow Showcase.
You can watch each of these presentations, read about the techniques and software the artists used, and consider if any of these approaches might help you better share your images with the world. So sit back, turn up your speakers, and take a trip to the movies, digital story style.
---
Featured Artists
The showcase challenged photographers from around the world to produce masterful slideshows that turned their still photos into living, breathing "digital stories," an art form mastered by renowned filmmaker Ken Burns.
---
Kevin Morris - "Fight Night in Texas"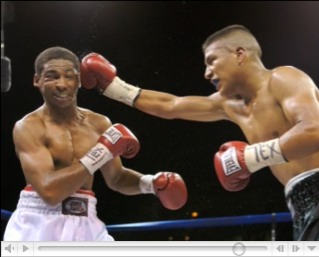 "These photos were taken in Fort Worth Texas at the 4th Annual Oscar De La Hoya Fight Night," said Kevin. "They are in an outdoor arena set up in the heart of downtown Fort Worth Texas. It was 94 degrees at first bell. They were shot with a Canon 1D with a 24-70 lens, there was no lighting used except what was available at the ring. The photos were processed in Apple's Aperture, and the slideshow was produced in Boinx FotoMagico."
slideshow: Fight Night in Texas
duration: 2:34
software: FotoMagico
About Kevin Morris
Kevin Morris is a sports and portrait photographer from Dallas / Fort Worth, Texas. He have been involved in photography for about 8 years, but has been pursuing it more seriously for the last 5.Kevin wants to make a full time living at it. Right now he shoots events that he enjoys attending and combines that with his love for photography. Nothing gets him more excited than to capture a great moment at an event, lock the exposure, time the shutter, archive forever that moment for the world to remember.
---
Derrick Story - "30 Miles East of LA"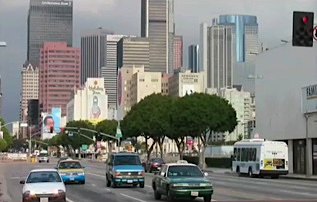 Local nightclubs flourished in Southern California in the early 1980s. "Section 8," a band that I co-founded with John Huber, developed a following in the San Gabriel Valley... 30 miles east of LA. This movie features original restored music and photographs from the Rock Palace and other venues frequented by the band two decades ago.
slideshow: 30 Miles East of LA
duration: 2:18
software: FotoMagico and iMovie HD
original song: John Huber
About Derrick Story
Derrick is the founder of The Digital Story. He produces weekly podcasts focusing on digital photography and maintains a daily blog on all things digital media. Derrick is the author of Digital Photography Pocket Guide, 3rd Ed. and the co-author of iPhoto 6:The Missing Manual. You can see what he looked like 20 years ago when he was in the band, "Section 8," the subject of this slideshow. He's the tallest member of the group.
---
Emil Gustafsson - "Coffee"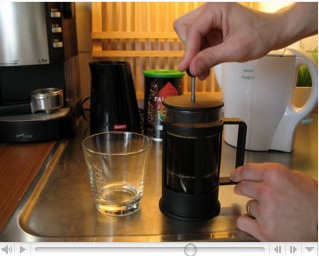 Find out "all you need to know" about the ubiquitous press pot and how to use it!
slideshow: Coffee
duration: 2:18
software: iPhoto
About Emil Gustafsson
Emil Gustafsson -- Location: Sweden Occupation: Freelancer Education: Archeological visualizing, Game Development Software Skills: Cinema 4D, Maya, 3ds max, ZBruch, Photoshop, After Effects, Poser, Realflow, Flash MX, Dreamweaver Production Skills: Modeling, Animation, Lighting, Texturing, Dynamics, Visualizing Practical skills: Illustration, Graphic Design, Photography. See more of Emil's work at his website.
---
Geoff Hankerson - "A Perfect Day"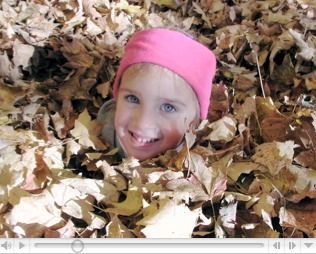 "A perfect fall day in Owatonna, a small town in southern Minnesota."
slideshow: A Perfect Day
duration: 2:57
software: FotoMagico and GarageBand
About Geoff Hankerson
Geoff is a web developer with an eye for photography, design and a bit of code. You can see more of Geoff's work at his web site.
---
Muyi Abifarin - "Nigeria"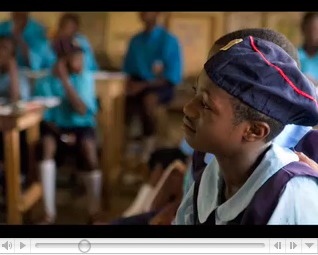 "These pictures were taken on a recent trip to Nigeria," said Muyi. "The purpose of the trip was to honor my father who was being made a chief. I took the opportunity to take as many pictures as I could when I could."
slideshow: Nigeria
duration: 3:55
software: Final Cut Express
About Muyi Abifarin
Muyi is a husband and father to two models... that is, daughters 6 and 8. He loves anything Apple, or any Camera Digital (favors Canon... for now). When he is not on the computer or taking pictures, he spends his time taking piano lessons with his daughter. He's a pharmaceutical rep during the day. You can see more of Muyi's work at his web site.
---
Kevin Miller - "Peggy's Cove, Nova Scotia"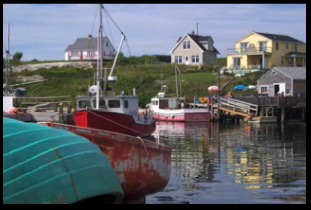 "Peggy's Cove is a favorite of many, including my wife whose family lived in Nova Scotia many years ago," said Kevin Miller. "We were able to return last summer and enjoy the beautiful scenes of this quaint and historic fishing village. The focal point is the famous Peggy's Cove light house."
slideshow: Peggy's Cove, Nova Scotia
duration: 1:42
software: FotoMagico
About Kevin Miller
My son introduced me to The Digital Story many months ago. I recently listened to several of the podcasts on a road trip. I grew up with a black and white darkroom as a kid. In the last few years I have moved into the digital photography world and am quite fascinated by it. I just got my first digital SLR and am getting my feet wet with Photoshop CS2 and color management.
---
Phillip Resuggan - "Studio Portraits"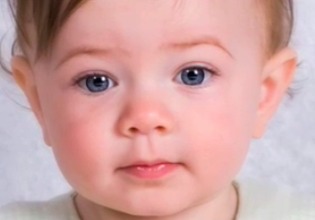 "Our business offers a dvd slideshow as a product. This slideshow entry serves as both a digital portfolio that can be viewed on our Apple Cinema Display or on a dvd player and as an example of our dvd slideshow product. We took your recommendation and purchased FotoMagico to author the slideshow. Thanks!"
slideshow: Studio Portraits
duration: 4:00
software: FotoMagico
About Resuggan Photography
We are a small portrait photography business that offers an intimate approach to portrait photography. We offer studio and location photography with no time limit on sessions. Our goal is to capture the personality and essence of our subjects and produce a meaningful product for our clients. Learn more about Resuggan Photography at their website.
---
Jennifer Tofani - "Gurukula Zen Garden"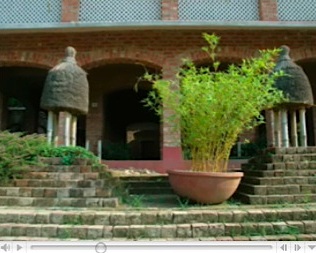 A garden show, a peaceful reflection of an afternoon walk in Mayapur, West Bengal India.
slideshow: Gurukula Zen Garden
duration: 4:00
software: QuickTime Pro and Keynote
About Jennifer Tofani
Jennifer Tofani, born California, went to CCAC in Oakland CA where she studied the Zone System. Joined the Hare Krishna's in 1974 and ran the institutions photo facilities for 10 years. Married and moved to Italy in 1985 were she started using a 9-slide projector set up. Jennifer is now working on photo book projects and more.
---
Special thanks to Boinx Software, the creators of FotoMagico for the Mac, for sponsoring this event. Five of the eight featured artists used FotoMagico to create their movies.
---