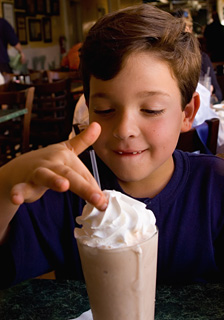 "This is one of my favorite portraits of my son," said Frank Blanco. "His team had won the baseball game that day, and I had promised him lunch at a restaurant. He ordered, among other things, a chocolate shake. I think it made him even happier than winning the game."
Frank used a Nikon D100 set to ISO 200. The flash was turned off and the camera was in Aperture Priority mode @ f-5.6. Shutter speed was 1/20th.
If you have an interesting candid you'd like to share, take a look at our Submissions page, then send us your Grab Shot. If we publish it, you'll receive an ultra cool custom carabineer keychain.
Technorati Tags: candid, digital photography