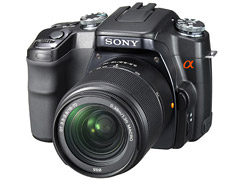 Sony's partnership with Minolta has yielded the Alpha DSLR-A100 system -- its first Digital SLR. The new camera features a 10.2 MP CCD image sensor. Sony is offering 19 lenses, plus the camera will be compatible with Minolta-mount lenses.
Sony has brought many of its own innovations to this camera, such as its Super SteadyShot image stabilization and dynamic range optimization, combined Minolta-type brilliance including Eye Start AF and honeycomb pattern metering. The A100 accepts CF cards and Sony's Memory Stick.
The A100 captures in both JPEG and RAW formats. Because of the APS-sized sensor, the camera does have a 1.5x image magnification. The Sony DSLR will list for $899, and is expected to ship before the end of July.
Technorati Tags: review, digital photography