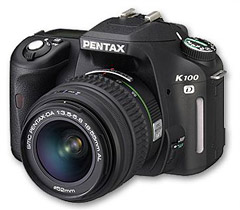 Pentax's new K100D DSLR is compatible with any lens that Pentax has ever produced. This is intriguing news for fans of the traditional Pentax K1000, which was the outrageously popular camera for beginning photographers during the 1980s.
In your closet right now you might have the components to build a formidable digital system. The Pentax K100D is an affordable ($699 with 18-55mm lens) 6.1 megapixel DSLR featuring shake reduction technology, 11-point auto focus, 2.5" LCD, and a stainless-steel chassis that is built to last (much in the same way its predecessor the K-1000 stood the test of time).
If you have Pentax lenses stashed away, you might want to further investigate this camera. It's a handsome body with plenty of modern bells and whistles that enables you to use some of your favorite glass from the past. Nice move Pentax!
Technorati Tags: equipment, digital photography, product review